Author Makes Bold Claim About How Meghan And Harry's Royal Exit Really Affected The Queen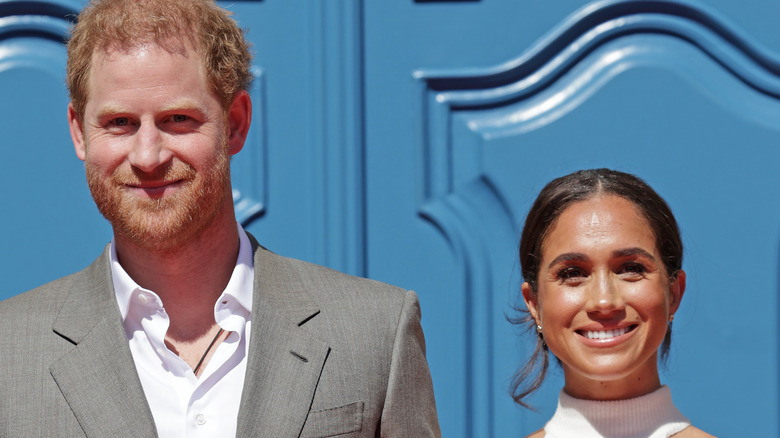 Chris Jackson/Getty Images
Since leaving their roles as senior working royals in January 2020, Prince Harry and Meghan Markle have busied themselves acquiring lucrative deals with Netflix and Spotify; setting up their nonprofit organization, Archewell, which also has a production arm; and continuing to speak out on issues that are important to them (via BBC News). Their staunch commitment to activism is particularly notable since the queen infamously claimed it wouldn't be feasible.
When they first defected, Her Majesty clarified in a statement, "In stepping away from the work of the royal family it is not possible to continue with the responsibilities and duties that come with a life of public service," per The Guardian. However, it was clear even then that the couple wouldn't be deterred, with a spokesperson for the Duke and Duchess of Sussex pointing to all their work to date, arguing, "We can all live a life of service. Service is universal."
In fact, experts thought Meghan and Harry's UK trip was problematic because it was essentially a semi-royal tour. As a former Buckingham Palace staffer railed to the Daily Beast, "The chutzpah of those two is unreal. Their proposal for being hybrid working royals was comprehensively rejected [at the Sandringham Summit], but it looks like they are just going ahead and doing it anyway."
As it turns out, though, their decision to leave may have impacted the queen more than it seemed.
Her Majesty took the Sussexes' decision to step down pretty hard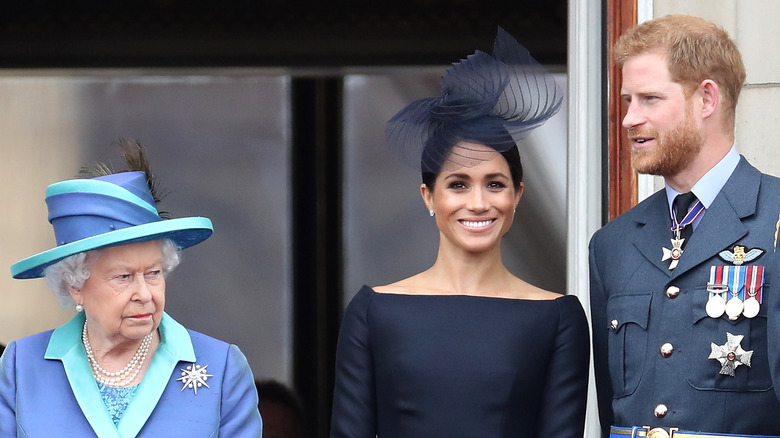 Chris Jackson/Getty Images
The queen may have been more affected by Prince Harry and Meghan Markle leaving the royal family than she let on, if royal expert Katie Nicholl is to be believed. The author shared an excerpt from her book, "The New Royals: Queen Elizabeth's Legacy and the Future of the Crown," in a piece for Vanity Fair.
She claimed that the dearly departed monarch was "very hurt" when they defected. Moreover, a confidante revealed, "She was exhausted by the turmoil of their decision." Reportedly, Her Majesty later lamented, "I don't know, I don't care, and I don't want to think about it anymore."
Although the queen was able to see Harry's children several times before she died, the dedicated matriarch was reportedly also disappointed not to get more time with her great-grandchildren. The insider claimed that Meghan and Harry were invited to spend a weekend at Balmoral in August, even though Page Six clarified that reports suggesting they'd been asked to come were inaccurate.
The Duke of Sussex described the times he'd spent with his beloved "Granny," Archie, and Lilibet as some of the most special of his life in an emotional tribute to the queen on the Archewell website. Funnily enough, royal expert Kinsey Schofield warned TMZ that things are about to get way worse for Meghan and Harry's relationship with the royals following Her Majesty's death since she frequently played peacemaker between the Sussexes and the rest of the family.
Meghan and Harry's status has made things much more complicated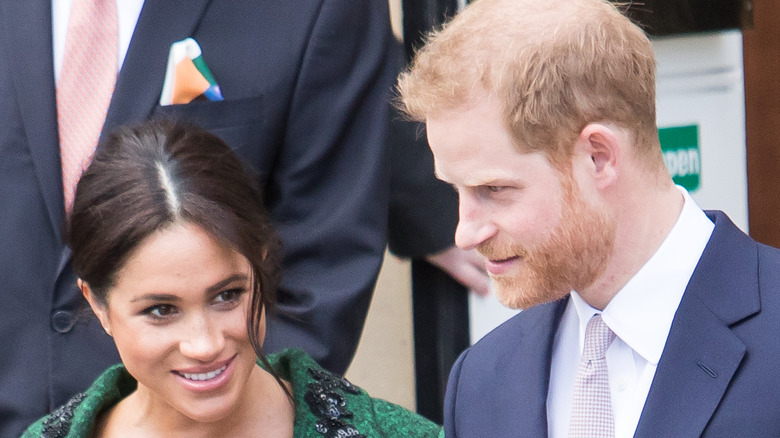 Mr Pics/Shutterstock
The Sussexes' estrangement from the royal family is a hot topic once again following the heartbreaking death of Queen Elizabeth II. Although they happened to be in Britain — on their semi-royal tour, no less — when she passed, Meghan Markle and Prince Harry have found it tough to navigate the many events marking her passing. 
Initially, Harry was to be prevented from donning military attire for the queen's vigil, leading to public outcry since disgraced royal Prince Andrew was allowed to do so. Newsweek confirmed that King Charles III scrapped the idea after intense public backlash. 
However, at Her Majesty's funeral, the Duke and Duchess of Sussex were snubbed, as it were, by being seated in the second row while every other high-ranking royal was in the first, per Page Six. Moreover, Harry and Meghan were seemingly disinvited to a funeral event because they aren't working members of the family, though there was some confusion over whether they were asked at all.
Sources close to the couple admitted to The Telegraph that they were "baffled" by how it all happened, but palace aides reiterated that the Duke and Duchess of Sussex "were not invited and were not expected to show up."
Whichever way you look at it, defecting from the royal family disrupted things more than even Meghan and Harry probably anticipated.