The Real Reason You Should Avoid Shopping At American Eagle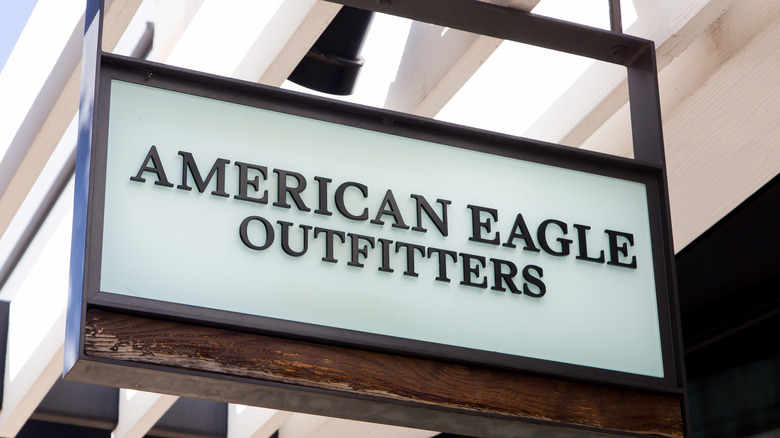 Ken Wolter/Shutterstock
Known for its wide range of jeans and preppy style of clothing, American Eagle is a staple American brand, much like the similar retail store Old Navy. The brand also owns underwear company Aerie (via American Eagle Outfitters), and though by its own admission it caters to 15-to-20-year-olds, American Eagle appears to be well-known among older women, too.
Whatever you think about the rest of the brand's clothing items, American Eagle jeans have remained consistently popular and are often highly ranked in comparison to other brands, whether you're looking for mom jeans or a flared jean cut. In fact, American Eagle reported in 2018 that it had made over $1 billion in jeans sales. 
However, a little digging into American Eagle's outlook on ethics, sustainability, a living wage, and other hot topics has revealed some facts that may be hard to digest. So, why exactly should you think twice the next time you go to pick up some jeans from American Eagle?
The store has taken very little action regarding several issues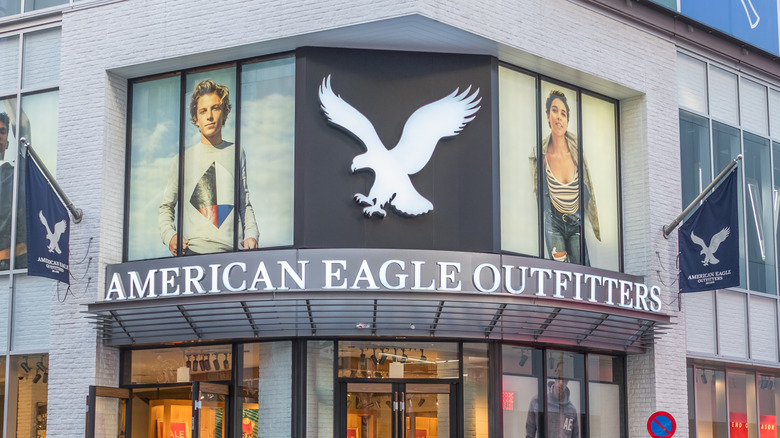 MAHATHIR MOHD YASIN/Shutterstock
As laid out by the sustainable fashion blog Sustainably Chic, American Eagle is failing on several sustainability counts. Though it has a sustainable jeans range, which features jeans made from 100% organic cotton, the brand appears to have taken no other steps toward improving its carbon footprint and overall environmental impact. Another major issue is that American Eagle stated it would become carbon neutral by 2030, but no further insights into this process or any updates have been offered. 
The sustainability and ethics rating website Good On You has awarded American Eagle a score of "not good enough." This rating means the brand has failed to deliver on several counts, including minimizing textile waste and taking steps to reduce harmful chemicals during the manufacturing process. Shockingly, American Eagle has taken no steps to ensure the safety of its workers and has given no information on its supply chain, meaning its workers could be working in unsafe conditions for a non-living wage.
Moreover, American Eagle manufactures in Chinese factories that use sandblasting to create distressed looks, a process that can lead to workers falling ill with a fatal disease called silicosis (via Aljazeera).
It enraged customers when it chose to stop stocking certain clothes in-store
Helen89/Shutterstock
American Eagle recently alienated a lot of customers by making the decision to stop stocking its plus-size collection in stores (via IDS News). Although the brand still carries up to a size 24, the move to only stock larger sizes online has made a lot of plus-sized people feel as though American Eagle does not want to see them in their physical stores.
It's also a strange decision, as American Eagle previously made a big deal out of its size-inclusive pieces and good plus-size range. As recently as 2019, the brand announced that its jeans would be available in sizes 00 to 24, with all sizes available both in-store and online (via Glamour). Now, this apparently out-of-the-blue decision to reverse the above step is just another reason why you should think twice about shopping at American Eagle.
American Eagle may have some cute clothes, but you may want to reconsider spending your money there, now that you know where the retailer stands on sustainability and other important topics.