The Truth About Whether Or Not Flared Jeans Are Back In Style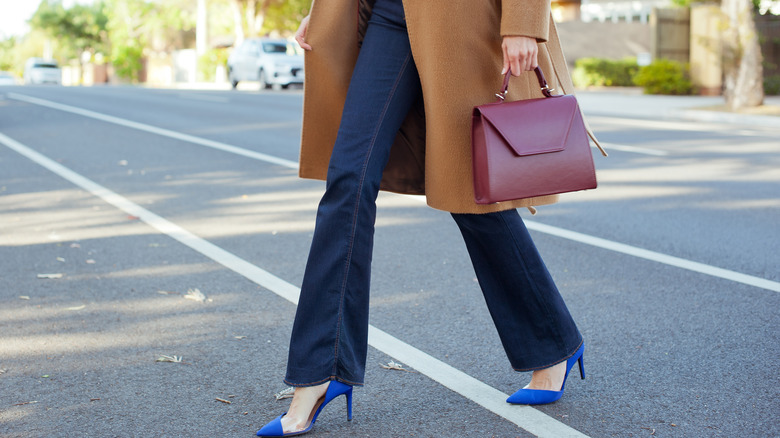 Shutterstock
This year's latest trends actually brought back previous trends from past decades and jeans are no different. One jean trend that is making a comeback from the 1970s has caused some controversy — flared jeans. Flared jeans are typically fitted from the waist until the knees, and then become wider, resembling a bell-shape (via Outfit Ideas HQ). For several millennials, flashbacks of long bell-bottom ends getting rain water and mud caked on them are not something that stirs up nostalgia (via Today). Nonetheless, it's a trend that has taken over TikTok and Instagram.
The pandemic saw shifting trends from fitted silhouettes to more relaxed styles, per Forbes. Popular denim brands like American Eagle and Levi's saw an uptick in sales of relaxed fit jeans, including the flared style. E! News recommends holding on to your skinny jeans, but trying out a pair of flared jeans as a fun option to change up your look. This is great news If you want to try the trend, but are apprehensive about it. Even Katie Holmes tried the trend out in a casual, laid-back look earlier in May, per Who What Wear.
How to wear flared jeans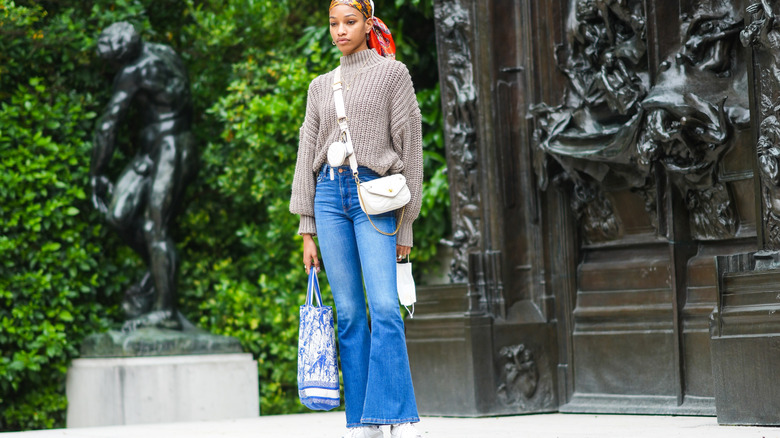 Edward Berthelot/Getty Images
According to Stitch Fix, flared jeans especially suit hourglass and pear-shaped people. This is because the flares help balance out your hips and thighs, per Verily. Pair the jeans with a fitted, crop top, or go for a retro look with an oversized top. If you have a thinner frame or are apple-shaped, you can try a bootcut flare-leg jean that sports a much more subtle flare. This will help emphasize the hips and give a curvier look. Stitch Fix says that bootcut jeans provide a universally-flattering silhouette that also work on curvier frames as well. 
While flared jeans may just be a passing trend, Who What Wear predicts that the bootcut style will stick around for some time, just like it did in the mid-2000s. There are several other wide-leg jean styles that are trending now if you want a relaxed look, but flared jeans aren't your thing. And despite what some influencers may say on TikTok, many stylists agree that skinny jeans are a classic style (via The Wardrobe Consultant). Celebrities are wearing jeans from both ends of the spectrum — the tightest of skinny jeans to the widest of flare-legs, per Who What Wear. So if flared jeans are not a trend you want to re-visit, wearing skinny jeans doesn't make you "cheugy," or outdated.