An Inside Look At Shea McGee's Dream Home Office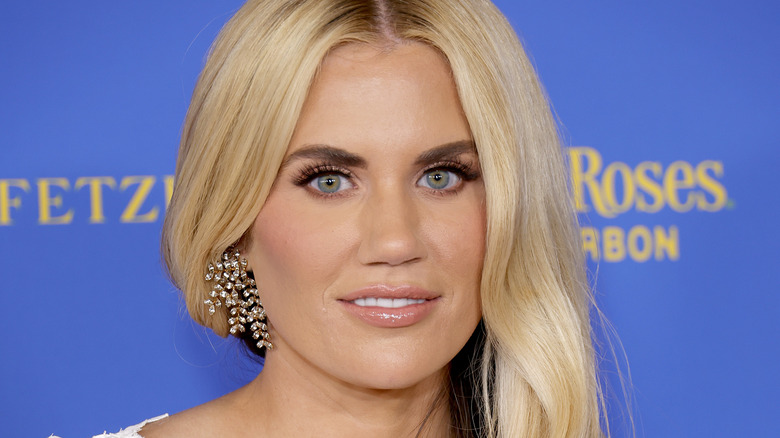 Frazer Harrison/Getty Images
Anyone who has been to Target before, knows that it is a hotspot for all things furniture and home décor. One of the biggest reasons why is because of the popular furniture collection, Threshold, a collaboration with interior design company, Studio McGee. This fan-favorite line constantly has sold-out items during each release. Part of the reason why this collection is always a favorite among home décor fans, is because of the distinctive and creative design aesthetic of the Studio McGee brand. Studio McGee, created by Shea and Syd McGee, has garnered a cult-like following on social media amassing 3.5 million followers on Instagram. On the platform, the pair constantly talk about their personal life and showcase their own design inspirations along with their design choices they use in their own home.
Recently, the couple showcased the incredible remodel of their own dream home, complete with home offices for each in their own personal style. Looking at Shea McGee's home office, or studio as she has described it, is a creation that mixes in productivity and comfort. The home studio is the perfect place for any mother or entrepreneur to simply sit down and get work done.
The studio started out with a plan
As mentioned on the Studio McGee blog, Shea McGee's studio was the last room in their home that she began to plan out and complete. Even though the space is currently the designer's favorite, it doesn't mean it was the easiest or favorite to put together. McGee mentions on the blog, "The space plan in this room gave me a lot of headaches, because of its angles and funky shape." Because the room is where she spends most of her time, she wanted it to represent her in the moment, as opposed to being stuck in one aesthetic.
During her home tour, McGee shares how her studio inspired by the feeling of "old attic," considering it is placed above the family's garage. Instead of turning her studio into a modern box with clean lines, McGee added shiplap throughout the walls to accent the vaulted roof and give the room a much more cozy and bright feel. As well, the usage of shiplap helps accentuate the feeling of a more vintage space. Because of the layout of the room, McGee mentions how aspects of the space needed to be throughout over time since it is not your typical rectangular shape.
The perfect place to work and live
While McGee's work is one filled with creativity and design, it doesn't mean her studio lacks all of the tools needed for a productive work day.
Instead of one desk, McGee's office is filled with two spaces where the interior designer can spread out and concentrate on upcoming projects. However, one of the most poignant aspects of her office is the amount of natural light that is noticeable at first glance. Lighting is an important part of any room, but especially in a home office, where it can often start to seem dark and unsettling. McGee tells Visual Comfort, "Home offices are usually one of the most function-based rooms we design in homes, but that doesn't mean they can't be beautiful. We like to use lighting to our advantage and create special moments in every home, but especially as an unexpected addition to a home office!"
Another aspect that is unique to the McGee home studio is the fact that instead of opting for a regular coffee table, the designer went for a comfortable sitting room complete with two matching ottomans. McGee states that this choice was to make the space feel more comfortable and relaxed. Also, this part is frequented by her children, making her home studio the perfect place where the designer can both work and be a mother.