How Brooke And Ridge Really Met On The Bold And The Beautiful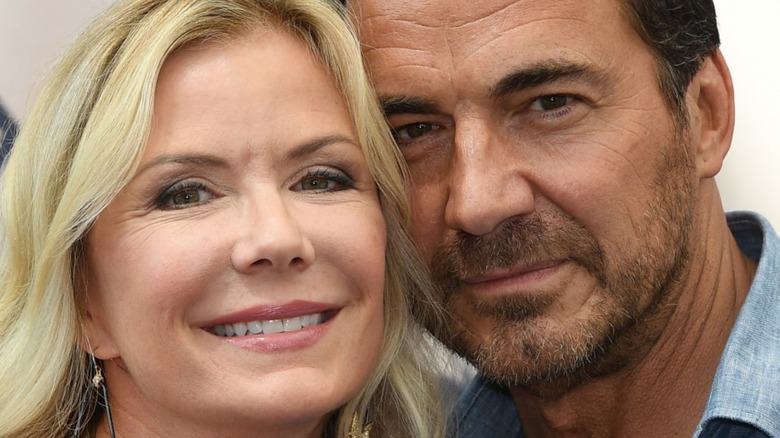 Pascal Le Segretain/Getty Images
On "The Bold and the Beautiful," the journey to love never runs smooth. Brooke Logan (Katherine Kelly Lang) and Ridge Forrester's (Thorsten Kaye) relationship has grown over time, but a lot remains the same. There is so much history to unpack with the pair lovingly nicknamed Bridge as nothing has ever been easy between them. Their connection has gone through a series of stops and restarts as they've tied the knot multiple times, and have spent more time apart than together. 
Where they stand today gets more complicated as outside parties become involved in their relationship. The kiss between Taylor and Ridge, in front of one of the world's most romantic backdrops, catapulted the triangle into yet another rivalry and revived the drama between their respective legacy families, the Logans versus the Forresters. The potential custody battle between Brooke's daughter Hope (Annika Noelle), and Taylor and Ridge's son Thomas (Matthew Atkinson) over their son didn't make things any easier, per TV Insider.
Brooke's latest attempt to win Ridge back backfired as Steffy sabotaged her plans of a romantic dinner in an effort to "parent trap" her mother and father, according to Soaps.com. It looks like the Forrester-Logan drama doesn't have an expiration date.
But long before the never-ending tension between the two leading ladies, Brooke was busy planning out her destiny. 
Brooke and Ridge's meet-cute was far from ordinary or accidental
Brooke and Ridge's story on "The Bold and the Beautiful" dates back 35 years. When Brooke and Ridge (then Ronn Moss) first met, they had their fair share of complications standing in the way of what they famously call their "destiny" together. Ridge, the resident playboy, was already engaged to Caroline Spencer when he crossed paths with Brooke, who was helping her mother cater the party, per Soaps.com. 
But Ridge ruined his relationship all on his own when his father revealed that he was unfaithful to Caroline long before Brooke was in the picture. The start of Bridge's love story, albeit unconventional, grew from there and took a life of its own. They fell for each other hard, but his feelings for Caroline didn't disappear fully. Afraid to lose him, Brooke hid a letter that Ridge wrote to Caroline where he asked for her forgiveness and a second chance, according to SoapHub. By this time, Caroline was already married to Ridge's brother, Thorne (originated by Clayton Norcross), which made them one big family anyway. Brooke and Thorne conspired to nip any leftover feelings between Caroline and Ridge, which ended up backfiring on them when they slept together after a prank, per Soap Opera Digest.
Over the next three decades, Bridge's relationship overcame one major hurdle over another, and even led them down the aisle on multiple occasions. But the true question is whether or not their history (and apparent destiny) is enough for them to get through the forces trying to keep them apart.
Fans weigh in on whether Bridge is end game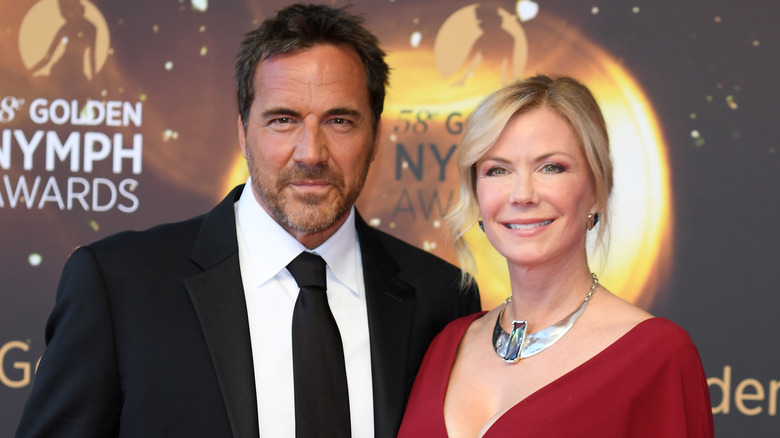 Pascal Le Segretain/Getty Images
Over on Twitter, fans have shared their unfiltered opinions on Bridge's fate amidst Brooke's worries that Taylor is looking to rekindle what they lost. Many "B&B" viewers expressed their frustrations over the storyline, and wished that the soap would finally put an end to the love triangle between Brooke, Taylor, and Ridge. 
In one tweet, a fan pointed out Ridge's completely unbothered state when hanging out with Taylor and their family while Brooke waited at home, writing, "Yup.. Ridge was comfortable together at the house and it never occurred to him to call Brooke.. That's on Ridge.. no one else!"
In another tweet, a viewer questioned whether a case of misplaced blame was happening and stressed that Brooke's anger should solely be directed at Ridge, writing, "Did I miss something? Steffy intercepted one phone call from Brooke and then put Ridge's phone back on the table. Ridge then chose to spend the rest of the evening with his family and not call Brooke. So why is Brooke running up on Taylor instead of Ridge?"
Before Ridge finally makes his decision and commits to it, it's clear that Bridge's marriage will be put through the emotional wringer.