Royal Experts Say Prince Harry Could Be Facing Pressure From Meghan Amid Memoir Drama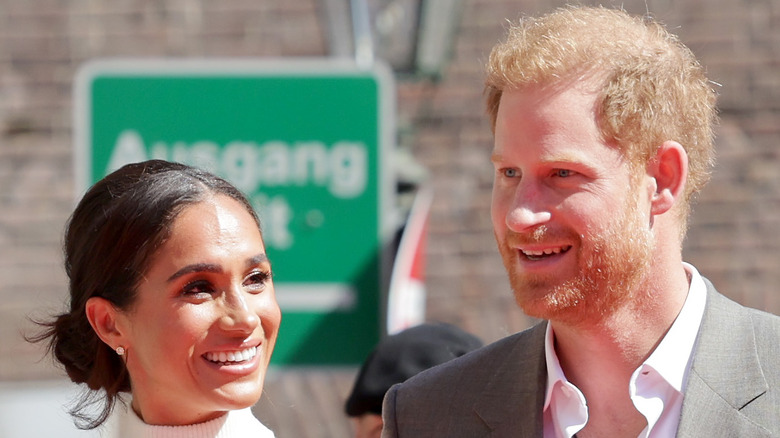 Chris Jackson/Getty Images
The Duke and Duchess of Sussex are back in California following a difficult, and longer than expected, sojourn overseas. Page Six confirmed the superstar couple traveled back to the states shortly after attending the queen's funeral. The Sussexes settled in California after spectacularly stepping down as working royals in 2020. Unsurprisingly, an insider claimed Meghan Markle and Prince Harry were eager to leave the UK.
Per In Touch Weekly, the couple weren't prepared to extend their trip in the first place and didn't like being apart from their two young children for so long either. By all accounts, despite reuniting with much of Harry's extended family during their time across the pond, the relationship between the Sussexes and The Firm hasn't improved. In fact, Kate Middleton reportedly didn't even talk to Meghan during her entire UK visit.
Likewise, Meghan and Harry's new position on the royal website hints that their relationship with King Charles is worse than ever. The main issue continues to be the Duke of Sussex's upcoming tell-all memoir. It remains to be seen what secrets, if any, he'll reveal but suffice to say the royals are anxious regardless. But, when it comes to toning it down, Harry could have an uphill battle on his hands.
The Duchess of Sussex may be encouraging her husband to remain steadfast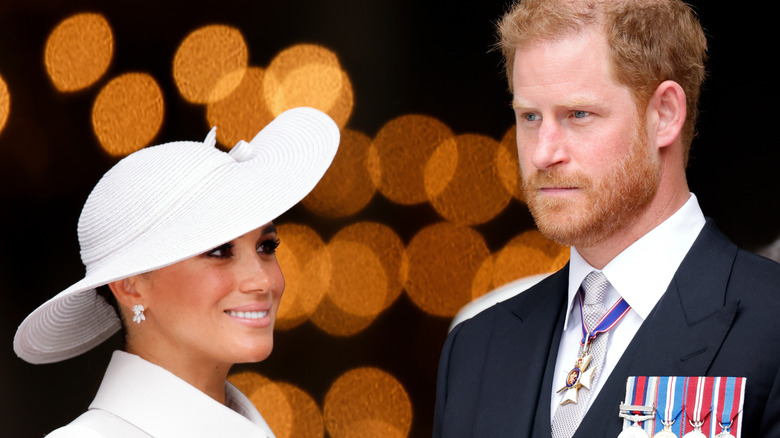 Max Mumby/indigo/Getty Images
In the new episode of "Palace Confidential" (via Twitter), royal experts debated how the Duke of Sussex should tackle the upcoming release of his bombshell memoir, which The Telegraph confirmed has been pushed back until next year out of respect for the queen. Reports suggest Prince Harry is "scrambling" to tone down its contents. Per Express, commentator Josh Rom asserted, "He fears that he might come across as insensitive and he fears that he might receive intense backlash from the publication of this book."
As the Daily Mail's Diary Editor, Richard Eden, pointed out, "After the funeral, basically, some of it will be out of date ... because of the death of the queen. So it would be natural for him to want to update it." However, Eden also noted, "The question is, is it too late, and will he be allowed to make those changes? That's not clear, none of us know what he will be allowed to change." 
The Mail on Sunday's editor at large, Charlotte Griffiths, acknowledged Harry is in a "tricky situation," because of his reportedly massive payday from the book, and the fact he was already encouraged "to ramp up the drama." The duke's publishers may be raring to go too, especially since "it's not in their interest to reduce the number of scoops in that book." Moreover, Meghan Markle may be encouraging her husband to stay strong and speak the truth, further complicating matters. 
Prince Harry's hands could be tied over his upcoming bombshell memoir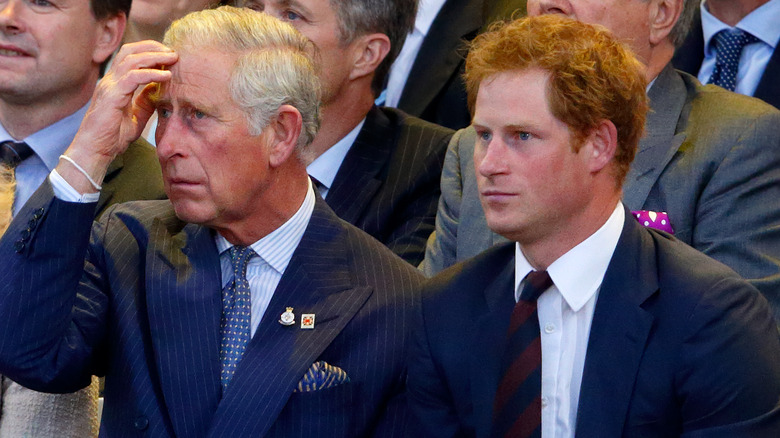 Max Mumby/indigo/Getty Images
Despite Prince Harry reportedly getting it from all sides, if he does tone his autobiography down, the royal defector might lose some of his earnings. According to Express, during an appearance on Australian chat show "Sunrise," royal expert Robert Jobson claimed the Duke of Sussex has already received half of his multimillion dollar paycheck. But, if he chooses to scale back the book's controversial contents, Harry may not get the rest.
The other issue is it's the prince's own words, so he's fully responsible and can't blame a biographer. According to Page Six, however, the Duke and Duchess of Sussex are both eager to soften their upcoming projects, from Harry's memoir to the couple's docuseries, out of fear their children will be punished. King Charles has yet to bestow royal titles upon Archie and Lilibet, apparently because he wants to wait and see what the Sussexes have to say.
As a result, edits are currently being made to some of their worst statements about key members of the royal family, including Charles himself and Queen Consort Camilla. A source revealed: "A lot of conversations are happening. I hear that Harry and Meghan want the series to be held until next year, they want to stall." They added, "I wonder if the show could even be dead in the water at this point, do Harry and Meghan just want to shelve this thing?"