Royal Biographer Comes To The Defense Of Queen Camilla Amid Reports Of A Rift With Prince Harry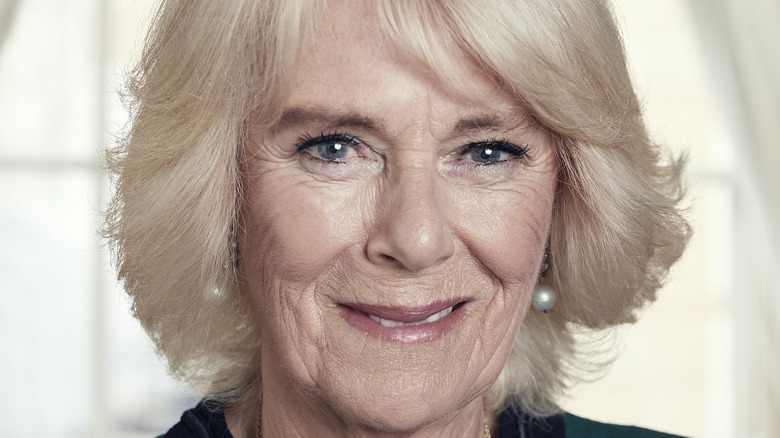 Chris Jackson/Getty Images
The relationship between queen consort Camilla and Prince Harry, Duke of Sussex has had its share of ups and downs. Way back in 2005, 21-year-old Harry had lots of praise for his stepmother. "[She's] a wonderful woman and she's made our father very, very happy which is the most important thing," Harry said during an interview at then-Prince Charles' Highgrove estate, per BBC. "William and I love her to bits."
Over the years, royal authors have continued the discussion. In her 2018 book, "Harry: Conversations with the Prince," royal biographer Angela Levin included Harry's positive take on his stepmother. "To be honest, she's always been very close to me and William," Harry said, per Express. "She's not a wicked stepmother.."
Speaking on the Mirror's Pod Save the Queen podcast, royal expert and author Ingrid Seward described the evolution of Camilla and Harry's relationship. Early on, Seward noted, "[William and Harry] were very happy to embrace her. Most of their friends' parents were divorced and remarried." But in time the relationship cooled. "I think Harry was quite happy to accept Camilla in the beginning but then went off the boil about her and I don't think he holds her in great respect," Seward added.
Recently, author Katie Nicholl's new book shared a less-than-flattering description of Camilla's dramatic reaction to reconciling with Harry. Now it's Levin's turn to weigh in, and she's offering a contrasting depiction of the queen consort.
Author Angela Levin depicts a quietly determined, vulnerable Camilla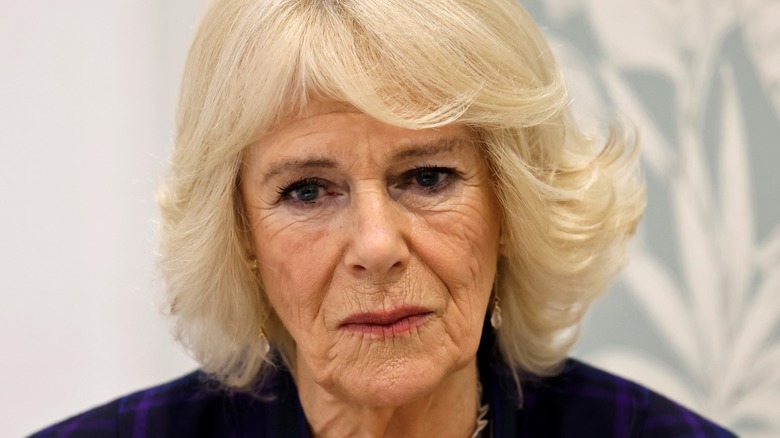 Wpa Pool/Getty Images
During an appearance on "Lorraine," royal biographer Angela Levin talked about her new book, "Camilla, From Outcast to Future Queen Consort." Christine Lampard, the stand-in host, described Levin's motivation for writing the book saying, "Angela, you felt compelled to write this book about Camilla because you knew her and felt she had been misrepresented over the years and you wanted to your version of events."
Levin affirmed this, saying, "I decided I had to rebalance things. One was 'The Crown' which I felt had been really cruel to her and the other was Prince Harry who had said some really nasty things about her too." Previously, Levin expressed concerns that Prince Harry's upcoming memoir would take aim at Queen Consort Camilla. "Anyone who is anyone is saying it's going to attack Camilla and make her responsible for [his] mental health and how she stole his father from his mother," Levin told Talk Radio, per The Sun.
In an excerpt of Levin's book in The Telegraph, the author shared her personal opinion of the queen consort, writing, "I see her as her own woman who is happy to learn from others but comfortable in her own skin — quietly determined with a hint of vulnerability." The biographer revealed on "Lorraine" that she spent three months with Camilla while working on the book. In addition, Levin enlisted numerous friends, staff, and associates from charities to participate and go on record to share their views of the queen consort.
Despite Levin's concerns, Camilla approached her depiction on The Crown with good humor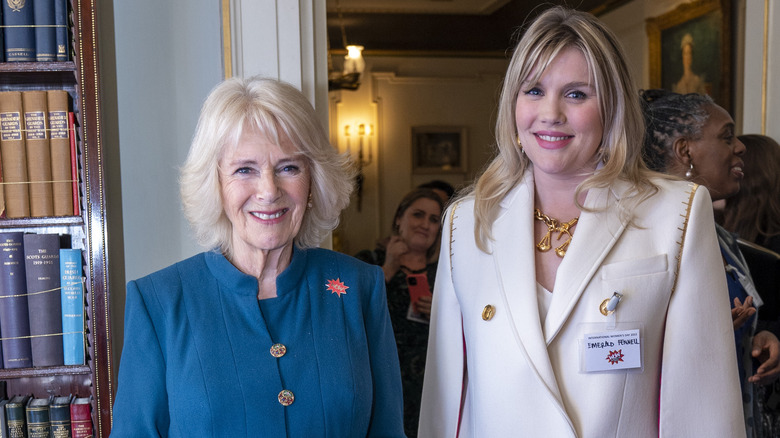 Wpa Pool/Getty Images
Royal biographer Angela Levin wasn't the only person who expressed dismay over the dramatization of Camilla Parker Bowles on season four of Netflix's "The Crown." A major storyline focused on the dissolution of King Charles and Princess Diana's marriage, and his affair with Camilla. Prior to season four's debut, royal biographer Sally Bedell Smith also described it as cruel, telling Vanity Fair, "While the earlier seasons were period pieces, this is recent history, so it seems more cruel in its false depictions."
However, one of the queen consort's friends told Vanity Fair that Camilla, who watches the show, would take it in stride. "She has a wonderful sense of humor and this won't fuss her in the slightest." As evidence of her goodwill, Camilla invited her onscreen counterpart, Emerald Fennell, to Clarence House for International Women's Day. Camilla humorously acknowledged Fennell during her speech saying, "It is reassuring to know that, if I should fall off my perch at any moment, my fictional alter ego is here to take over. So, Emerald, be prepared!" (via Newsweek).
Like Levin's latest biography, the show catalyzed other people to speak out positively about Camilla. Deborah Mitchell, the queen consort's former facialist, called Camilla "absolutely lovely in real life," per Insider. "She's a very thoughtful person, she's very much for women's rights, and when she does any charity work, she does it because she wants to."