The Queen's Death Certificate Varied From Prince Philip's In A Specific Way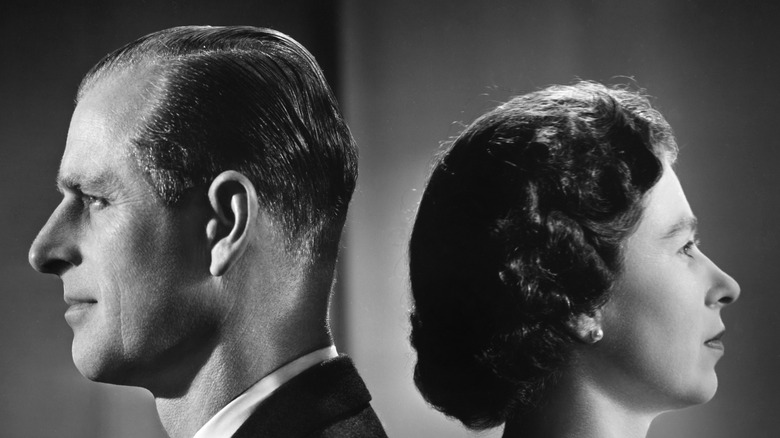 Michael Ochs Archives/Getty Images
The past few years have been especially challenging for the United Kingdom's royal family as they've experienced the loss of not one, but two senior members. Prince Philip died on April 9, 2021, leaving his wife of 73 years, Queen Elizabeth II, a widow for the last stretch of her reign. The queen herself died on September 8, 2022 at Balmoral Castle in Scotland, and — despite an official period of mourning for Britain's longest-serving monarch — everything from her children and grandchildren to her beloved corgis have been thrust into an amplified spotlight. 
After the official period of mourning had ended, the Daily Mail reported that the National Records of Scotland had attempted to block attempts by legitimate media outlets to obtain a copy of the queen's death certificate, which is a matter of public record protected under the Registration of Births, Deaths, and Marriages (Scotland) Act of 1965. By law, death certificates must be submitted to the registrar within seven days, making them accessible upon formal request. However, the organization didn't release the queen's death certificate until September 29, and eagle-eyed royal watchers immediately noticed at least one difference between her death document and her late husband's. 
The queen's cause of death was eventually revealed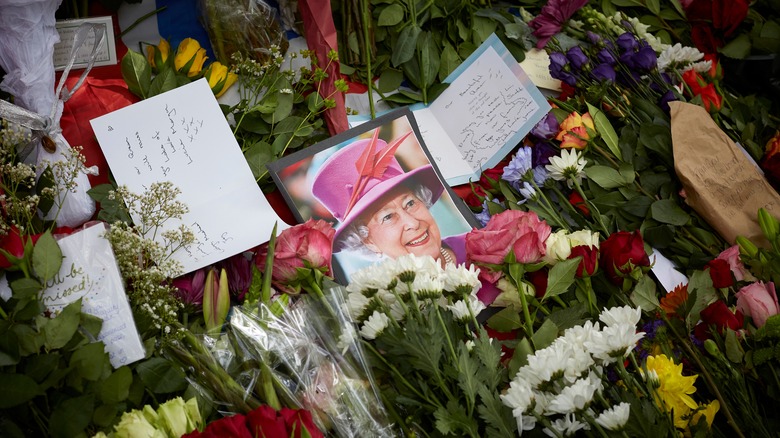 Richard Maidment/Shutterstock
Queen Elizabeth II's death certificate verified that she died at 3:10 p.m. on September 8 at Balmoral Castle in Scotland. It also revealed that the late monarch's cause of death was "old age," according to Hello! Magazine. One detail that differs from her late husband the Duke of Edinburgh's death certificate is the time of death, which was omitted from Prince Philip's document. Omitted times of death are not uncommon for royal family members, especially when they die in England where reporting laws are regulated by the Registration Act of 1836. The certificate for Queen Elizabeth, the Queen Mother, also omitted her time of death when she died in 2002. 
Both Queen Elizabeth and Prince Philip's causes of death were listed as "old age," with corresponding reports from Buckingham Palace noting they each passed peacefully. According to Newsweek, Prince Philip's death at 99 followed bouts of infection and heart surgery, and his death certificate referred to him as "His Royal Highness The Prince Philip, Duke of Edinburgh formerly known as Prince Philippos of Greece and Denmark formerly known as Philip Mountbatten." 
Some speculated the queen died of a broken heart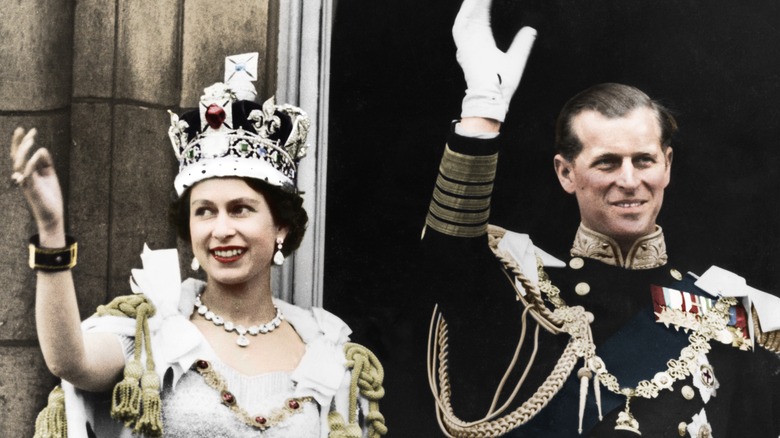 Print Collector/Getty Images
As for Queen Elizabeth, the 96-year-old monarch survived being diagnosed with COVID-19 in February 2022, only to return to her royal duties soon after. However, she said that having COVID-19 was "horrible" and left her feeling "very tired and exhausted" (per CNN). Reports imply the queen's health deteriorated quickly before her death at Balmoral Castle, where she traditionally retreated every summer, according to People. However, royal expert Katie Nicholl told ET she believed the queen had died of a broken heart due to Prince Philip's death. The royal couple met in 1934 when she was 8 and he was 13, but they fell in love years later. Their romance — and the queen's devotion to her husband — have been staples in British life for decades. 
"She was never the same after Philip went," Nicholl said. "They'd been together for 74 years. He was, she said, her strength and stay ... She held on for as long as she could. She did her constitutional role. She swore in her new Prime Minister. She made sure she tidied everything up, and I think, in the end, she just wanted to be back with him, and I think that's why we saw that double rainbow over Buckingham Palace and Windsor Castle."