The Makeup Tutorial That Will Turn You Into Medusa In Time For Halloween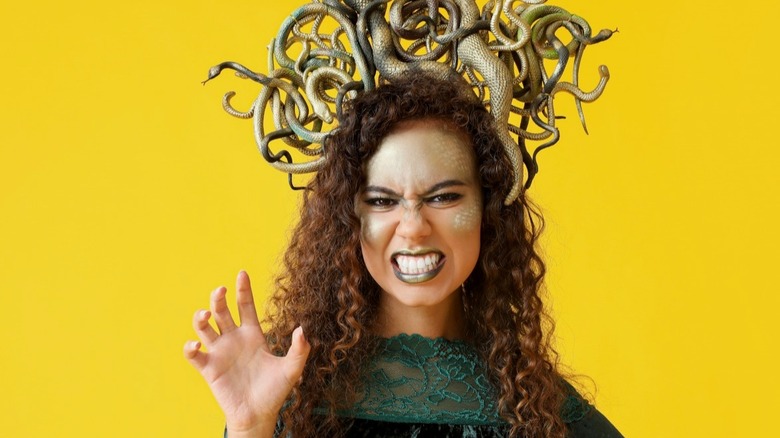 Pixel-Shot/Shutterstock
Halloween is fast approaching, and if you like to outdo yourself each year, you might be stressing about your look for this upcoming season. Anyone can be a witch for Halloween, but why not take things a step further and create a unique look that will stun your friends instantly? 
Enter Medusa. Originating from Greek mythology, Medusa is a young woman who was turned into a Gorgon by the goddess Athena and ultimately slain by Perseus (via Britannica). Her hair is made of snakes, and her appearance is described as many things, though her skin is often depicted as scaly and snake-like to match her hair.
Utilizing lots of snake-esque inspiration, a Medusa makeup look is perfect if you love the color green due to the varying shades used to create this costume. Plus, there's no need to worry if your everyday makeup routine is a tinted moisturizer kind of vibe, as you won't have to be a makeup pro to pull off the Medusa look we've laid out for you below.
This tutorial doesn't take major makeup skills to achieve
As outlined in Superdrug's Medusa YouTube tutorial, achieving a Medusa look doesn't have to be difficult. First, you'll need to do your usual base — i.e foundation and concealer. This step is up to you, but keep it neutral so the rest of the look really pops. 
Next, your eyeshadow. Select a highlight color, preferably one that's in a cool champagne or light green tone for a beautiful shimmer effect. Dab this shade under each eyebrow and in each eye corner before blending well. For your main lid look, you'll want to create a highly pigmented emerald green shade. If you don't have a green eyeshadow shade that's pigmented enough, Superdrug's makeup artist recommends scooping a shade out of its palette or pot and grinding it together yourself. Apply this pigment all over your main lid and blend well.
Every snake-like creature needs her winged eyeliner, and Medusa is no exception. Taking a felt, liquid, or gel eyeliner pen, draw a wing on each lid for a sleek and sexy look. Then, trace along your waterline with eyeliner — for an electrifyingly sultry look, CoverGirl Intensify Me! Eyeliner in Emerald is ideal (via StyleCaster). Finish your eyes with a coat of mascara. You can add false eyelashes too for an even more enchanting and dramatic look.
It will make you look sexy and scary at the same time this Halloween
Following along with the Superdrug YouTube tutorial, next up are brows. Superdrug's makeup artist recommends using gel liner to fill in your brows for a darker effect. 
This next step concerns your face, so make sure your base is prepped and ready as you'll be applying the product to your forehead, cheekbones, and hairline. To create a unique highlight shimmer effect, Superdrug recommends mixing a highlighter with your green eyeshadow and then applying the mix to the above areas. This will be the base of your scales.
Now, for non-makeup artists, this is where it gets a bit difficult. Using a pair of fishnet tights to create a scaly effect, firmly dab a makeup sponge with the mixture over your forehead. According to Cosmopolitan, fishnet tights are a great way to create scales, whether you're going for a mermaid or Medusa look.
To complete your look, add a highlighter to your cupid's bow. In Superdrug's tutorial, gray lipstick is used, but black lipstick would also add an intense, gothic element to your look. As recommended by Byrdie, NYX Cosmetics Butter Gloss in Blackberry Pie is both affordable and can be layered for a sheer or as an overlay of nude lipstick.
Voila! You'll be serving both scary and stunning vibes all night long.