Here's How America's Favorite Gyms Rank Against Each Other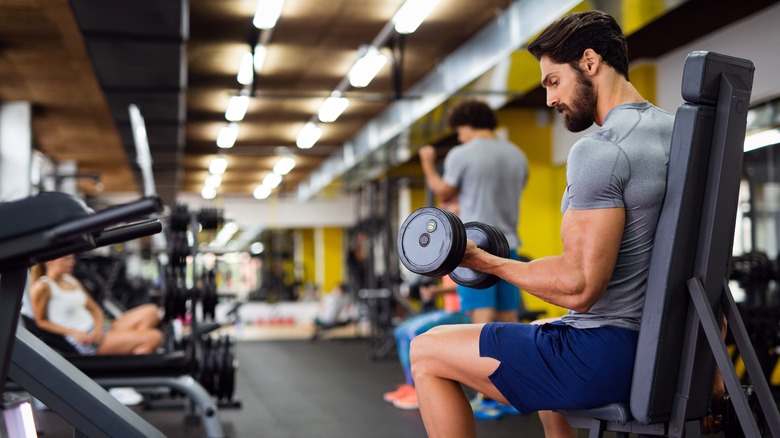 NDAB Creativity/Shutterstock
Stepping into a gym is like entering a new world: As you enter, you're greeted by weightlifters repping 500 pounds and dry-scooping protein powder, while influencer-types take glistening gym selfies after their runs in the oversized mirror. There is so much to know about the culture, the procedures, and the safety of going to the gym, sometimes we feel like maybe it would have been better to work out at home. Whether it's your first time at a gym or you're a seasoned pro, working out can be seriously intimidating. A gym can make or break your workout experience, so it's important to find one with the right atmosphere for you and a price point that you can easily manage.
Foot traffic can tell us which gym is the most popular and which ones we should probably avoid, leaving the guesswork out of finding you the perfect place to work out. To find out which gym outranks the rest, The List created a graph via Data Herald that analyzed foot traffic data at five prominent American gyms over the past two years. The results show that one workout facility keeps their members coming back each month, promising low prices and a "judgment-free" zone.
When it comes to quality and price, Planet Fitness reigns supreme
According to The List's graph, Planet Fitness is the most popular gym by far, offering basic workout equipment in an inclusive space for people to focus on their fitness (via Planet Fitness). The gym is a great option for people who want to work out without breaking the bank, with memberships for just $10 per month. Since January 2022, foot traffic at Planet Fitness has begun to rise beyond their pre-pandemic averages, seeing nearly 1.2 million people per month.
Competitor Anytime Fitness trailed slightly behind with an average of 600,000 monthly visitors. But at one point during the pandemic, Anytime Fitness slightly surpassed Planet Fitness, possibly due to their commitment to being open 24-hours a day, year round, per Club Industry. With its upward growth, Planet Fitness better watch its back, the gym's popularity has already surpassed the YMCA.
You may know the song, but did you know it's also a gym? According to their website, the YMCA was originally established in Industrial Revolution-era London in 1844 as a place for troubled youths to participate in sports and recreation. The YMCA stands for " Young Men's Christian Association," but has since rebranded to simply, "The Y," to be less exclusionary. While it has many locations, most memberships start around $70 per month, making them less affordable than gyms like Planet Fitness. High membership prices may also be why specialty gyms like Orange Theory and Lifetime Fitness are less popular amongst a majority of Americans.
After the holidays, it's back to the gym for most Americans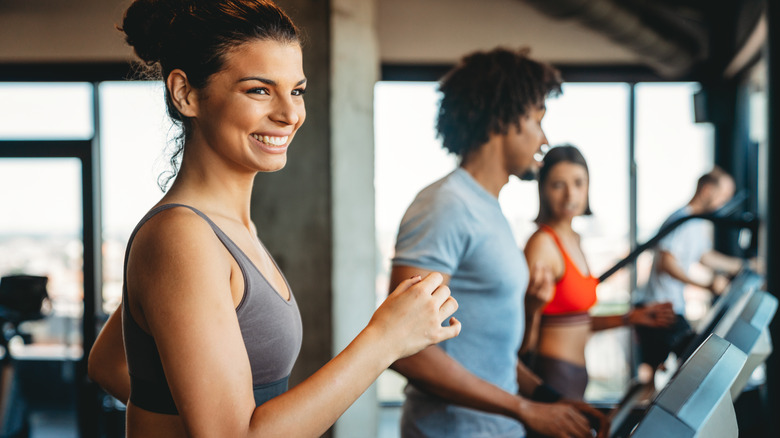 NDAB Creativity/Shutterstock
Foot traffic data reveals so much about gym culture, like when people are going to the gym and why. According to The List's graph, foot traffic remains mostly steady through the spring and summer as people prepare for swimsuit season. But once the seasons change, so do visitor averages: Beginning in October there is a fluctuation in foot traffic that lasts through December, as people begin to celebrate the holidays and are less inclined to brave colder weather to work out.
Unsurprisingly, every January there is a spike in foot traffic amongst all the gyms. According to Statista, getting active is the most common New Year's resolution Americans make, with over 48% of people saying they want to exercise more in the next year. Per The List's graph, each gym saw an influx of new members in the beginning of each year, but the averages drop by the end of February when nearly 80% of New Year's resolutions fail, according to Forbes. So, if you're in the market for a new gym next New Year's, make sure you consider the price point and atmosphere before you sign up for that monthly membership.