Why These Loretta Lynn Songs Were Banned From The Radio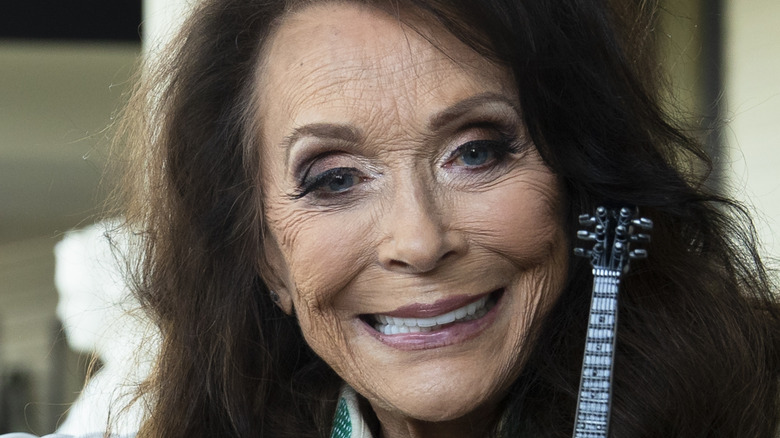 Brett Carlsen/Getty Images
Loretta Lynn had four children by the time she was just 20 years old and spent her early years working hard as a housewife in the early 1950s. Her childhood was spent in poverty, raised by a coal miner in rural Kentucky, per Wide Open Country. By the time of her death at 90 years old, though, Loretta Lynn has become one of the most famous and successful artists of our time.
If you are curious how a small-town girl became a mega-star, you simply have to look at her songs. Lynn was known for singing about her personal struggles and life experiences. Her very first song "I'm a Honky Tonk Girl" gave us insight into the true Loretta Lynn, who wasn't afraid to sing the truth — in this song, she sings about losing her man but the freedom that comes along with that, per Rolling Stone. When she released "You Ain't Woman Enough (To Take My Man)" in 1966, fans leaned into her honesty and her don't-mess-with-me attitude, something that wasn't normal for a woman in the '60s. But, not everyone was fond of Lynn and her music. In fact, many of her songs were banned from the radio.
Loretta Lynn's lyrics had the radio stations banning her music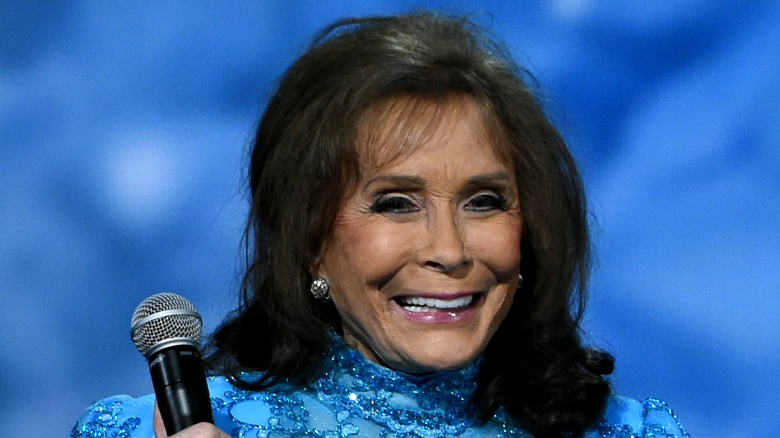 Rick Diamond/Getty Images
Back in Loretta Lynn's prime, country music was meant to spark a note of nostalgia, loved loss, and simpler topics. So when Lynn wanted to release music that made a statement about women, politics, and the future of our world, her label was scared to let her. But Lynn pushed forward. She released "The Pill" in 1972, which was about the birth control pill and the freedom it would give women, at the same time the Supreme Court deemed it legal (via Vinyl Me Please). While radio stations were afraid to play it on air — according to We Got This Covered, 60 stations banned the song from playing — fans were not afraid to listen to it. After its release, it became one of her most popular songs to date.
But "The Pill" wasn't the song of Lynn's to be deemed too controversial for radio. "Rated X" was also banned because it encouraged women to leave a bad marriage (per Song Facts). "Don't Come Home a-Drinkin' (with Lovin' on Your Mind)" was another banned song, in which Lynn sings about a cheating husband, something she personally dealt with, as Wide Open Country reported. "Wings Upon Your Horns" was also banned, as it touched on a woman's virginity, along with "Fist City," in which Lynn sings about hurting a woman who is with her man (via Taste of Country).