How To Decorate Your Porch For Halloween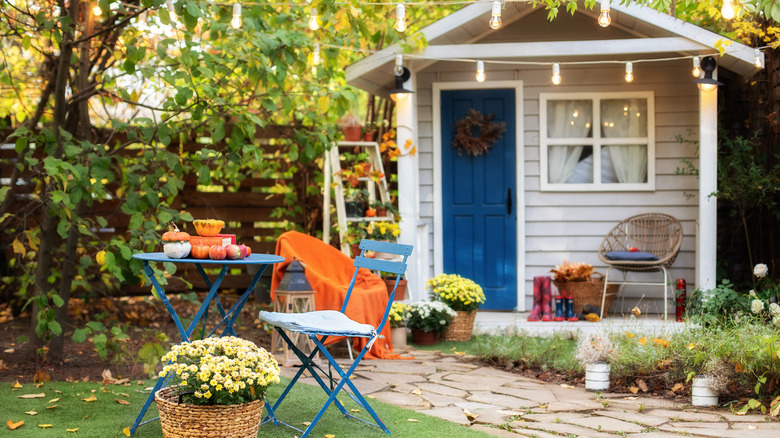 stock_studio/Shutterstock
With the fall season commencing, it's time to break out the Halloween decorations. While everyone always focuses on the latest Halloween costume hacks you need or how to do the latest Halloween makeup, there's one place you need to give that Halloween spirit. Like any other special season, your home needs to also be dressed up. Specifically, your porch area needs to be ready to welcome all your guests and trick-or-treaters. 
Although in recent years, it has been popular to just stick a 12 foot giant skeleton in your front yard, it's time to give a little more spooky spirit to the whole home. The porch area can be a tricky area to decorate as it can be filled with obstacles. From tiny spaces or irregular shapes, finding a cohesive decoration plan can be challenging. However, like any part of your home, even small spaces can become some of the best parts of the design. 
No matter the size of your porch or what your preferred home aesthetic is, Halloween is the perfect time to add some extra spirit to your dwelling. 
Spooky but sophisticated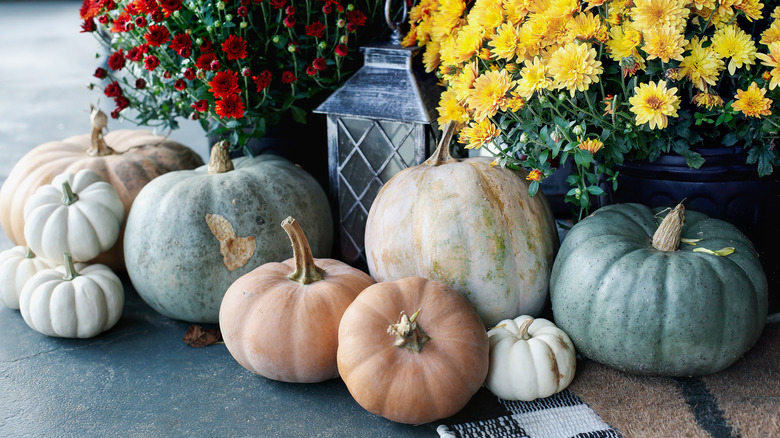 Stephanie Frey/Shutterstock
Part of the reason it can be challenging to decorate the porch area is because of the type of decorations out there. Many times the decorations can clash with your interior style and can seem out of place for the look that you are going for. However, just because there aren't obvious choices doesn't mean your porch has to go without decorations. 
One way to keep your porch sophisticated and elegant but in the Halloween spirit is to go minimalist. HGTV shows us how just adding pumpkins against a luscious display of greenery is the perfect way to showcase the spooky season. Adding touches of green are always welcomed to the porch and are an inviting way of decorating a home year-round. To get into the Halloween season without getting gimmicky, pumpkins are the perfect path to take. 
The Pioneer Woman shows us a unique but elegant way you can also use pumpkins to give your porch the Halloween spirit. Instead of using orange pumpkins, opt for using all white pumpkins. Not only are white pumpkins a head-turner, but they go well with any minimalist or neutral home aesthetic you have. Using white pumpkins is the perfect blend between standing out and maintaining sophisticated and simple Halloween decor on your porch. 
Ghoul big or ghoul home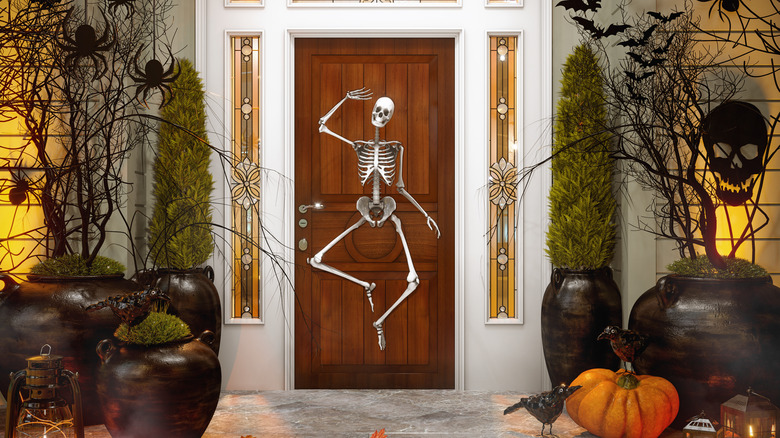 Svet_Feo/Shutterstock
Although minimalism and sophistication are a classic way to decorate your porch for Halloween, it's not for everyone. For some, Halloween is the perfect time to exercise maximalism and bring out all the home decorations. However, even working with many decorations can be difficult. Matching themes together and knowing where to place what can be challenging.
One fun way House of Hood Blog showcases how to decorate is by utilizing large spiders all over your home. Using large props like this enables you to use up every possible square inch of your home. This is perfect for those who may not have a large porch area but can still use the wall space to decorate. Depending on the size of your home, using giant spiders is also more affordable than buying plenty of smaller decorations.
Soul and Lane also teaches us that Halloween isn't just for spooky decorations. Even though skeletons can be a little frightening, why not have fun with them? Instead of just sticking a regular skeleton out, try dressing up the skeleton with any extra Halloween costume you may have around. Go full on and create a theme of it on your front porch. Add a broomstick to your skeleton's hand and make it the entrance to a witch's lair. Creating a theme around your porch is an easy way to focus on what it is you need to purchase and avoids any confusion.