Meghan Markle's Friend Says These Two Royals Should Switch Places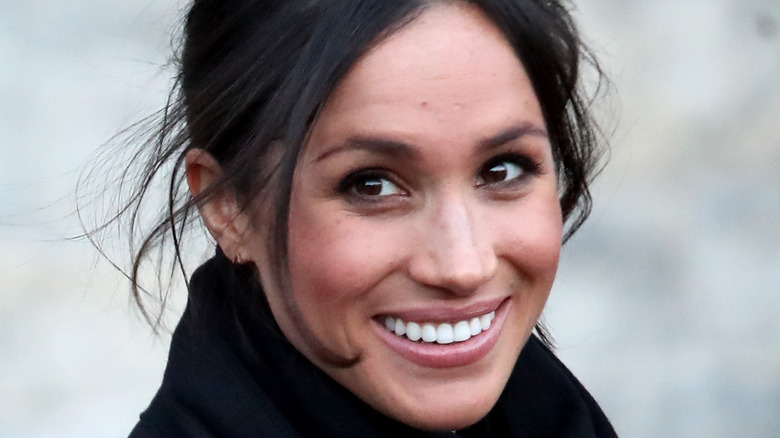 Chris Jackson/Getty Images
Even though the longest-reigning sovereign in British history had passed away, all eyes were on Prince Harry and Meghan Markle as the royal family mourned Queen Elizabeth II. Page Six reported that the Duke and Duchess of Sussex were pointedly seated behind everybody else, in the second row, at the funeral while Meghan's trending hashtag on Twitter was anything but flattering as social media users urged the former actor to head back to America.
Royal fans were overjoyed when Meghan and Harry reunited with his estranged brother, Prince William, and Catherine Middleton to greet mourners at Windsor Castle. However, an insider later admitted to People that the outing wasn't as friendly as it looked, with the foursome putting on a brave face to get through it without actively trying to fix their strained relationship. Suffice to say, the Sussexes were eager to return home ASAP after paying their respects.
In fact, Page Six confirmed that they traveled back to California just one day after attending Her Majesty's funeral. With all the renewed negative attention on Meghan, in particular, one of her biggest supporters is arguing that someone else should finally be in the firing line instead.
Omid Scobie wants the tabloids to focus on Prince Andrew instead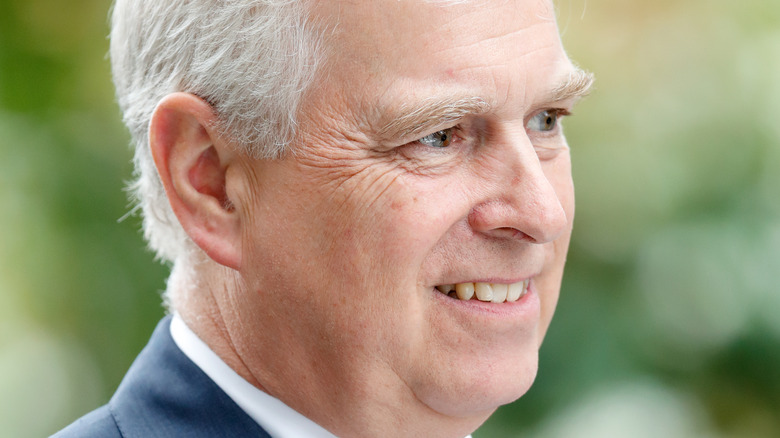 Max Mumby/indigo/Getty Images
Omid Scobie reckons Prince Andrew should be subject to the same harsh treatment as Meghan Markle, if not worse, considering the considerable difference between their misdeeds. Writing for Yahoo! News UK, the "Finding Freedom" co-author shared how the disgraced royal, whose mother broke the bad news to Andrew about his future by personally stripping him of his military titles and royal patronages, was plotting a comeback as recently as the spring.
During private meetings with his lawyer and other members of the prince's team, Andrew discussed "creating duties of his own, through philanthropic efforts and being seen as the supportive son of the queen," according to a source. They elaborated, "These would contribute to rehabilitating his image. Not as the Duke of York, but simply as a man who wanted to do good." Andrew was front and center at Her Majesty's funeral but otherwise stays out of sight.
And, as a palace source clarified, "He would be sorely mistaken if he believes that might parlay into anything else." Considering the wealth of evidence detailing Andrew's bad behavior, Scobie argues the British press should focus on him instead of "obsessively" covering unsubstantiated reports about Meghan Markle's bullying controversy. 
As Newsweek points out, however, the Duke of York isn't held in the highest regard anyway, given the public outcry when it was revealed he and ex-wife Sarah Ferguson will be looking after the queen's corgis following her death.
Fans also felt Prince Harry was treated worse than his disgraced uncle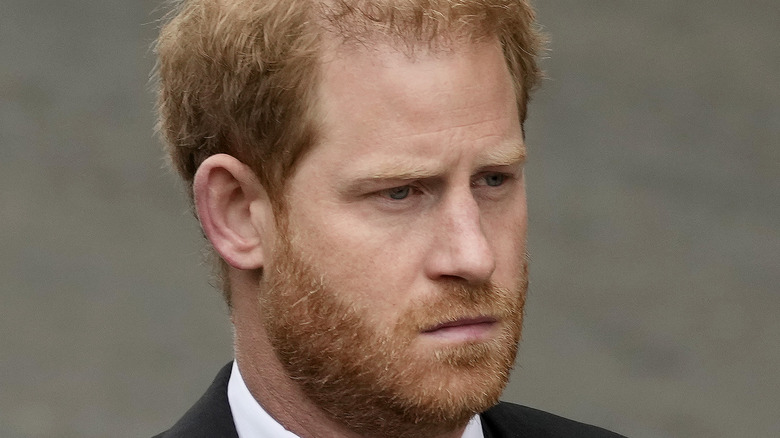 Christopher Furlong/Getty Images
Another major talking point surrounding the queen's funeral was whether Prince Harry would be allowed to wear his military uniform at various official mourning events. As Us Weekly noted at the time, royal fans were outraged when it emerged that Prince Andrew was being given a special dispensation to don military dress at the princes' vigil while Harry was prohibited from doing so entirely.
A source made it clear there were no hard feelings, confirming, "He has come to terms with not wearing uniform on these occasions." They added, "Whilst that's disappointing in some senses, he's just grateful to be present and honoring the queen. At the end of the day, it's only a uniform." The Duke of York lost his honors following a highly publicized sex abuse scandal, for which Andrew settled out of court.
Per Newsweek, following intense public backlash, King Charles reneged on the idea and gave his youngest son permission to wear his uniform for a vigil with the rest of Her Majesty's grandchildren. Harry notably served two tours in Afghanistan, including operating as a gunner in an Apache helicopter. Royal watchers then, understandably, argued he had more right to wear his uniform than Andrew, particularly considering that Harry's only crime was leaving the family.