Prince Harry And Meghan Markle Have An Adorable Update On Archie And Lilibet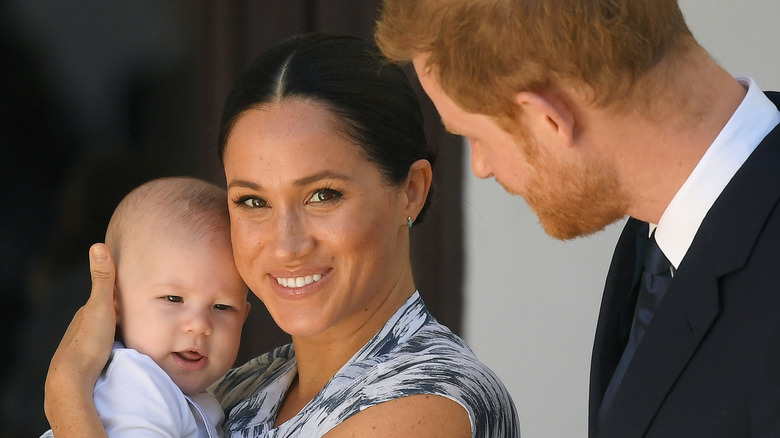 Pool/Getty Images
Prince Harry and Meghan Markle were in the UK when Queen Elizabeth II died at the age of 96. The Duke and Duchess of Sussex had been in London to attend the WellChild Awards, which supports seriously ill children and their families and annually awards kids showing resilience in the face of adversity. 
Harry has been a patron of WellChild since 2007, per People, and Meghan attended the ceremony with her husband in 2018 when she was in the early days of her pregnancy with son Archie — a fact that Harry revealed when the couple attended the awards again the following year.
"Last year, when my wife and I attended, we knew we were expecting our first child — no one else did at the time, but we did — and I remember..." he said. "I remember squeezing Meghan's hand so tight during the awards, both of us thinking what it would be like to be parents one day. And more so, what it would be like to do everything we could to protect and help our child should they be born with immediate challenges or become unwell over time."
Unfortunately, Harry and Meghan had to miss this year's ceremony due to the queen's death, but Harry made time to meet with some of the WellChild Awards winners online, and he shared a sweet update about his and Meghan's two children.
Harry said Archie is 'very busy' and Lilibet is learning to speak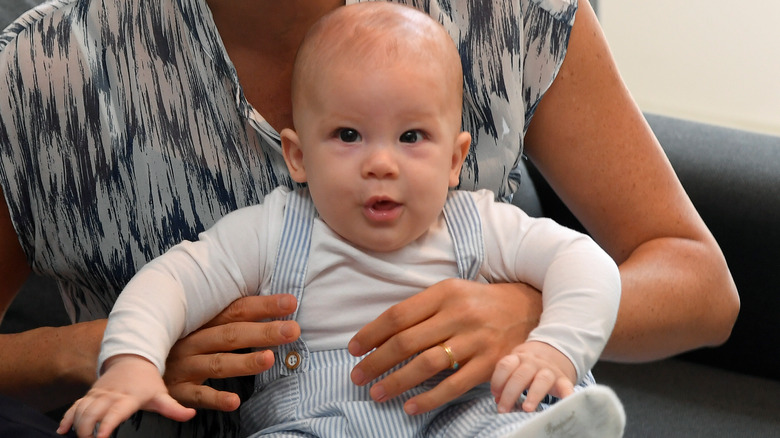 Pool/Getty Images
Prince Harry, Duke of Sussex, got the chance to meet some of the children who were honored at the 2022 WellChild Awards via video. During the chat, a boy named Henry asked the prince for an update on his children with Meghan Markle, the Duchess of Sussex. "To answer your question, Henry, Archie is very, very busy," Harry shared. "And Lili is learning to use her voice, which is great."
Harry also spoke about the family's three dogs, which seem to keep him on his toes. "I've got three in this house now, so we basically have five children," he revealed. "I've got a black labrador called Pula, a rescue beagle called Guy and we've got another rescue beagle called Mia. Between the three of them, they drudge around chasing the squirrels every day, but they are also emotional support dogs, when they're behaving."
Harry and Meghan are currently waiting for King Charles III to make a decision on whether Archie and Lilibet will receive prince and princess titles. Speaking on True Royalty TV's "Royal Beat" podcast, Katie Nicholl said, "They remain 'Miss' and 'Master' currently [on the royal website]. And I'm told that that is a very clear signal from the king. He's willing to give those titles, but it comes with a caveat, and that caveat is trust. They have to know that they can trust the family."
The Sussexes might be moving to a new home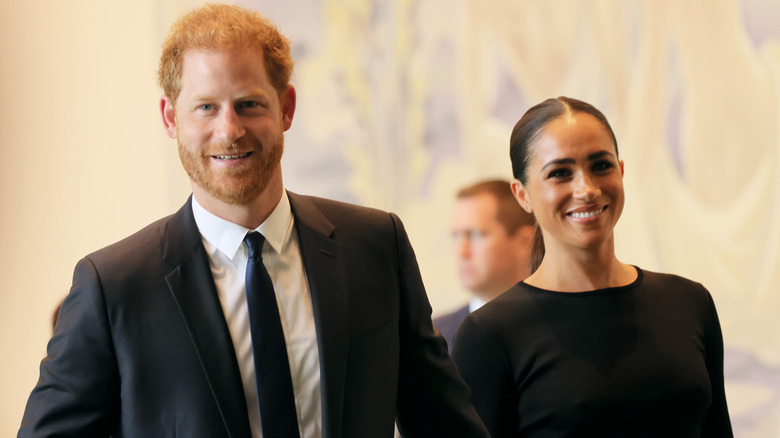 Michael M. Santiago/Getty Images
Prince Harry and Meghan Markle, Duke and Duchess of Sussex, might be getting even busier if the rumors of them moving turn out to be true. TMZ reports that the couple is looking for homes in Hope Ranch, which is located in Santa Barbara County, California. The exclusive area only has 2,000 residents and "appeals to those who enjoy horses and a laid-back, luxurious lifestyle." Homes in the area range from $2.3 million to $33.95 million, with a median price of $4.8 million.
Although Meghan just gushed about their current home — an 18,000-square-foot mansion in Montecito — in her recent interview with The Cut, the property has had a series of scary security breaches, including two intruder incidents that occurred within weeks of each other, per The Times. The duke and duchess reportedly hired a former Secret Security agent as their bodyguard, but, with two young children at home, moving somewhere more secure could give them added peace of mind.
There has been speculation that the couple has already purchased a home in Hope Ranch, which is about 10 miles from Montecito, but that has yet to be confirmed, per Radar Online. But, while relocating to Hope Ranch might make them feel safer, some residents are worried that Harry and Meghan could bring problems to their quiet area, especially when it comes to traffic, per TMZ.