The Shoe Style Our Favorite Celebrities Are Swearing By For Fall 2022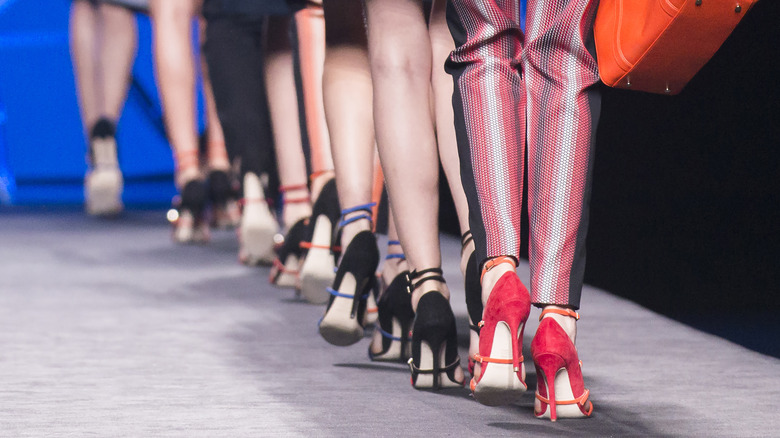 catwalker/Shutterstock
If you've seen any of the most recent trends, it's all about the '90s. From head-to-toe, '90s fashion trends have taken over our closets and runways. This nostalgic throwback is nothing new for the fashion industry, as trends come in cycles. However, the magnitude in which the '90s has taken over fashion is surprising. One of the reasons why is because of how popular it has been on the runways. Brands like Prada have taken the '90s trend to the next level by bringing back styles from the era in new modern ways.
One of the categories that has seen a significant change since the comeback of '90s fashion is shoes. From platform shoes to jelly sandals, there are tons of '90s shoe trends you can take part in. However, most of the time, the trends seem to target sneakers or other comfortable shoes. Thankfully, there is one option if you are looking to dabble into the '90s but still look formal.
The shoe you need to buy right now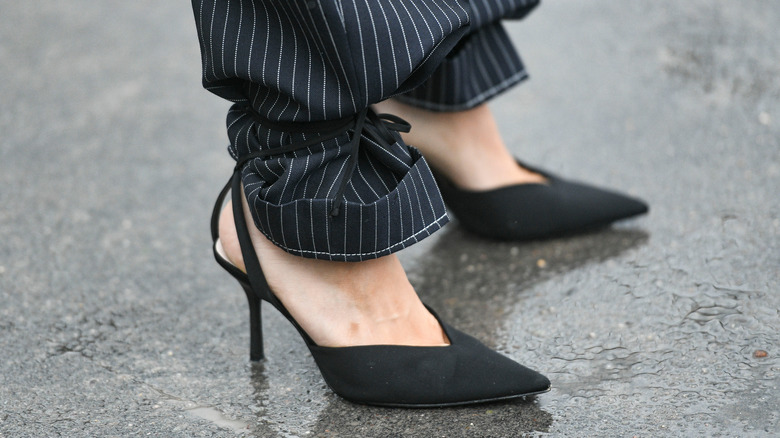 Creative Lab/Shutterstock
Even though the '90s were all about comfort and practicality with styles like clunky boots and Birkenstocks, there's still a need for some formal footwear (via Mental Floss).
With that, enter the pointed shoes. Regardless, of how you feel about them, pointed shoes are one of the easiest ways you can partake in the '90sfashion trend. While many think the pointed shoe is not flattering, there are plenty of examples to show you otherwise. From boots to slingbacks, there are plenty of pointed shoes you can wear. Anne Hathaway showed us how classic pointed black stilettos are one variation you can take (via Footwear News). The actress showed off this fashion staple while taking front row during New York Fashion Week. On the other hand, model Kendall Jenner opted to wear the trend with under-the-knee pointed boots and a corseted mini dress (via Harper's Bazaar).
Another popular way you can show off the sharp point is by joining two '90s trends together with pointed slingbacks. This classic pair is a great way to combine the '90s with an elevated twist. Regardless of which type of pointed shoe you go with, though, it's the perfect trend to take you into the fall season.
How to style the pointed shoe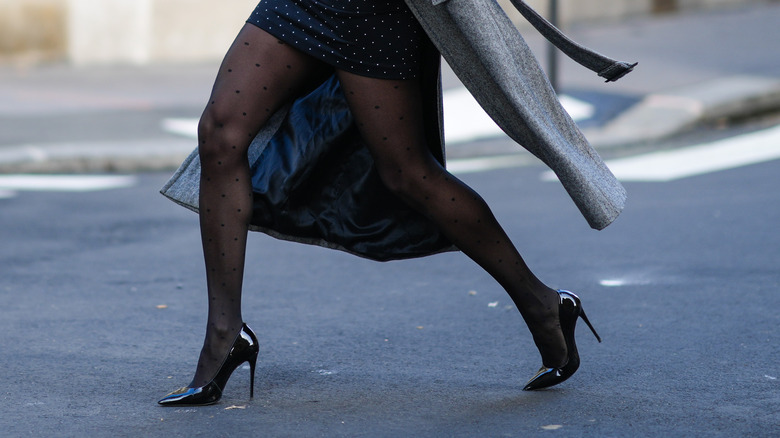 Edward Berthelot/Getty Images
The part that gets many is how to style pointed shoes. Because of the elongated shape, many find it hard to accommodate that extra part. However, rest assured that wearing pointed shoes is no challenge.
The Fashion Folks recommend going business as usual with your outfits when wearing pointed shoes. The only piece you'll want to avoid is a maxi dress. The length of a maxi dress and further adding to it with a pointed shoe will create a disproportionate balance between the two pieces. Instead, expand your shape to the sides, to create a balance. This means using flared jeans or skirts that expand in volume.
If you are looking for a more sophisticated look, Marilyn's Luxury Boutique has one way you can achieve this with your pointed shoe. Marilyn Hellman explains, "Let points peek out from trousers, especially appealing with wide leg pants. For a long lean look wear pointed toes with pencil A-line and knee length skirts."
No matter which shoe you wear or how you style them, pointed shoes are the key fall shoe trend for the season.