Viral Beauty Brand Glossier Is About To Be Given The Tell-All Treatment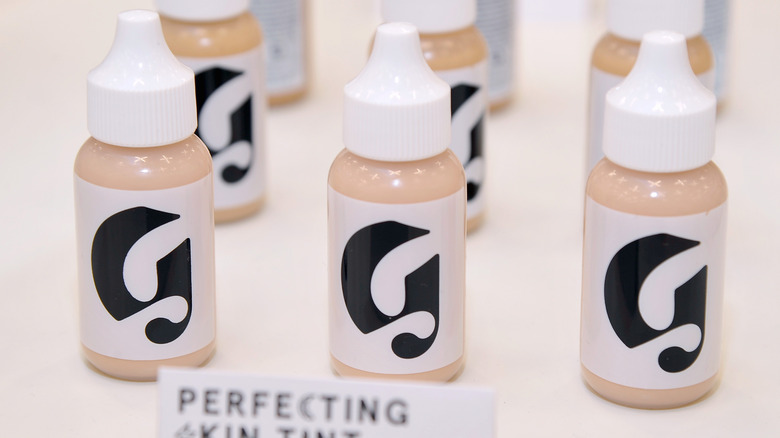 John Sciulli/Getty Images
We may receive a commission on purchases made from links.
To nail the clean girl makeup trend, all you need are five products: exfoliator, sunscreen, dewy primer, cream products, and brown gel. Glossier – the viral beauty brand Millennials worship at the altar of — has built a brand on these products long before the #cleangirlmakeup hashtag started trending on TikTok.
If you're new to the clean girl aesthetic or Glossier, let's catch you up: even before the COVID-19 pandemic, makeup has been trending more towards natural and minimal — words that easily describe Glossier, a beauty brand that got its start online. According to Glossier founder Emily Weiss, the company was born from her watching the shift in power dynamics between the consumer and the beauty industry. When she started her beauty blog, Into the Gloss, in 2010, Wired reports Weiss noticed that fashion and beauty were transitioning from defining people's personal styles to consumers deciding what different styles said about them.
From this realization, Glossier was able to grow from a small internet startup to a company valued at over $1 billion, per Wired. A beauty brand "for people who are already pretty," Weiss told The Cut that she knows there isn't just one influencer to rule them all anymore. "It's not about one person being the rule-marker tastemaker. That's not how people are shopping anymore," she said, adding, "Women are discovering beauty products through their friends, full stop."
Now, the story of the beauty brand and its founder will be coming to your bookshelves in summer of 2023.
What we know about the Glossier tell-all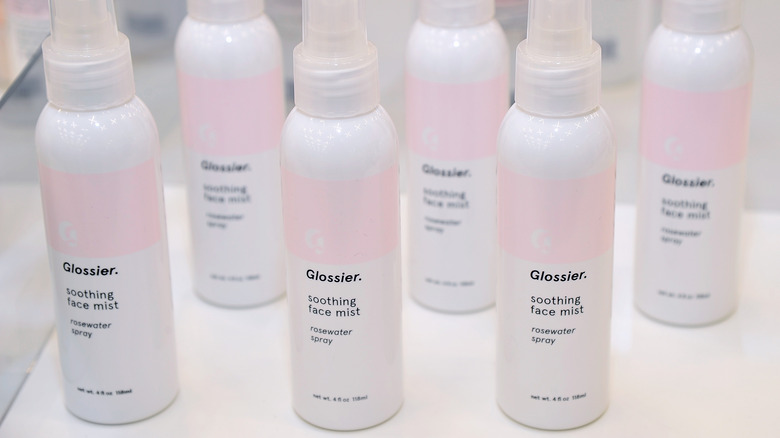 John Sciulli/Getty Images
Glossier has been lauded as "one of the most disruptive brands in beauty" by Forbes and gained over 875.3 million views as a hashtag on TikTok. Now, the true story of its creation and founder will be hitting bookshelves next year.
One of the major appeals of Glossier as a brand, explains The Cut, is that it's like Alexander Wang: "It's the idea that peeling away ratification and pomp leads to an even more thrilling beauty: the real thing." The other? That your friend is the one who told you about it. Not only is Glossier visually branded to Millennials specifically, but the key to Glossier's business model is that they're, as owner Emily Weiss explains it, "a brand whose sweatshirt you'd want to wear" (via The Cut).
Getting to the heart of Glossier's story is New York Times contributor Marisa Meltzer, whose column "Me Time" is a staple of The New York Times Style Section. According to Simon & Schuster, the book's publisher, "Glossy: Ambition, Beauty and the Inside Story of Emily Weiss's Glossier," will be exploring the brand's story through interviews with "former Glossier employees, investors, and Weiss herself."
Weiss, The Cut reports, was the brunette "super-intern" on MTV's "The Hills" before jumping into various fashion closets of different Condé Nast magazines. Obviously, we're hoping to get more details in Metlzer's new book. 
How did Glossier get so successful?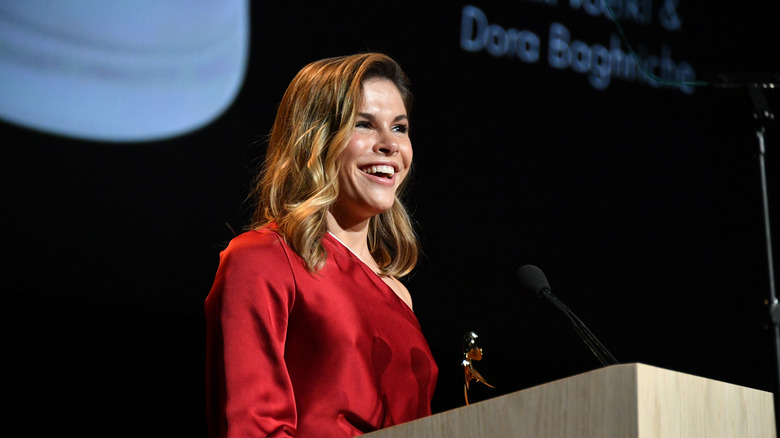 Dia Dipasupil/Getty Images
One of the major questions we're hoping get answered in "Glossy: Ambition, Beauty and the Inside Story of Emily Weiss's Glossier" is just how Glossier grew so quickly. "I had no idea what I was doing," Emily Weiss told The Cut in an interview in 2018. "I was 28 years old. I didn't have an M.B.A. I went to art school." But, a $1 million investment and a four-product catalog has grown into what writer Amanda Montell calls "cultish" in her book by the same time — not quite a cult, but in the neighborhood of.
Oliver Chen, a research analyst specializing in retail and luxury goods, tried to explain the Glossier phenomenon in this 2018 research note: "While being ordinary and being aspirational are typically mutually exclusive characterizations, Glossier's ability to simultaneously capture both sides of this fulcrum is a direct product of the deep community that Glossier has carefully built and fostered through its growth."
How the company grew is something that continues to mystify experts. Sucharita Kodali, an analyst specializing in online retail and consumer behavior, told Vox what consumers are actually spending versus the amount of times they post about the products don't necessarily add up. "Nobody knows what the actual truth is about their financials, and they are often excellent at PR, and they all consistently lead people to believe that they are a larger business than they are," Kodali said.