King Charles Publicly Shows He Still Has Love For Meghan And Harry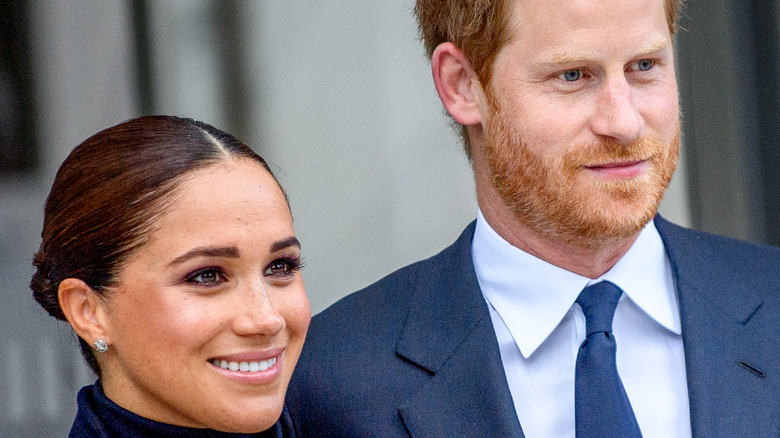 Roy Rochlin/Getty Images
The relationship between Prince Harry, Duke of Sussex, and Meghan Markle, Duchess of Sussex with the rest of the royal family has been strained for literal years at this stage and, unfortunately for all concerned, it shows no signs of improving. For instance, although a subtle part of King Charles' first speech as sovereign referenced Meghan and Harry, as far as royal watchers were concerned, he didn't look too happy to mention them.
Likewise, as Fox News pointed out, the king notably neglected to include their official titles in an assumed snub. Meghan and Harry's new position on the royal website hints at their relationship with Charles, too. The former senior royals have been moved down to the very bottom of the family's official site, alongside lesser-known members like Princess Alexandra and the Duke and Duchess of Gloucester.
It seems that Charles is looking to move forward and modernize the monarchy — including, crucially, slimming down its active members, per Us Weekly — without the Sussexes' input. However, there's reason to believe he hasn't completely cut them out just yet.
Charles is still keeping the Sussexes close by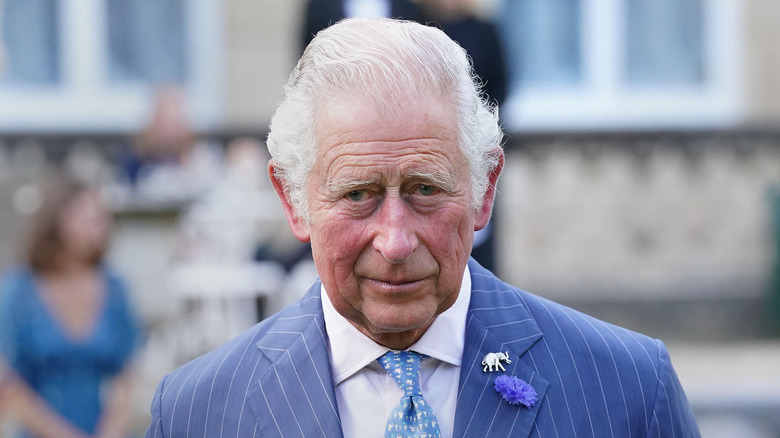 Wpa Pool/Getty Images
Maybe all isn't lost between King Charles and the Duke and Duchess of Sussex. In a video shared on Twitter, the room in which the newly-minted leader recently met British Prime Minister Liz Truss is shown to include several family photos, one of which is of Meghan Markle and Prince Harry on their wedding day, in 2018. Also on display is a shot of dearly departed monarch Queen Elizabeth II with Charles, her grandson Prince William, and his own son, Prince George.
People confirms Charles will be meeting with Truss on a weekly basis for private audiences, during which they will discuss the most pressing government matters as applicable. The move to include the Sussexes is a marked change from the late queen's infamous Christmas address in 2019, during which the couple's photo was left out of the collection on her desk. As royal biographer Christopher Andersen told Us Weekly, it was likely a conscious decision on the queen's behalf. "In 2018, she sat there in front of a Christmas tree. She gave her Christmas address and there were the family photos. ... Including Archie and Meghan and Harry, very prominently displayed," he recalled.
By the following year, the relationship had soured considerably, and when the queen was asked whether she wanted to keep a photo of the couple with the rest, she reportedly said, "We won't be needing that one."
Evidently, Charles is sending his own message by including them. 
The king may not be willing to go any further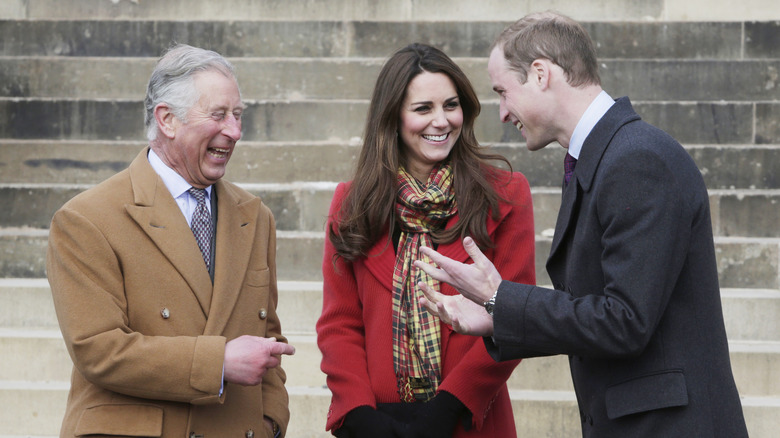 Wpa Pool/Getty Images
Despite the fact King Charles has a photo of his son, Prince Harry, Duke of Sussex, and wife Meghan Markle, Duchess of Sussex, prominently displayed in his office, there's a long way to go before the trio will be playing happy families once again. Before leaving the U.K., Meghan requested a meeting with Charles, as reported by Express. But it doesn't look like it happened, or if it did, the results weren't good. In fact, the British ruler may not wish to make amends with the couple anymore. 
According to sources who spoke to the Daily Beast, Charles could be planning to exile the couple just as King Edward VIII and his American paramour, Wallis Simpson, were cast out back in the day. As a friend of the king explained, "The royals handled the abdication crisis by exiling Edward which meant he and Wallis ultimately came to seem like unimportant, misguided, disloyal, and even treacherous individuals to almost the entirety of the British people."
The insider claimed: "The same thing is already happening with Harry and Meghan, and will only gather pace over the next few years under the rule of King Charles." 
As royal author Katie Nicholl noted in her book, "The New Royals," (via Vanity Fair), the ongoing issues with the Duke and Duchess of Sussex have had serious ramifications. Charles may not be willing to wade back into those troubled waters, instead opting to keep the couple at arm's length instead.