Inside Prince William And Meghan Markle's Relationship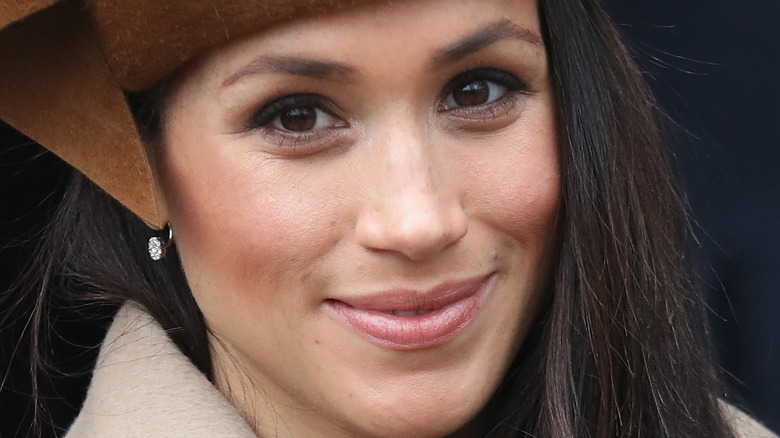 Chris Jackson/Getty Images
Prince William and Meghan Markle were first introduced in 2016 after Prince Harry made a point of making sure his older brother met the woman he already knew he wanted to marry. It's been noted that Markle expected William to ask her many questions and to work through her history. Still, by all accounts, he was happy to finally meet the woman making Harry so happy (via Elle).
Rumors that William was a little nervous about how Harry and Markle's relationship began to move started to trickle out in the months following that first meeting. People eventually reported that Harry and William were soon at odds with one another following Harry's announcement that he planned to propose to Markle.
Despite these rumors and purported ups and downs, it's been clear that William and Markle have, at times, enjoyed a happy relationship as brother and sister-in-law. The pair have worked together alongside their partners, and Markle was celebrated for giving William an excellent Christmas gift in 2017. Here is a look at what we know about Prince William and Meghan Markle's relationship.
Prince William and Meghan Markle met in 2016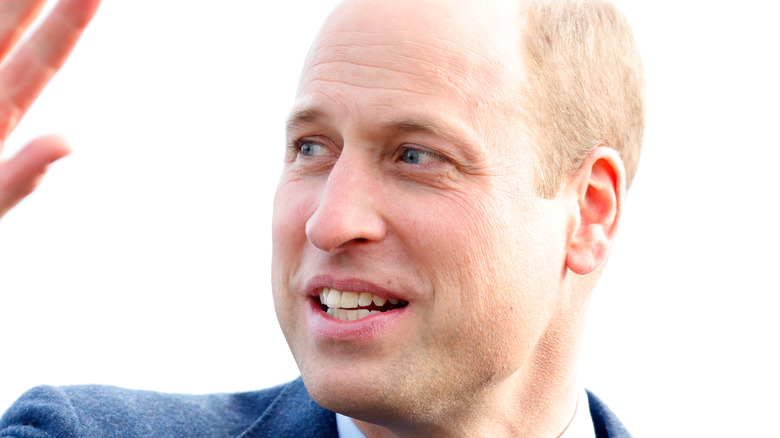 Max Mumby/indigo/Getty Images
As Omid Scobie and Caroline Durand detailed in their book Finding Freedom, Prince William and Meghan Markle were introduced pretty early into Harry and Meghan's relationship. Markle first met William in November 2016, when she and Harry visited the future king at his home. The book noted that Markle was ready for William to be tough on her. As the authors put it, "Meghan thought that William would no doubt want to know everything about her—and her intentions. She was self-aware enough to understand that the brothers were wary of women who were more interested in their titles than their well-being" (via Elle).
Happily, William was gracious and excited to meet his brother's girlfriend. The authors added that he and Markle got along "so well," and William was genuinely happy to meet the woman who "has put that silly grin on my brother's face."
However, Markle didn't meet William's wife, Kate Middleton, for several more months when the two finally had their first face-to-face in January 2017. The authors explained that the two had a short meeting and that "Kate had seemingly not shown much interest" in meeting Markle ahead of time. While the Princess of Wales is described as "guarded" in the book, by the end of the meeting, she had assured Markle that "she was always welcome to contact her if she needed anything."
Rumors soon spread that Prince William was worried about the relationship between Prince Harry and Meghan Markle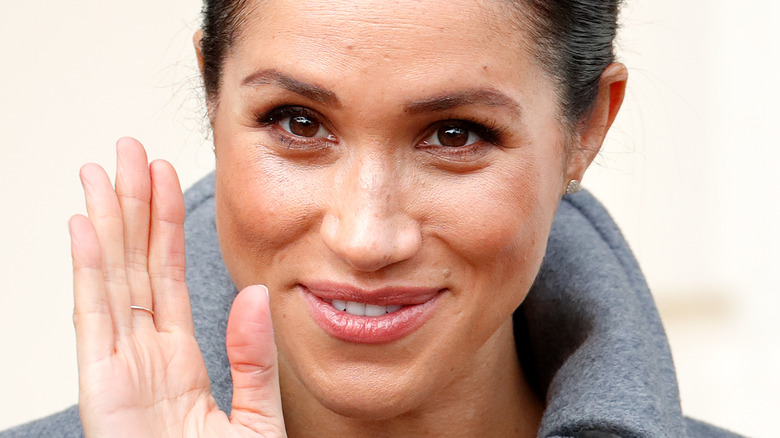 Max Mumby/indigo/Getty Images
Despite apparently receiving a glowing review from Prince William following their November 2016 meeting, within months, there were rumors that William was cautioning Prince Harry against moving too quickly with Meghan Markle. As People noted in 2019, the initial tension between the brothers has roots in the days that followed Harry telling his family he planned to marry Markle. The Prince and Princess of Wales famously dated for eight years before getting engaged.
As noted in Finding Freedom, Harry and Meghan got engaged in secret sometime between November 2016 and September 2017. During this time, William reportedly began telling palace staff he thought Harry was going too fast. While William publicly backed up his brother's concerns about the media creating a dangerous situation for Markle, he also "privately voiced concerns to aides about the speed at which Harry's relationship was developing with a Hollywood actress he hadn't known for long" (via Elle).
The authors added that a source revealed Harry became incensed after William told his younger brother to "take as much time as you need to get to know this girl." While some chalked this up to personality differences between the two, another source told Omid Scobie and Caroline Durand, "Harry could see through William's words. He was being a snob" (via Elle).
Prince William worried Meghan Markle couldn't handle royal life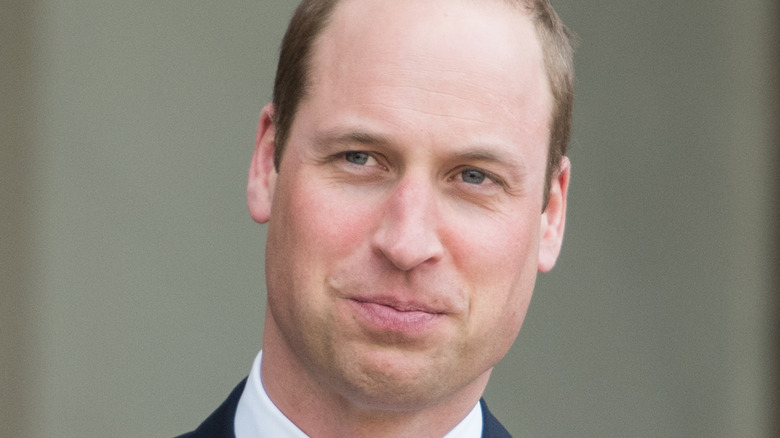 Frederic Legrand - COMEO/Shutterstock
It seems that Prince William had more worries about Meghan Markle in the months leading up to Prince Harry and Markle's wedding. As royal author Tina Brown wrote in her book "The Palace Papers: Inside the House of Windsor – the Truth and the Turmoil," William wasn't convinced that Markle had been allowed enough time to prepare for the realities of royal life (per Geo TV).
Brown wrote in the book, "A person close to the Duke of Cambridge told me that William thought she should have more time to build up a life in the U.K. and make friends who didn't always have to be brought in confidence to the palace." It also seemed that William was using his wife's experience as a blueprint, as The Princess of Wales still faced difficulty from the media ahead of her royal wedding.
However, according to Brown, Harry's response wasn't what William expected. Brown stated in her book that Harry believed the faster he could marry Markle, the better, as a royal wife would afford her police protection (via Town & Country).
Christmas 2017 was a happy one for Prince William and Meghan Markle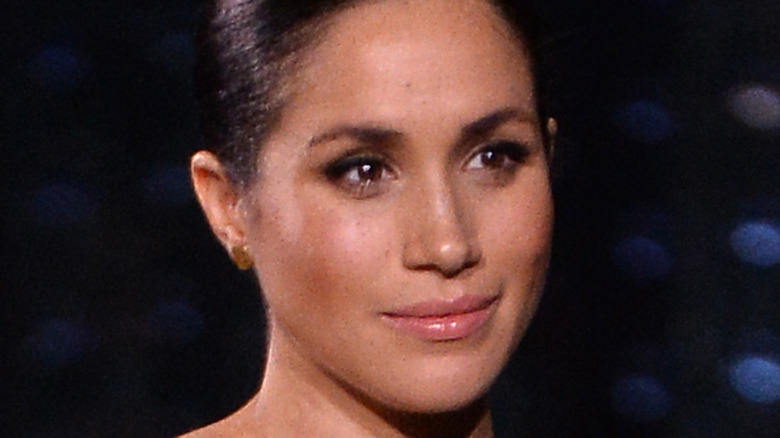 Jeff Spicer/bfc/Getty Images
Despite Prince William's apparent concerns about whether or not Meghan Markle could handle royal life, the two enjoyed a wonderful Christmas in 2017 alongside the rest of the royal family at Sandringham. As many fans of the British royal family know, the members of the family are fond of giving one another gag gifts at the holidays (via Elle). When it was time for Markle to give William a gift, she apparently hit it out of the park.
As Omid Scobie and Caroline Durand wrote in their book "Finding Freedom," Markle found a great gift for William. They said, "At least one of her gifts was a huge hit—a spoon for William that had 'cereal killer' embossed on the shallow bowl end of the utensil." Markle and Prince Harry also stayed with William and Kate Middleton for the holiday, sharing their home in Anmer Hall with the pair and their three children.
Meghan Markle and Prince William attended their first official event together in 2018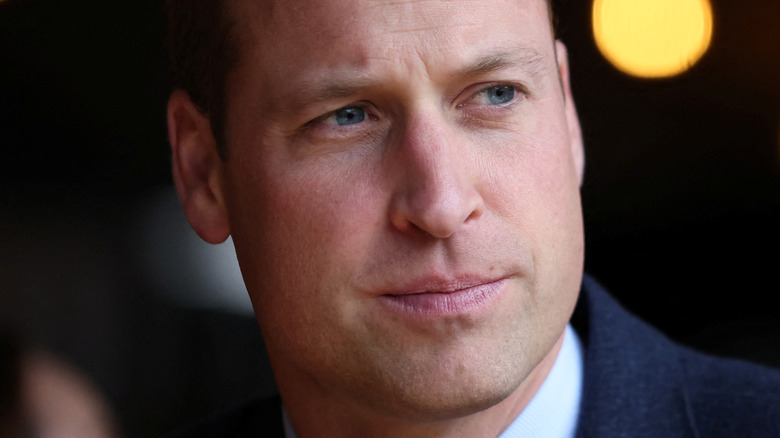 Pool/Getty Images
In early 2018 Prince Harry and Meghan Markle joined Prince William and Kate Middleton for the foursome's first official appearance together. The four were onstage at the Royal Foundation Forum, where they spoke about their dynamic as a team of four. After Prince Harry commented, "Working as a family does have its challenges. Of course it does. ... But we're stuck together for the rest of our lives," Markle added, "Togetherness at its finest" (via Us Weekly).
Of course, the four had also been photographed together at family events, including while attending the Christmas service alongside Queen Elizabeth in December 2017.
At the time, a source also told Us Weekly that Markle had been helping Middleton around her home as much as possible as the future queen and her soon-to-be sister-in-law battled morning sickness during her third pregnancy. 
Prince William played a big role in Meghan Markle and Prince Harry's wedding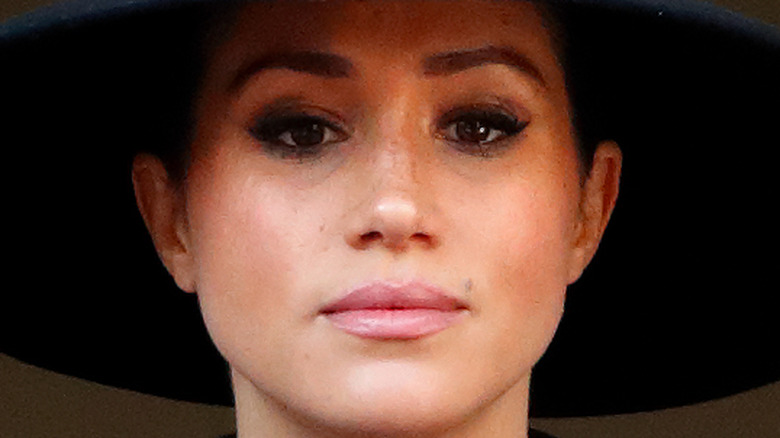 Max Mumby/indigo/Getty Images
When Prince William married Kate Middleton in 2011, his brother Prince Harry was a big part of the wedding as William's best man. William returned the favor during Harry's 2018 wedding to Meghan Markle. Buckingham Palace revealed the news on April 26, 2018, with a short announcement that read in part, "The Duke of Cambridge is honoured to have been asked, and is very much looking forward to supporting his brother at St George's Chapel, Windsor on May 19th" (via Us Weekly).
William also joked about getting "revenge" on his brother during the wedding as he reminded reporters that Harry turned around to get a glimpse of Middleton before William saw her on his own big day. As William put it, "It feels great. I'm thrilled and delighted obviously. Revenge is sweet. I'll be looking forward to it."
The news had been previously reported by Us Weekly in December 2017 ahead of Buckingham Palace's official confirmation. As a source close to the family told the outlet, while Harry has a number of close friends he could call on, none of them were as important to him as William.
Prince Harry felt Prince William didn't do enough for Meghan Markle after the wedding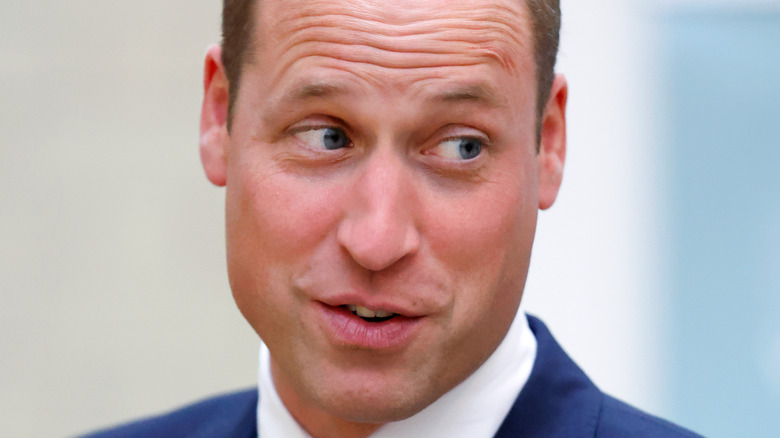 Max Mumby/indigo/Getty Images
Unfortunately, it seems that the good feelings between Prince William and Meghan Markle began to sour relatively soon after Markle and Prince Harry married in May 2018. Vanity Fair's royal reporter Katie Nicholl wrote in her 2022 book "The New Royals: Queen Elizabeth's Legacy and the Future of the Crown" that Harry hoped William would guide his new wife through royal life in a closer way following the big day, and was dismayed when it seemed like his older brother failed to do so. 
Nicholl detailed Harry's feelings at the time to Yahoo! and explained, "It was certainly Harry's feeling that William and Kate hadn't rolled out the red carpet as much as they might have done. You know, there wasn't this sort of instant welcoming of Meghan into the royal fold." According to Nicholl, this coupled with William's concerns about how Harry and Meghan's relationship moved, was the beginning of the feud between the brothers.
Prince William appeared to ignore Meghan Markle at Commonwealth Day in 2020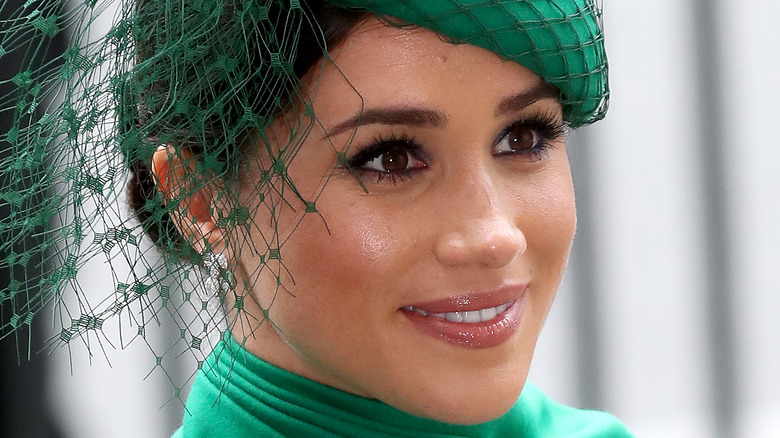 Chris Jackson/Getty Images
Things between Prince William and Meghan Markle appeared to continue to sour in the years that followed Markle and Prince Harry's 2018 wedding, and the pair's decision to step back from senior royal duties in January 2020 fractured the brothers' relationship even more. When Markle and Harry joined William and Kate Middleton at the 2020 Commonwealth Day observations nearly two months after their surprise announcement, many believed that William's animosity against Markle was on full display.
As reported by numerous outlets, it seemed from photographs of the event that William and Middleton were completely ignoring Markle and, by extension, Harry. The four arrived separately at Westminster Abbey for the day's observation and that Harry and Markle entered their row to be seated first. When William and Middleton entered their row directly in front of their brother and sister-in-law, they all but ignored Markle's wave and Harry's attempt at conversation.
Meghan Markle and Prince Harry's Oprah interview damaged the relationship with Prince William more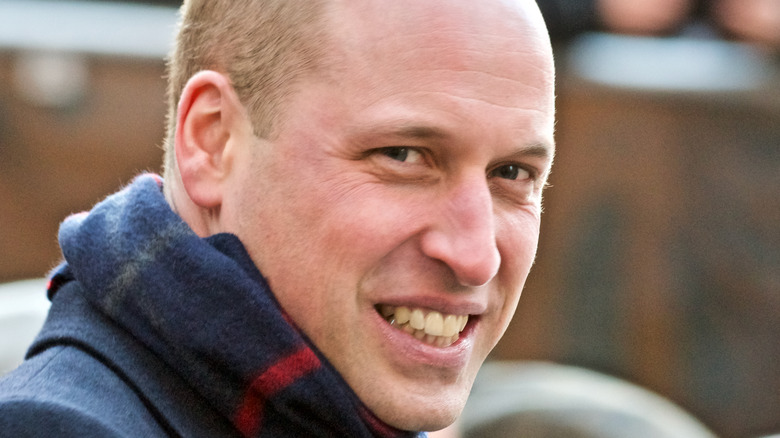 Liv Oeian/Shutterstock
Prince Harry and Meghan Markle moved to Canada and California following their decision to depart from royal life in 2020. In 2021, the pair sat down for an interview with Oprah that proved to cause even more damage to their relationships with the rest of the royal family. Harry and Markle opened up about the mistreatment they experienced at the hands of the British media while in the country and even explained that an unnamed member of the royal family wondered aloud how dark their firstborn child's skin would be ahead of his birth.
In the immediate days that followed the interview, William made it clear to the press that he had not spoken to his brother and, by extension, Markle. As reported by Insider, he told a crowd of waiting reporters, "we're very much not a racist family" and that he planned to speak to Harry soon.
Royal author Katie Nicholl told Yahoo! that the interview changed everything for William and Markle and between William and Harry. As she said, "This was sort of an unbreakable bond between the brothers. And there isn't that closeness anymore. A lot has happened. I think there's a lot of anger, hurt, and resentment on both sides."
Prince William and Meghan Markle didn't interact at Queen Elizabeth's Jubilee in 2022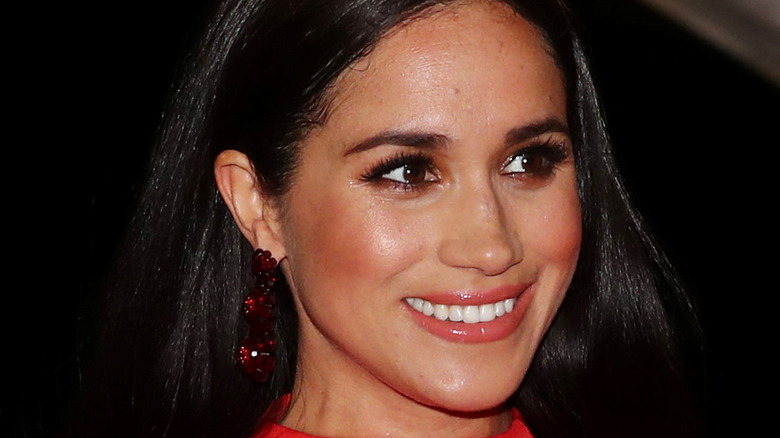 Wpa Pool/Getty Images
When the royal family reunited in London in 2022 for Queen Elizabeth's Platinum Jubilee, it was clear that the year between Prince Harry and Meghan Markle's Oprah interview and the Jubilee had not done much to heal the rift between all sides. Harry and Markle showed up at St. Paul's Cathedral for the monarch's Thanksgiving service ahead of Prince William and Kate Middleton, and the four didn't sit together. As a source told Us Weekly, "Senior members of the royal family were seated in the front row and non-senior members in the second row."
However, it seemed there was more to the decision than simply that excuse. As the source also told the outlet, the royal family seated Markle and Harry apart from William and Middleton to keep the attention of both the press and the public on Queen Elizabeth and her remarkable feat. 
Prince William invited Meghan Markle and Prince Harry to walk with him during Queen Elizabeth's funeral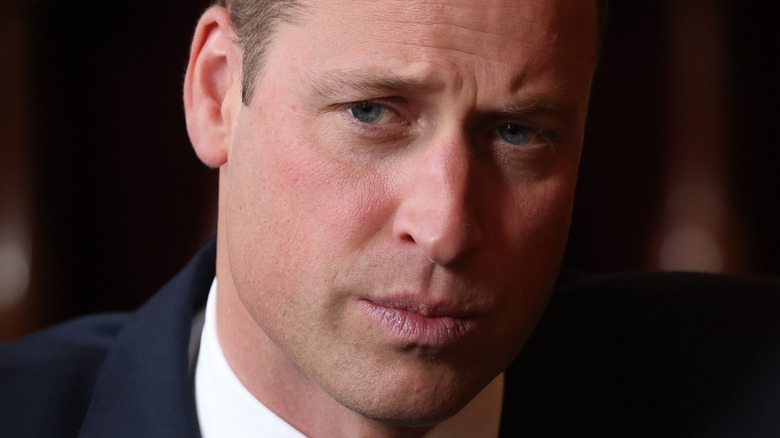 Wpa Pool/Getty Images
The death of Queen Elizabeth rocked the royal family in September 2022. As it happened, Prince Harry and Meghan Markle were in the United Kingdom when Elizabeth died, and Harry was able to join his family at Balmoral following her passing. In the days that followed, Prince William decided to extend an olive branch of sorts to Markle and Harry when he invited them to walk with him and Kate Middleton during the queen's funeral proceedings.
As reported by People, the four gathered together for the first time for a walkaround of Windsor Castle a few days after Queen Elizabeth died. They were photographed and filmed greeting well-wishers and mourners and looking at the flowers and tributes left as memorials to Queen Elizabeth. People also noted that Kensington Palace made a point of noting that William had specifically invited Harry and Markle to the walkaround, leaving some to hope that perhaps William will heal his rift with both Meghan Markle and his brother.