How Sally Beauty Supply's Foot Traffic Is Managing To Remain Steady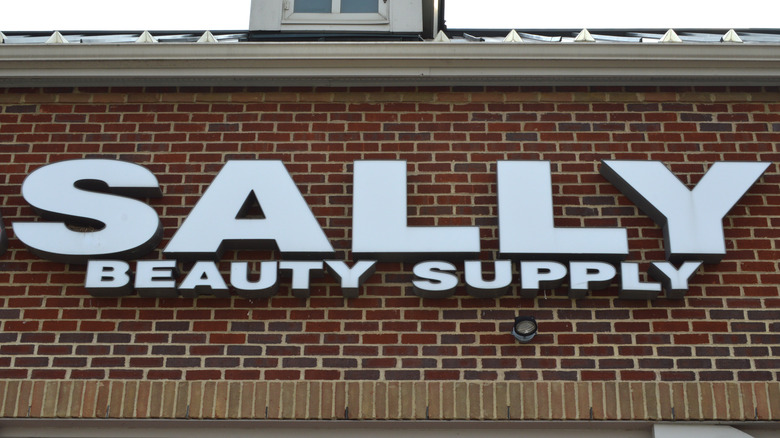 Eric Glenn/Shutterstock
We all know the importance of self-care, but regularly practicing it is easier said than done. Finding the time and money to invest in good quality hair care products, skincare, and makeup can be tricky. Luckily, retailers like Sally Beauty specialize in all things beauty, providing you with all the tools you need to treat yourself. No matter how much time you spend on your daily beauty routine, Sally Beauty Supply has got you covered. According to Sally Beauty Holdings, the company services "both retail consumers and salon professionals by offering up to 8,000 products for hair color, hair care, skin, and nails." Per their website, Sally Beauty Supply has come a long way since its flagship store opened in New Orleans in 1964; today, the chain has over 5,000 stores worldwide.
When the COVID-19 pandemic forced nationwide store closures, many retailers were hit hard and have struggled to recover since reopening. Fortunately for our favorite beauty supply store, shoppers are quick and eager to get back. To see just how well Sally Beauty Supply is doing post-pandemic, The List created a graph via Data Herald that analyzed monthly foot traffic data over the past two years.
Shoppers prioritize looking their best while they navigate rising inflation costs
According to The List's graph, Sally Beauty Supply has maintained a majority of their in-store shoppers after the pandemic closures in 2020. Prior to the shutdown, they saw an average of approximately 100,000 visitors each month. After reopening, foot traffic initially dipped while shoppers were still navigating their safety and comfort levels, but by 2021, averages returned to pre-pandemic levels. Even with another slight dip in foot traffic this year, 90,000 shoppers still frequent Sally Beauty Supply each month for their beauty needs.
The slight dip in foot traffic in 2022 is most likely due to changing consumer trends caused by inflation. While inflation has caused shoppers to rethink their budget and spending habits, self-care has remained a top priority. According to CNBC, consumers are spending more on hair care and beauty products and retailers are seeing profits rise — makeup sales are up by 20% and hair care by 28%. 
Self-care became a prominent topic during the pandemic, with many staying indoors and investing on themselves through skincare and other beauty products, and that trend seems to continue post-pandemic. People are spending less money on items like home decor and electronics, prioritizing experiences and wellness, per New York Post. Sally Beauty Supply caters to this shift in consumer trends, becoming a priority store for shoppers who are investing in self-care. So next time you're shopping for supplies to achieve a salon-worthy blowout or the perfect pedicure at home, head to Sally Beauty Supply