The Reason Prince George & Princess Charlotte Might Attend The Coronation Isn't What You Think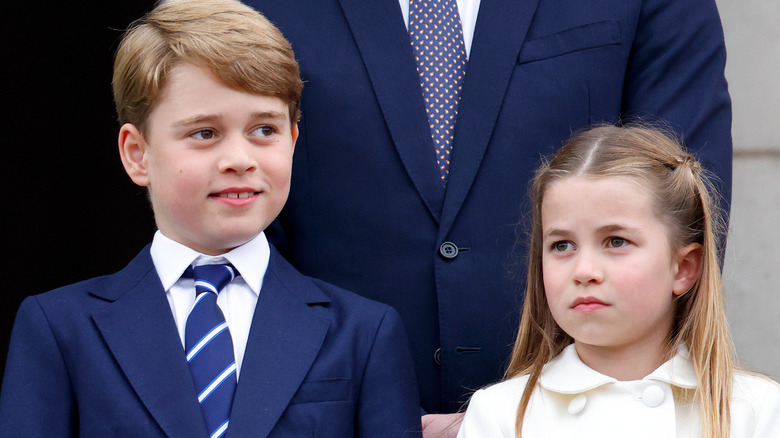 Max Mumby/indigo/Getty Images
As more details of King Charles III's coronation are confirmed, the ceremony is shaping up to be vastly different than the late Queen Elizabeth's 1953 coronation. As reported by The Telegraph, the guest list is limited to 2,000 people, compared to the 8,000 that attended almost 70 years ago.
According to the Daily Mail, this ceremony will also be vastly shorter — one hour, instead of three. Another key difference is that the heir, Prince William, Prince of Wales, will play an important role during the event, paying allegiance to his father. The last time a monarch's child played that role was in 1911 at the coronation of King George V, Charles' great-grandfather. It was an emotional experience for the king, who late wrote, "I nearly broke down when dear David came to do homage to me, as it reminded me so much when I did the same thing to beloved Papa, he did it so well" (via Royal Watcher Blog). David, then Prince of Wales, was the king's oldest son and the future Edward VIII.
As the Daily Mail notes, the heirs at the last two coronations did not formally participate in the event. In contrast, neither 4-year-old Charles nor 11-year old Elizabeth had a formal role in their parents' ceremonies. While King Charles' guest list hasn't been confirmed yet, when it comes to child attendees, a royal author notes it is likely that Prince George and Princess Charlotte will be there — although for a somewhat surprising reason.
Prince George and Princess Charlotte are taking advantage of a royal training opportunity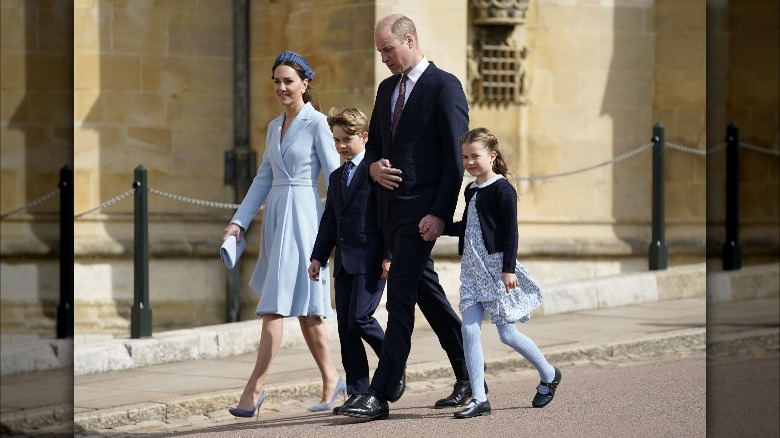 Wpa Pool/Getty Images
According to Express, King Charles III's coronation represents a training opportunity for Prince George and Princess Charlotte. As second and third in the line of succession, per Royal U.K., Prince William and Princess Catherine of Wales' two oldest children are already learning the ropes to become future working royals.
Writing in Vanity Fair, royal author Katie Nicholl said, "The ceremony will likely highlight the line of succession, with William, Kate, and their children featured more prominently than other members of the family."
Previously, George and Charlotte's attendance at Queen Elizabeth II's funeral put them in the spotlight. "In the same way that William always had his wingman in Harry, I think it's rather wonderful that that is being echoed here with George and Charlotte," Nicholl tells ET's Rachel Smith. "You're going to see, I think, real teamwork at place here."
As the heir, George is going to take additional training, according to royal biographer Robert Lacey. Just like his father, grandfather, and great-grandmother, the prince will take special classes on the constitution and royal responsibilities, per New York Post.
In addition, Nicholl predicts that William and Kate will expose the young royals to as many hands-on opportunities as possible. "I think we will see the Wales including their children where they can, where it's not disruptive to the school routine, because again that image of the future is a really powerful one," she told ET.
Will King Charles' other grandchildren be attending the coronation?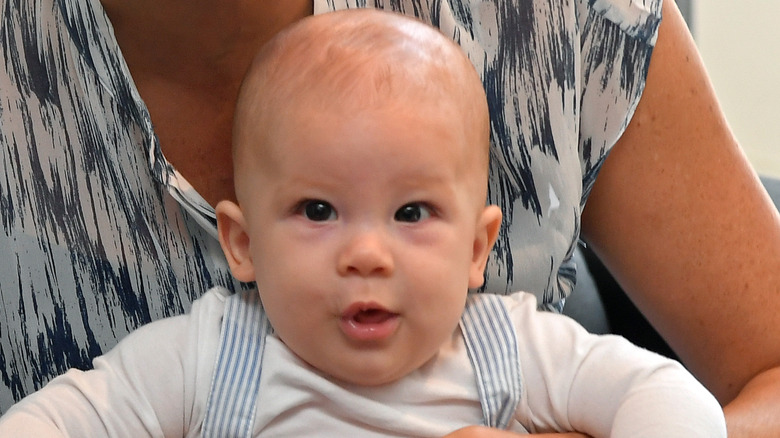 Pool/Getty Images
King Charles III's coronation is scheduled for May 6, 2023 — a date which also happens to be his grandson Archie's 4th birthday. Some royal fans see this choice as a snub towards Prince Harry and Meghan Markle's kids. This event may even precipitate the family traveling to the U.K. Royal author Katie Nicholl told ET, "it's my understanding they will be, of course, receiving an invitation to the coronation."
Even if Meghan and Harry do attend the event, royal historian Marlene Koenig does not believe birthday boy Archie will be there. "Archie is too young to attend the coronation," she told Hello! Magazine. "But Charles was four and a half. However, Archie is not heir to the throne or even remotely close to the throne." Meanwhile, his sister Lilibet will be just under two by May 6, which also puts her in Koenig's category of "too young." Now that their grandfather is king, Archie and Lilibet have moved up slightly in the line of succession to 6 and 7 (via Royal U.K.), although Charles is taking his time deciding their royal titles.
Based on Nicholl's report in Vanity Fair, it seems implied that Prince Louis will be at the coronation, as one of Prince William and Princess Catherine of Wales' children. By coronation day, Louis will be 5 years old, per Royal U.K.