Joe Biden's Comment On California Gas Prices Left Both Allies And Adversaries Confused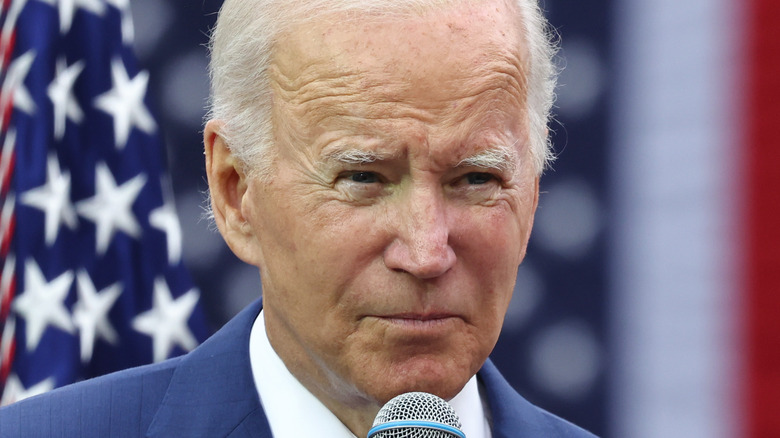 Mario Tama/Getty Images
A taco run turned into a PR nightmare for President Joe Biden when he was grilled by a Los Angeles-based reporter about $7 per gallon gas prices in the area (via New York Post). The Democratic leader, whose most recent instance of putting his foot in his mouth heartbreakingly involved how his son Beau passed away, then lobbed a response that is not sitting well with, well, anyone. "Well, that's always been the case here," the commander in chief answered the reporter's question about skyrocketing costs at the pump in the Golden State.
Biden went on to claim that gas prices are down $1.35 across the country. Finally, the soon-to-be 80-year-old, whose birthday celebration is reportedly going to be rather quiet this year, changed the subject to declare his administration would be working on housing, saying it is the most important thing we have to do in terms of that." Not only were people left scratching their heads about the gas prices claim, but Biden's comment about housing also seemed unclear.
While Twitter pounced, it's important to first look at the facts. According to Snopes, gas prices did dip below $2 per gallon under Donald Trump. But many factors may have contributed to the low cost of fuel, including a lack of demand during the height of the pandemic. And while gas prices nationwide have been falling in recent months according to CNBC, folks on the ground in California were ready to refute the President's comments about the cost of gas in their state.
Twitter pushes back on Joe Biden's claims about gas
Joe Biden brags gas prices are "still down over a dollar."

Down from what? The nationwide average is still $1.51/gallon HIGHER than when Biden took office. pic.twitter.com/dGm2GShW92

— RNC Research (@RNCResearch) October 15, 2022
As President Joe Biden's answer to a Southern California-based reporter's question about gas prices went viral, Twitter weighed in with very strong reactions.
Among the voices on the social sharing platform was that of US Senate candidate from California Mark Meuser who tweeted, "I'm sorry Mr. President but California does not usually have $7 gas. In fact, prior to you becoming president, $5 gas in California was considered extremely high. You clearly are out of touch with how your policies are destroying this nation."
Someone else claimed that just two years ago, gas cost $2.64 where they lived, adding that indeed "$7 a gallon is not normal," and that Biden's "failing" policies were to blame.
"Mr. President. I live in CA. Your statement about Ca gas always being this expensive is categorically false!!!!" another person tweeted, adding to the canon of folks who were troubled by the POTUS' comments.
Finally, a cringe-worthy tweet implored the leader, who also just got people talking when he inquired after the whereabouts of a legislator who recently passed away, to call Donald Trump for advice on how to tackle the situation, opining, "He'll know what to do."