The List's Exclusive Survey Shows The Trendy Prints People Will Be Wearing This Fall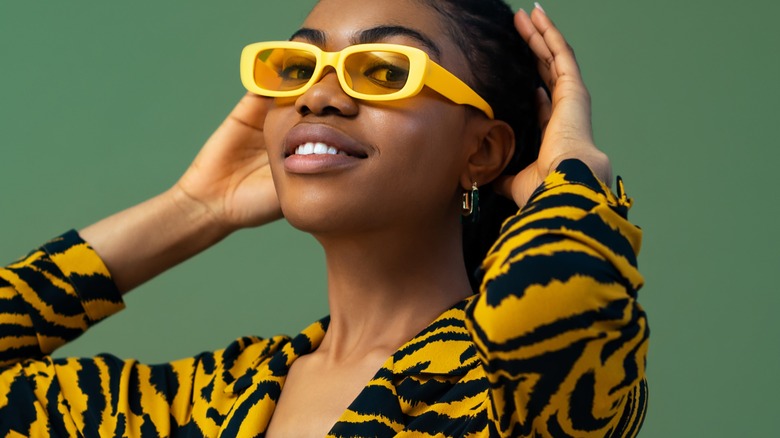 Victoria Chudinova/Shutterstock
The temperature is dropping and the leaves are falling, which can only mean one thing: time to break out our fall wardrobe. Try not to mourn your cute cutoffs and crop tops you wore all summer — you can still look fabulous and fashionable even in the colder weather. Looking good when it's chilly outside is all about layering and finding pieces that keep you warm while showing off your style (via Style Caster). When you're looking for fall outfit inspiration, consider adding a fun print to your wardrobe.
Contrary to popular belief, prints are extremely versatile: coordinate the colors of your preferred prints with the rest of your wardrobe, or use it as a statement piece that is bold against your neutral basics. You can even clash patterns and prints to make a fashion statement and express your personal style in an innovative way.
To find out which prints are totally trending this fall, The List conducted a survey that asked 600 people, "Which trendy print will you be wearing most this fall?"
You'll be seeing this festive trend all season long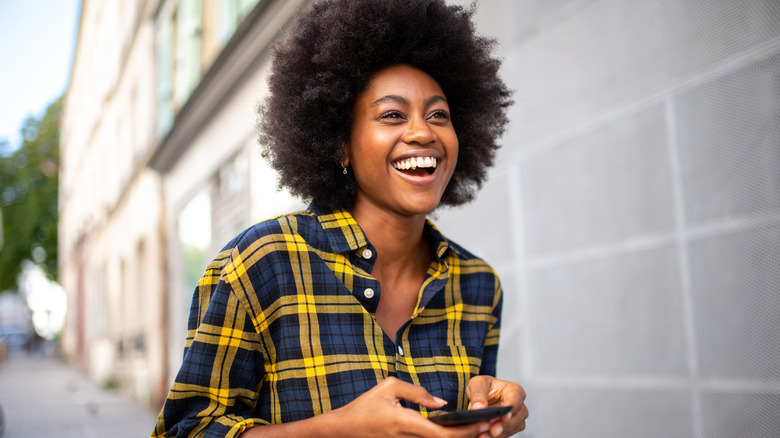 mimagephotography/Shutterstock
According to The List's survey, the most popular print this fall is plaid. With almost 30% of the vote, plaid prints are a gateway to cold weather fashion: sometimes called "tartan," this print derives from Scottish clans that would wear different colors stitched together in a tartan form to distinguish each clan while protecting themselves from the cold, per Smithsonian Magazine. These days, plaid is worn in all different types of colors and styles from comfy scarves to warm flannels, becoming almost synonymous with the holiday season.
Florals came in second with 21.50% of the vote. You may expect to only see this pretty print trending during the warmer weather months, but florals in the fall are elegant and subtle when paired with the right colors. Vogue recommends investing in muted florals that are versatile year-round and bridge the seasonal gap in your wardrobe with ease.
14.5% of voters prefer houndstooth prints — another print deriving from the days of early Scotland, this time with a focus on their shepherds. According to SCAD Connector, "houndstooth originated in wool cloth from the Scottish lowlands dating back to the 19th century." The dog's tooth-shaped print made its way to the world of fashion in the 20th century, and has dominated the world of outerwear and accessories ever since. The print is usually worn in black and white, but some designers have ventured across the color wheel to find fun and funky combinations.
These fan-favorite prints come in a ton of patterns and shapes and colors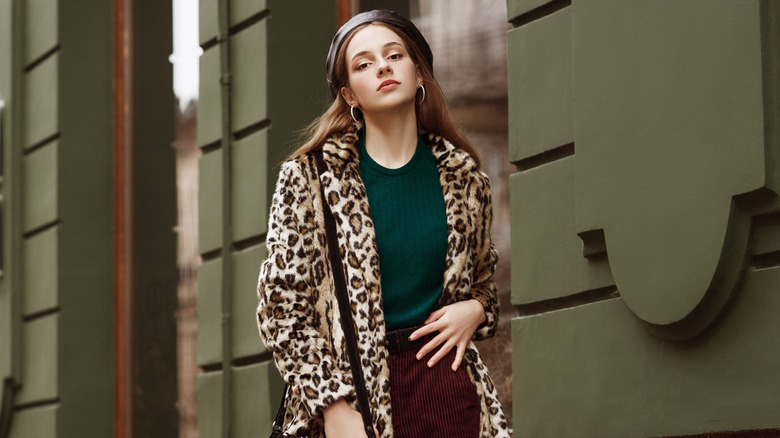 Victoria Chudinova/Shutterstock
When picking their favorite print, 13.17% of voters in The List's survey shared their love for geometric prints, a trendy play on shapes that took over the fashion industry a few years ago. From athleisure to dresses, designers have experimented with a combination of every shape imaginable to create a unique pattern that makes a bold statement (via NY Gal). If you want to look like a walking work of modern art, geometric prints are your match made in heaven.
If you need a print that's a little less unpredictable but just as chic, say hello to pinstripes. With 10.67% of the vote, pinstripes are the perfect business casual print consisting of thin, straight lines that run vertically down a garment, per Who What Wear. You might picture a 1920s mobster or the athletic lower half of a Yankees baseball player when you hear the word pinstripes, but we promise this trendy print looks great on everyone.
10.5% of voters prefer the fabulously luxurious look of a leopard print. This spotted animal pattern is commonly worn in shades of brown to mimic its natural look, but that's not always the case. Leopard print looks gorgeous in all colors, especially the iconic hot pink and neon shades that give us all the '90s Lisa Frank vibes. If leopard prints catch your eye this season, here is a guide on how to coordinate your leopard prints like a pro.