Here's When You Can Expect To Watch The Premiere Of Meghan And Harry's Netflix Series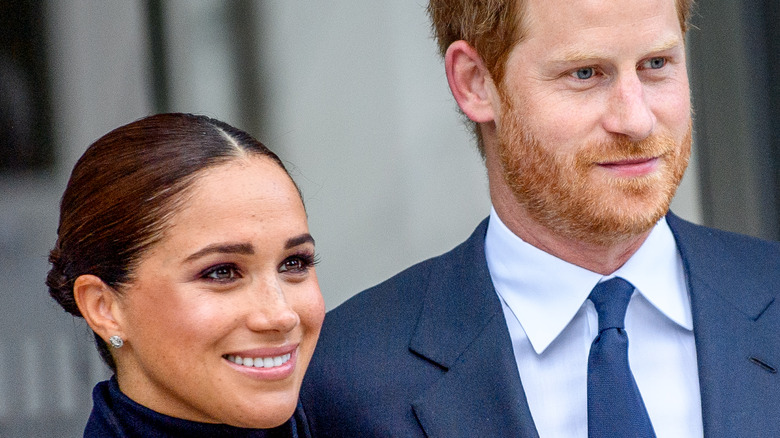 Roy Rochlin/Getty Images
Despite garnering several lucrative deals since defecting, a royal expert made a bold claim about Meghan Markle and Prince Harry's finances allegedly being in trouble. Journalist Tina Brown joked to The Telegraph that the Duchess of Sussex should reconsider marrying someone richer, like Elon Musk, if she wants to keep her position in Hollywood. As far as Brown is concerned, the celebrity couple is struggling to keep up with the Joneses. 
Branding their Montecito mansion a "humble cottage," at least compared to some of their friends' homes, the "Palace Papers" author argued: "It's not very pleasant to be a D-list celebrity who, for them, doesn't have enough money. It's a wholly different game to be with those super-rich people." Simply put, the Duke and Duchess of Sussex need to start earning quickly or they'll be cast out. Unfortunately, the couple's Netflix deal has been plagued by setbacks.
Page Six reported they were at odds with the streamer over proposed edits to an upcoming docuseries, which the Sussexes felt were necessary following a swell of public support for the royal family in the wake of Queen Elizabeth II's death. As one insider put it, "Harry and Meghan are having second thoughts on their own story." Another added, "Harry and Meghan are panicked about trying to tone down even the most basic language."
As a result, there were concerns the project would never see the light of day. However, that doesn't seem to be the case.
The Duke and Duchess of Sussex's show will drop before the year is over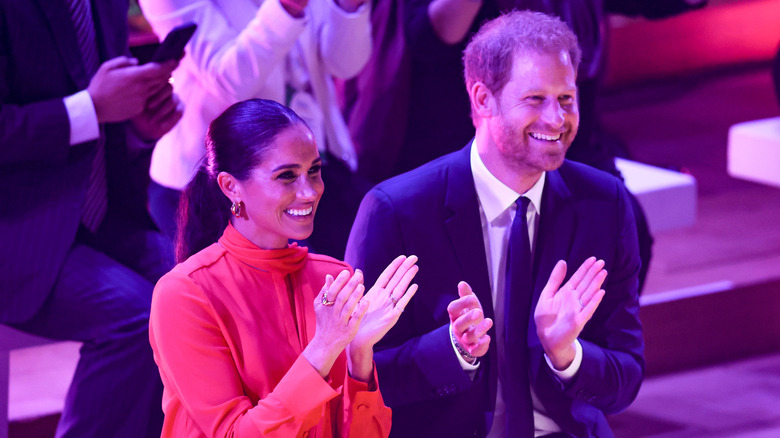 Chris Jackson/Getty Images
Despite extensive reports to the contrary, Page Six confirms Prince Harry and Meghan Markle's Netflix docuseries will drop in December, as planned, per multiple high-ranking sources. "As far as I am aware, the docuseries is still going ahead later this year," one insider claimed simply. The clarification comes in the wake of a damning report from Deadline, which asserted that higher-ups had been "rattled" by the backlash to Season 5 of "The Crown," and had decided to pull back on the couple's show as a result.
"The Crown" is due to return to Netflix on November 9, with Meghan and Harry's series following soon after. However, after days of intense criticism from the press and public alike, the streamer reportedly felt it would be safer not to debut both shows so close together. "They're rattled at Netflix, and they blinked first and decided to postpone the documentary," a source revealed. The way "The Crown" is approaching Princess Diana's death is making some crew members jittery, and they're not the only ones.
Vulture previously reported the late royal's friend, Jemima Khan, abruptly departed the show over fears that Diana's story wasn't being handled with the requisite sensitivity. However, as Page Six reported, Meghan and Harry's docuseries is still coming this year and is not being delayed by "The Crown" or any negative response to it either. 
Reports alleging they desperately wanted to make edits were dismissed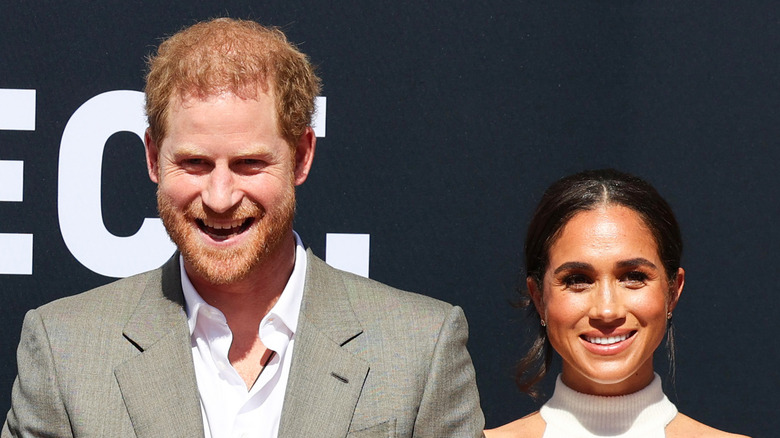 Mathis Wienand/Getty Images
Amid increasingly loud claims about the Sussexes' desperation to backtrack on their own story, a source set the record straight about Meghan and Harry's upcoming Netflix show. Speaking to The Telegraph, the insider cleared things up once and for all by pointing out that edits are all part of the process. "There seems to be a big misconception that they need or want to turn the project on its head," the source acknowledged.
They continued, "There are always edits being made, but that's how it works — people give notes, sometimes things are changed if there's time before a deadline." Moreover, even at the time, an industry insider noted the series would probably still come out in December anyway. There may still be issues behind the scenes, though. According to Page Six, there's been some confusion about the show's contents, in particular.
"A lot in the show contradicted what Harry has written, so that was an issue," a senior Netflix insider admitted, before doubling down on the idea that the celebrity couple was scrambling to change their position on certain issues despite openly providing their perspective beforehand. The streaming giant wouldn't budge regardless, and it seems now that the docuseries is coming out in its intended form, whether Harry and Meghan, the Duke and Duchess of Sussex, like it or not.