Who Was Days Of Our Lives' Neil Curtis?
"Days of Our Lives" has been airing since 1965, and over the decades, there have been so many characters who have moved in and out of Salem. While long-running characters on "Days of Our Lives" such as Dr. Marlena Evans (Deidre Hall), Abe Carver (James Reynolds), Steve Johnson (Stephen Nichols), John Black (Drake Hogestyn), Julie Williams (Susan Seaforth Hayes), Maggie Horton (Suzanne Rogers), and Victor Kiriakis (John Aniston) have become staples on the Peacock soap opera over the years, there has also been a revolving door of faces in the fictional town.
In fact, some fans may not remember some very important characters from years past such as Frankie Brady, who fell hard for Jennifer Horton (Melissa Reeves) and was adopted by Shawn and Caroline Brady along with his little brother Max (via Celebrating The Soaps). Another character that fans may have forgotten about is Chelsea Brady, who was the long-lost daughter of Bo Brady (Peter Reckell) and Billie Reed (Lisa Rinna), per Fame 10. Chelsea's existence not only strained Bo's marriage with Hope Brady (Kristian Alfonso), but also led to the heartbreaking death of their son, Zack Brady, who was killed when Chelsea accidentally hit him with her car.
Of course, many fans may not remember the character of Dr. Neil Curtis either, and his story is definitely an interesting one.
Neil had an unsuccessful love life
Dr. Neil Curtis (Joseph Gallison) first came to Salem in the early 1970s as a new doctor at Salem University Hospital. Although Neil appeared to have his life together, he had some dark secrets such as a gambling addiction (via Soap Central). Neil found himself getting further and further into debt and plotted to marry a wealthy woman named Amanda Howard in hopes of being able to use her fortune to pay his gambling debts. However, his plan backfired when she found him cheating on her just before their wedding day. The ordeal took a terrible toll on Amanda's mental health, but Neil tried to win her back. When that didn't work, he moved on and tried his plan on another wealthy woman named Phyllis Anderson. Neil proposed to Phyllis, who had fallen hard for the doctor. However, she insisted on a prenup before they tied the knot.
Neil and Phyllis eventually got married, but their marriage became strained. After Phyllis found out that she was pregnant, she was unhappy believing that Neil didn't want the baby. She tried to end the pregnancy but was unsuccessful. Sadly, when Neil came home drunk one night, Phyllis attempted to pick him up off the floor and injured herself, which sent her into early labor. Their child was born premature and died a few days after birth. Neil went on to fall in love with Liz Chandler, but she married Tony DiMera instead, per Soaps in Depth.
Neil is Sarah Horton's father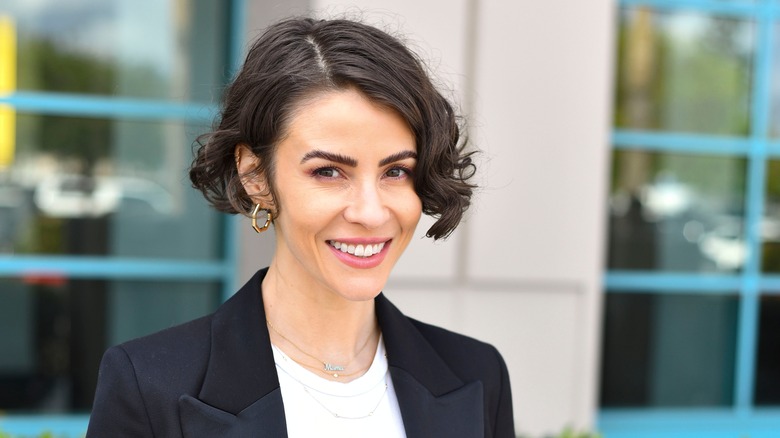 Michael Mattes/Shutterstock
"Days of Our Lives" fans were stunned by Neil Curtis again when Maggie Horton came to him in hopes of having a child with her husband, Mickey Horton. Maggie asked to be artificially inseminated with a donor's sperm in order to conceive (via Soap Central). However, instead of using an anonymous donor, Neil used his own specimen to impregnate Maggie, making him the biological father of her daughter, Sarah Horton. Years later, Maggie and Neil had an affair that nearly ruined Maggie's marriage to Mickey and her relationship with Sarah. However, the family put the pieces back together. Meanwhile, Neil continued to pine after Liz Chandler, and the two eventually had a child together, a daughter named Noelle. After Liz and Neil split, they shared custody of Noelle until both she and Neil left Salem (via Soap Hub).
Joseph Gallison left the soap opera in 1991 when he was written off the show with no explanation. Gallison said that he had planned to leave the show, but that he was surprised the writers didn't write him out appropriately. "When I came back from a vacation they had not written me out of the show, because they thought I was going to hang around. So my last line was, 'I have patients to see, lots of patients,'" the actor said of his character's final goodbye (via We Love Soaps).
Although Neil Curtis hasn't been seen in Salem for many years, fans would likely love to see him return, perhaps to interact with Maggie and/or Sarah.