Inside Thomas' Obsession With Hope On The Bold And The Beautiful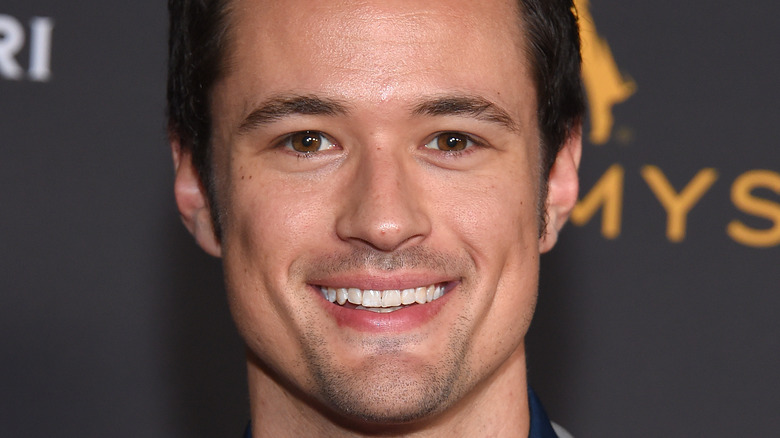 DFree/Shutterstock
"The Bold and the Beautiful's" Thomas Forrester (Matthew Atkinson) is the kind of person who could easily get any partner he wants — at least on paper. He's tall and handsome, and as a Forrester, he holds the key to one of the most prominent fashion houses in this fictional version of Los Angeles. He can also be quite charming and reliable when he wants to be. 
In 2021, Thomas did the right thing when he agreed to look after Hope Logan (Annika Noelle) and her children when her husband, Liam Spencer (Scott Clifton), ended up on the wrong side of the law (via Soap Hub). Thomas could have taken advantage of the situation and tried to make a move on Hope, but he didn't. Most "B&B" fans know that he has had an interesting, if not disturbing, obsession with Hope in the past. After all, Thomas once fell in love with a mannequin that looked just like her. However, it seems like there was a specific reason why he first zeroed in on Hope, and it has to do with his son Douglas Forrester.
Thomas Forrester wanted Hope Logan all for himself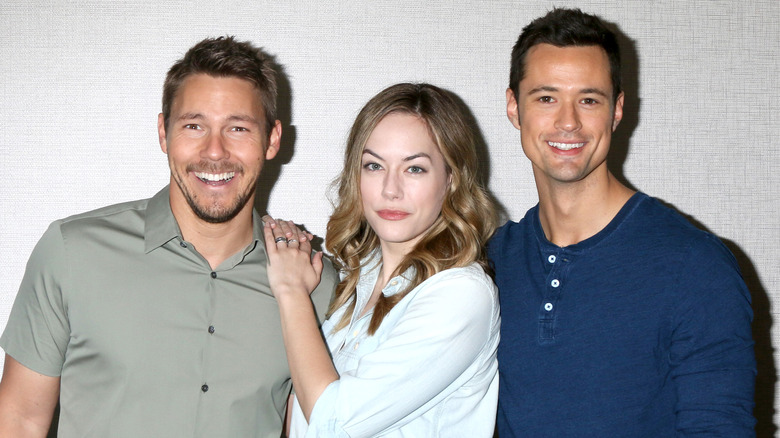 Kathy Hutchins/Shutterstock
When Caroline Spencer died on "The Bold and the Beautiful," she left a significant hole for the Forrester family to fill — particularly for her husband, Thomas Forrester, and their young son, Douglas. According to Cheat Sheet, Thomas couldn't help but notice that Hope Logan formed a quick bond with Douglas soon after Caroline's funeral. In some way, he wanted to use Hope as a replacement mom for Douglas and quickly fell in love with her. However, that love led to a very dangerous obsession. 
In 2019, Matthew Atkinson told TV Insider that while some people might perceive his character as creepy, Thomas knows when enough is enough. He said, "Yes, he will destroy pretty much anyone who gets in his way, except anyone in his family. That's the core of this character. His family will always keep him grounded. When it comes to his sister, his father, his mother, or his son, he will never go past a certain barrier."
While there's no doubt that Thomas has done some awful things in the past, like running Emma Barber off the road and lashing out at his son Douglas, nothing was as bad as what he did to Zoe Buckingham (Kiara Barnes) — in full view of Hope, no less.
Thomas Forrester did anything he could to make Hope jealous
Thomas Forrester pretended to fall in love with Zoe Buckingham, and almost married her, just to make Hope Logan jealous (via Soap Central). It wasn't until Hope exposed the truth at the couple's wedding that Zoe realized Thomas had duped her. If that wasn't enough, Thomas manipulated his son Douglas into believing Hope was his new mommy and convinced her to become a part of their family by adopting the boy.
While Thomas has managed to get over his feelings for Hope since then, their problems aren't over. Many "B&B" fans have become Team Hope or Team Thomas, as the two have become embroiled in a bitter custody battle over Douglas. While some believe that Thomas is obsessed with Hope again, he claims he has the right to raise his one and only child the way he sees fit. However, he might not have a chance of making that happen or winning Hope back when the truth emerges that he framed her mother for a call against him to child protective services, according to Soap Hub.
Hope would probably be better off running as far as she can from Thomas — if only they didn't share a child.