King Charles Pays Tribute To Queen Elizabeth By Sharing Touching Childhood Photo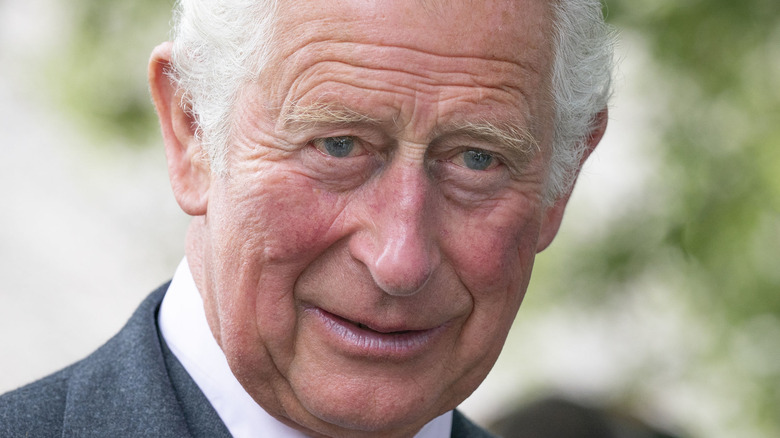 Wpa Pool/Getty Images
It's always a treat for royal fans to see photos of King Charles III and his family. In recent years, Catherine, Princess of Wales, has used her photography skills to share a behind-the-scenes look at the royal family. Instagram photos like King Charles hugging a 2-year-old Prince Louis and candid shots of William, Prince of Wales playing with his three children provide an emotional glimpse at the private life of these public individuals.
Milestone events have provided a look at vintage photos. In honor of Charles' 70th birthday, the Daily Mail showcased an online album. These photos included the then-Princess Elizabeth smiling as baby Charles grabbed at Elizabeth's trademark pearls and played with him as he sat in a playpen.
In 2021, a treasure trove of candid snaps featuring Charles' schoolboy antics went up for auction, per BBC. The collection belonged to Michael Farebrother, a former tutor of Charles. It also included letters from Queen Elizabeth, such as one where she refers to Charles, saying, "The baby is very sweet, and we are enormously proud of him."
Previously, Charles has taken the opportunity to feature photos from his past, such as when he posted a 70-year-old picture of his parents and Princess Anne relaxing on the lawn at Clarence House, as an invitation for viewers to take an online tour of the property. Now the king is sharing an heirloom photo for a more emotional purpose — in honor of his mother.
King Charles chose a vintage photo as an emotional tribute to Queen Elizabeth
As reported by People, Buckingham Palace received 50,000 letters and messages following the heartbreaking death of Queen Elizabeth II. On the day of the late queen's funeral, 6,500 letters arrived — a dramatic increase in the palace's mail when compared to the typical 1,000 letters per week.
As a gesture of gratitude, King Charles created a special card to send in response. On the inside of the card, which a delighted recipient shared on Twitter, Charles included a vintage childhood photo. Taken at Balmoral Castle on September 28, 1952, photographer Lisa Sheridan captured a smiling Elizabeth and Charles peeking out of a window (via Hello! Magazine).
Opposite the photo, the king included the heartfelt words, "It was so very kind of you to send me such a wonderfully generous message following the death of my beloved mother. Your most thoughtful words are enormously comforting, and I cannot tell you how deeply they are appreciated at this time of immense sorrow." 
Royal fans expressed their enthusiasm for the photo. One commented, "Oh wow! I love this photo of King Charles and Queen Elizabeth! So adorable!" Other remarked, "Precious memories."
Back in 2021, Charles shared a photo of himself with his father as a poignant tribute to fans who expressed their condolences after the heartbreaking death of Prince Philip (via Daily Mail). This picture showed Charles as a child sitting next to Prince Philip in a motorboat.