Celebrities React To The Death Of Leslie Jordan
As fans mourn the heartbreaking death of actor Leslie Jordan, many remember the joy the veteran actor brought to millions. Fans loved the actor as Beverly Leslie on "Will & Grace," the snarky frenemy of Karen Walker (Megan Mullally). According to The Hollywood Reporter, Jordan won an Emmy for his "Will & Grace" role in 2006. But the 67-year-old acting veteran didn't rest on his work in television and film.
TMZ reported the 67-year-old comedian and actor became a TikTok sensation during the darkest time of the pandemic, which surged his career to another level. After his TikTok fame, Jordan rang in 2022 on CNN's New Year's Eve bash with Anderson Cooper and Andy Cohen and even made a gospel album! Jordan dropped his album, "Company's Comin'," in 2021, crooning tunes with Dolly Parton, Eddie Vedder, Tanya Tucker, and other music legends, per The Tennessean.
Jordan's friends and co-stars are paying tribute to him and sharing poignant stories about the delightful actor on social media. Eric McCormack's tribute to Jordan has "Will & Grace" fans in tears, while Sean Hayes tweeted: "My heart is broken. Leslie Jordan was one of the funniest people I ever had the pleasure of working with. Everyone who ever met him, loved him. There will never be anyone like him. A unique talent with an enormous, caring heart. You will be missed, my dear friend."
In addition to the "Will & Grace" stars, many celebrities reacted to Jordan's death.
Celebrities pour out loving tributes to Leslie Jordan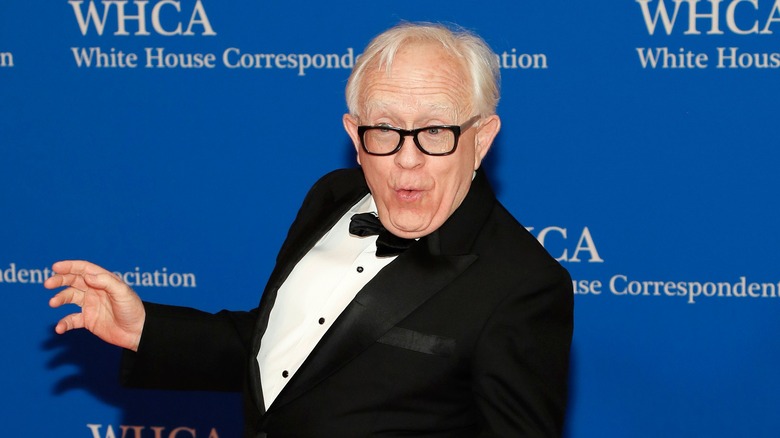 Paul Morigi/Getty Images
The love for Leslie Jordan exploded on social media after his death, with celebrities pouring out tributes. As always, Dolly Parton says it best, and Queen Dolly tweeted: "I am as hurt and shocked as if I lost a family member. Leslie and I had a special bond, I think the world felt they had a special bond with him ... He will be missed by everyone who knew him personally and by everyone who was entertained by him. Rest In Peace lil' brother."
Actor Kristen Johnston tweeted: "You had no choice but to adore Leslie Jordan, he left you no other options. He was magical. I can't believe he's gone." Actor Marlee Matlin shared she worked with Jordan and tweeted: "He was at the top of his game and had so much to look forward to. He exuded JOY and LAUGHTER. RIP dear Leslie."
Nearly everyone loves Mark Hamill, but the "Star Wars" star was a fan of Jordan. Hamill tweeted: "From the first time I saw him on an episode of Murphy Brown in 1989, he was hysterically hilarious. So grateful for the 33+ years of laughter from this deeply gifted man." Iconic actor Lynda Carter tweeted: "Leslie Jordan put a smile on the faces of so many ... What a feat to keep us all laughing and connected in such difficult times ... It feels so cruel that this could happen to such a beautiful soul."
Celebrities share love for gay icon Leslie Jordan
Called a "gay icon" by LGBTQ Nation, Leslie Jordan inspired many. Playwright Jeremy O. Harris tweeted, "You were truly one of the spirits that made aging as a queer man feel more exciting than existing in the present. To a lived fully! RIP LESLIE JORDAN." The iconic television show "RuPaul's Drag Race" posted a photo of RuPaul and Jordan, tweeting: "Rest in peace, Leslie Jordan. Thank you for the countless laughs and for sharing your spirit with us all."
Activist and "Star Trek" icon George Takei tweeted: "I am stunned at the death of Leslie Jordan, who delighted us with his many roles on television and film ... Leslie, we are heartbroken at your loss and will miss your mirth and your inimitable spirit." Producers at World of Wonder tweeted: "Rest in peace to Leslie Jordan, a beloved gay icon, a celebrated actor, writer, and singer, and a legendary member of our community and family. Our thoughts are with those closest to him."