How Much Do Wedding Favors Really Cost?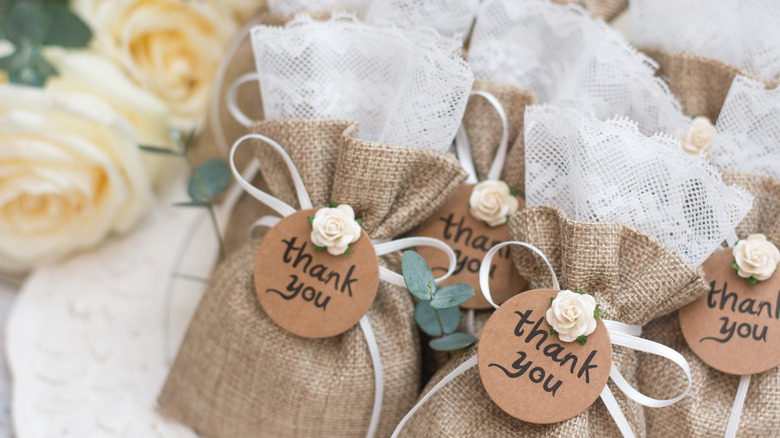 Svetlana Lev/Shutterstock
Newly engaged? Congratulations! But as soon as the initial celebrations begin to die down, it's time to start focusing on the budget. It's well known that throwing an epic wedding doesn't come cheap — but the cost of certain wedding items may still shock you.
Determining an average cost for weddings is tricky; there are so many variables involved in planning a wedding that one set number isn't realistic. According to Zola, couples most often spend between $10,000 and $20,000 on their big day, but you can spend as little as $5,000 or as much as $100,000 or more.
The factors that make that number rise are, of course, the big ticket items. Per The Street, things like your venue, your music, your food, and your florist will cost you the most, but it's actually the little details that may derail your budget.
Before you sign on the dotted line for your reception hall, make sure you've budgeted for things like your officiant, the transportation, and wedding favors. Wondering how much those little favors will actually cost you? We broke it down.
Wedding favors don't always come cheap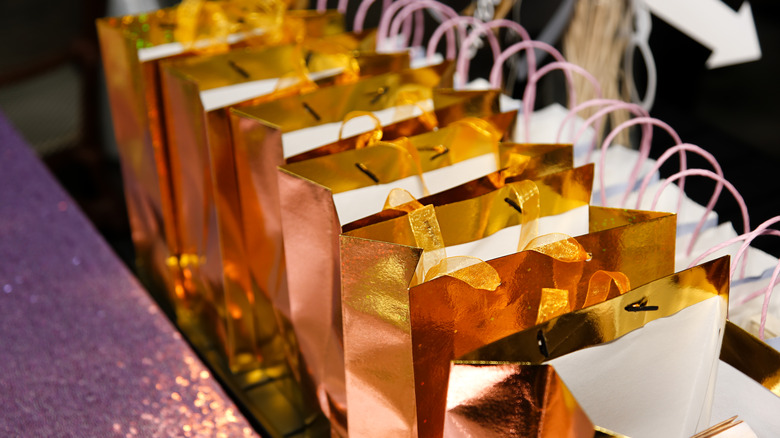 The Image Party/Shutterstock
According to Brides, not everyone thinks wedding favors are fully necessary. If you are choosing to forgo favors, you can save a few hundred dollars on your wedding budget that can be allocated elsewhere. But, according to event planner Summer Newman (via Brides), favors are a way of telling your guests you appreciate them for celebrating your big day and that they are an important part of the wedding.
If you agree with Newman, you will be looking at spending an average of $241 for favors. This number is just an estimate though, as it changes drastically depending on your location, how many guests you have, and the type of favors you choose. According to The Knot, couples should budget about $3 per guest on simple favors, but can spend less than $1 per guest if they find the right item.
The Knot recommends matchbooks, bottle openers, or sunglasses if you're looking for cute favors that won't break your budget. If you want to gift something edible, they recommend picking up some fudge from a local bake shop and wrapping it up yourself in cellophane.
Things to consider when choosing your wedding favors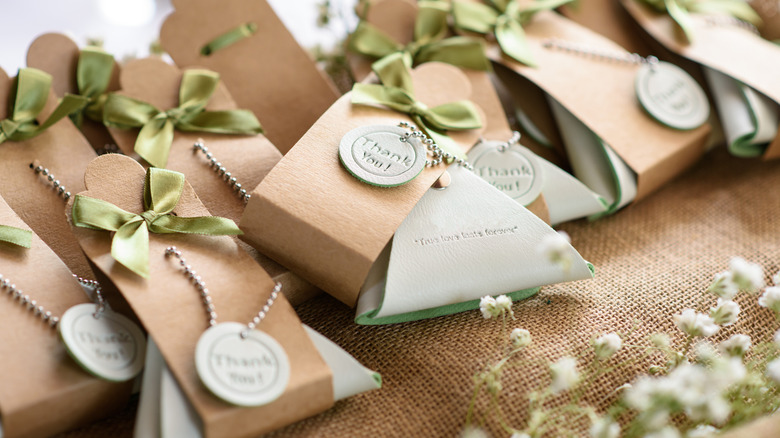 CAPIXEL/Shutterstock
Your party favors for your wedding don't have to be complicated. In fact, sometimes simplicity goes a long way with favors. Emmaline Bride recommends keeping things in perspective when it comes to the wedding. When you're in the thick of it, every little detail is super important, but at the end of the day, the party favor you choose will not make or break your wedding day. To keep things relatively inexpensive, buy your favor of choice in bulk and consider packaging it yourself for added savings.
The Knot recommends choosing something that is easy to carry (think something the ladies can easily fit into their evening bag) and somewhat useful. Some ideas include putting your favorite candies into cellophane bags that say "our favorite" or simply putting mints into cute packaging with the words "mint to be."
Brides also suggests using your favors as double duty by having them also act as place cards or even forgoing the individually-wrapped favors and instead doing a late night snack like doughnuts or a food truck as a delicious parting gift every guest will enjoy.