Days Of Our Lives Classic Romance: Bill And Laura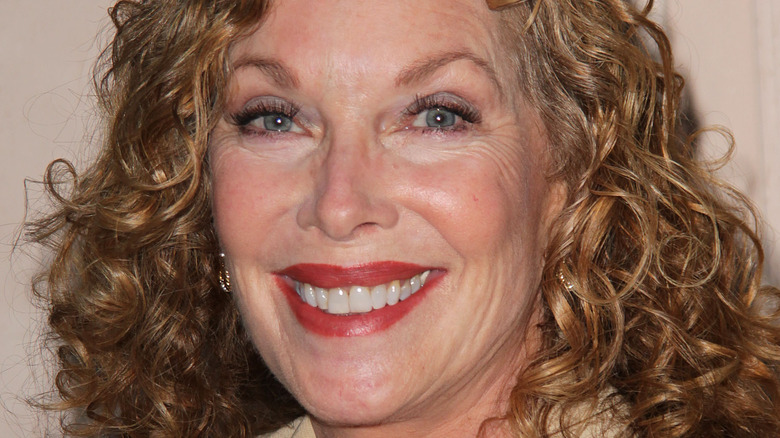 Frederick M. Brown/Getty Images
"Days of Our Lives" fans have seen a lot of interesting couples come through Salem over the years. Duos such as John Black and Marlena Evans, Will Horton and Sonny Kiriakis, Sami Brady and EJ DiMera, Jennifer Horton and Jack Deveraux, Kayla Brady and Steve Johnson, Chad DiMera and Abigail Deveraux, Bo and Hope Brady, Doug and Julie Williams, and many more, have all captured the hearts of fans throughout the soap opera's more than 55-year run, per Soap Hub.
The show has been airing for so long, that many of today's viewers may have forgotten, or not even known about some of Salem's once highly talked about couples, such as Shawn Brady and Mimi Lockhart, Marlena Evans and her first husband Don Craig, John Black and Kate Roberts, the wacky pairing of Eugene Bradford and Calliope Jones, the strange romance of Shane Donovan and Kayla Brady, or the sweet love story of Mike Horton and April Ramirez (via Fame 10).
One old-school couple that "Days of Our Lives" viewers may not remember is the pairing of Laura Spencer and Bill Horton, who went on to have a dramatic relationship full of heartbreak and hope, and spawned two of Salem's most important characters.
Laura was caught in a love triangle with Bill and his brother Mickey
To understand Bill and Laura's romance, "Days of Our Lives" enthusiasts have to know about the relationship between Bill and his brother, Mickey, as the two were involved in a messy love triangle with Laura. Bill and Mickey were two of Tom and Alice Horton's five children (via Soaps). Bill was an aspiring doctor and Mickey was a prominent lawyer in Salem. When Laura arrived in Salem she began working as a psychiatric intern at University Hospital. She and Bill hit it off and began dating. The two became engaged and started planning their wedding. However, Bill decided to call off the engagement, which led Laura to focus on her work. She was asked to evaluate the case of a woman who was accused of killing her husband and worked closely with Bill's brother Mickey during the trial.
Laura and Mickey grew close and eventually developed feelings for one another. The couple tied the knot and began their life together (via Soaps in Depth). However, tragedy struck Laura when she was confronted by a drunken Bill, who attacked and raped her. Laura became pregnant with her son Mike Horton and passed the child off as Mickey's biological son. It was later discovered that Mickey was unable to conceive children, and Mike's true paternity was revealed, per Soap Central. However, that was just the beginning of the drama between Bill and Laura.
If you or anyone you know has been a victim of sexual assault, help is available. Visit the Rape, Abuse & Incest National Network website or contact RAINN's National Helpline at 1-800-656-HOPE (4673).
The end of Bill and Laura
"Days of Our Lives" viewers watched Laura and Mickey continue their rocky marriage, which included infidelity and a web of lies. Eventually, Laura fell back in love with Bill and wanted to leave her husband to be with his brother. After Mickey met Maggie Simmons, he granted Laura a divorce so that she could be with Bill and Mickey could marry Maggie. Bill and Laura were finally free to marry and they walked down the aisle in 1975. They later welcomed another child together, Jennifer Horton. After giving birth, Laura began to suffer from severe postpartum depression, which took a toll on her marriage. When Laura's mental state went from bad to worse, Bill decided to get her professional help. Laura was admitted to Lakewood Sanitarium, where she was treated for 17 long years.
During that time, Bill left Salem and entrusted his parents, Tom and Alice, to raise his daughter. In 1987, Bill came home to visit Jennifer and returned in 1994 after Laura was released from the sanitarium (via Soaps). Bill returned to Salem and officially divorced Laura. He also learned that he had fathered Lucas Horton following a brief affair with Kate Roberts.
Bill moved to Africa and returned in 2010 for the funeral of his mother, Alice Horton. A decade later, Bill died off-camera from a heart attack. Meanwhile, Laura died from a fall in 2021 (via Soap Scoop), ending the characters' memorable run in Salem.