Designer Has Her Say In Meghan Markle's 'Montecito Jumpsuit' Controversy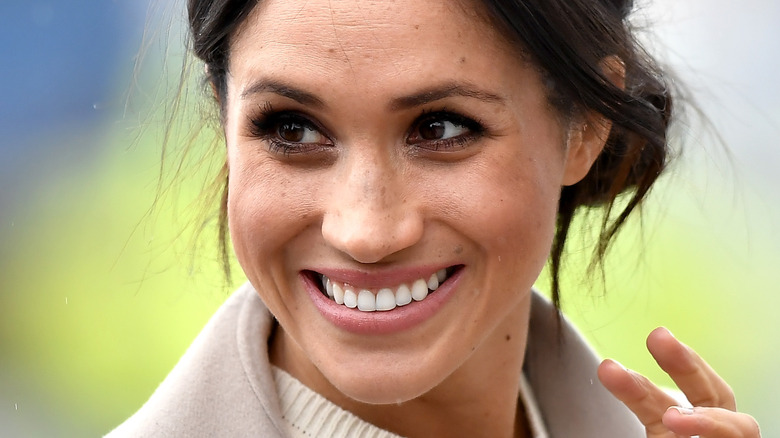 Charles Mcquillan/Getty Images
Earlier this week, the Daily Mail published the first photos of Meghan Markle, Duchess of Sussex, out and about since her latest controversy — and caused another one in the process. When Meghan Markle told Paris Hilton the relatable reason she quit "Deal or No Deal," she probably wasn't expecting to become public enemy No. 1 yet again, but that's precisely what happened. By sharing her alleged mistreatment at the hands of producers, the duchess caused a firestorm on social media. 
Per Us Weekly, reality star Claudia Jordan fought back against Meghan's claims that she'd been objectified while working as a "briefcase girl" on the hit game show. "For clarity — yes getting a modeling gig on a game show isn't necessarily about your intellect but every show the executive producers picked five models with the most outgoing and fun personalities to place mics on who they knew would engage with the contestants," she wrote on her Instagram Stories.
Jordan also argued, "'Deal or No Deal' never treated us like bimbos. We got so many opportunities because of that show." Meghan faced even more heat for her "Deal or No Deal" comments due to an unearthed clip from the duchess's short cameo in "90210," which had people decrying her for being hypocritical (via Page Six). However, Meghan's jumpsuit soon stole the spotlight, as haters rushed to make fun of her bold sartorial choice. The designer, meanwhile, is taking it all in stride.
Malia Mills is grateful to the duchess for all the free publicity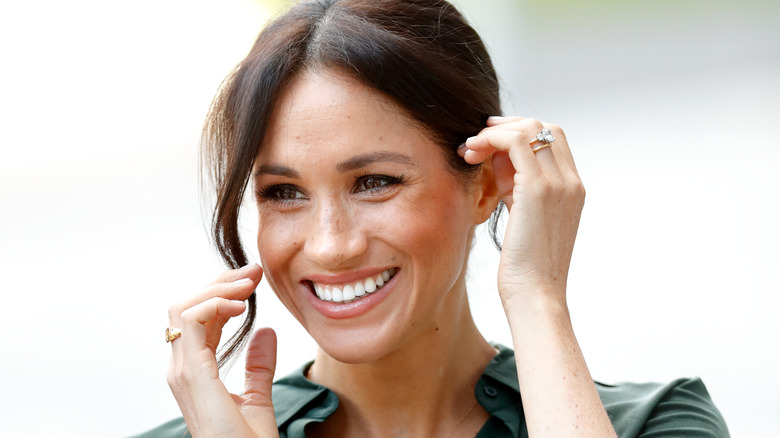 Max Mumby/indigo/Getty Images
Meghan Markle, Duchess of Sussex, stepped out to run some errands in a comfy, khaki green jumpsuit over the weekend. And, as with most things Meghan does, it soon became a major bone of contention for people all over the world. Per Page Six, critics described her as "a hot mess," wondered whether Meghan was "wearing a trash bag," and even described it as the worst outfit she's ever worn. Designer Malia Mills isn't letting the backlash get to her though, proudly sharing a collection of some of the worst insults on Instagram.
Mills noted, "The first rule of wearing a harempant-esque style? Prepare to take the heat." Regardless of the negative response, the designer was thrilled the duchess chose the aptly-named Montecito jumpsuit — which quickly sold out online, natch — for her outing. Moreover, Mills shared, "October is our slowest month of the year and it's chilly in Cali so thank you Meghan for not wearing a big ass jacket!" The brand's account garnered tons more followers, too. 
Plenty of people considered the outfit chic, however. According to Hello! magazine, one wrote: "The color is great on her and she exudes relaxed confidence. The jumpsuit is a different shape than most of us are used to seeing but she carries it off." Another noted simply, "I love this look!" Still, Meghan's best fashion moments ever probably won't include this one but, much like Mills, she likely doesn't care.
Meghan Markle has weathered more than her fair share of controversy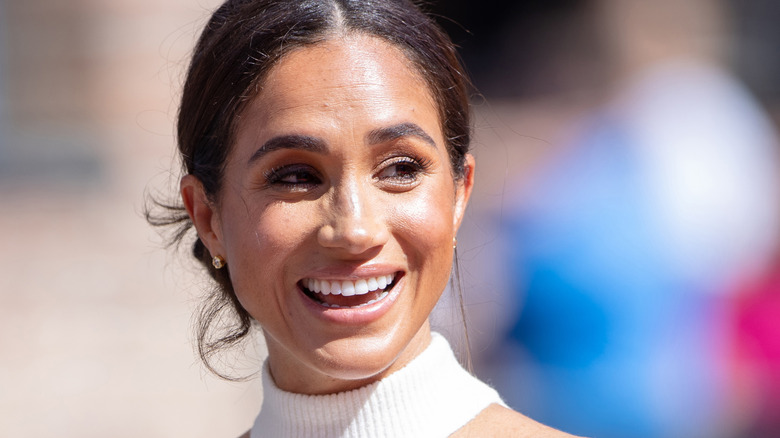 Joshua Sammer/Getty Images
Meghan Markle is obviously no stranger to controversy. Ever since the former "Suits" star joined the royal family, back in 2018, she's been a target — particularly of the British tabloid press. In fact, during her recent sit-down chat with The Cut, the Duchess of Sussex admitted, "Just by existing, we were upsetting the dynamic of the hierarchy." Meghan and her beloved husband Prince Harry, Duke of Sussex, ultimately opted to step down from their roles as senior working royals in January 2020, kickstarting another controversy in the process.
The couple subsequently opened up about their negative experience with The Firm in a groundbreaking interview with Oprah Winfrey, during which Meghan admitted an unnamed member of the royal family had made a comment about her son Archie's skin color. Page Six later reported it may have been Harry's father, King Charles, but there's been no confirmation from either side. 
Meghan also endured a high-profile bullying controversy, seemingly spearheaded by the palace in retaliation for the couple's Oprah interview. Furthermore, by speaking out yet again on her hit podcast, "Archetypes," the former actor has left herself open to even more criticism, which was essentially what happened with her "Deal or No Deal" comments. At least (for now) there isn't a video component.