Fans Told The List Which Celebrity Perfume Is Their Favorite - Exclusive Survey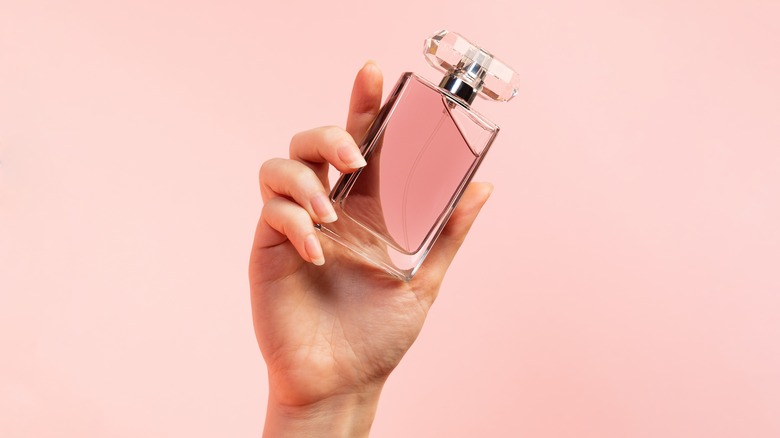 STEKLO/Shutterstock
We may receive a commission on purchases made from links.
When you're on the hunt for your signature scent, look no further than your favorite celebrity — odds are, they've released a perfume. According to Allure, celebrities will often associate their name with a perfume line to further their brand and have something to promote while working on new artistic endeavors. It also benefits the perfume industry: many celebrity perfumes are at a slightly lower price point than luxury perfumes, paving the way for a whole new demographic of fans for the perfume companies.
Harper's Bazaar reports that celebrity fragrances have been around for quite a long time — even Marilyn Monroe back in 1951 mentioned that "all she wore to bed was Chanel No. 5." Unsurprisingly, sales for the iconic perfume skyrocketed right after. Fans want to experience closeness to their favorite icons, and buying their perfumes is a great way to promote that closeness.
When it comes to celebrity perfumes, there are plenty to choose from. To find out which star-promoted perfume fans actually love, The List conducted a survey asking 600 people, "Which celebrity perfume is your favorite?"
Smell just like Jenny from the Block with this top-rated celebrity perfume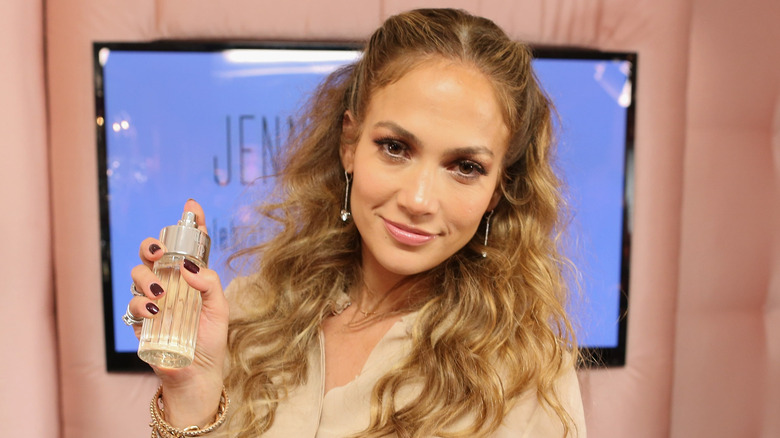 Christopher Polk/Getty Images
According to The List's survey, the most popular celebrity perfume is Glow by Jennifer Lopez! With 21.5% of the vote, this fan favorite perfume just squeaked by as the winner. JLo's iconic fragrance has floral notes of rose and citrus, per Fragrantica. Following just behind with 21.17% of the vote was Scent From Above by Dolly Parton. The iconic country singer's fragrance has a complex mixture of floral and citrus notes with a base of musk and patchouli for a rounded scent, according to her website.
Pop icon Ariana Grande recently joined the fragrance game, with her scent Cloud receiving 18.67% of the vote. The dreamy perfume smells like lavender and bergamot with hints of vanilla and "creamy blonde woods," via Ulta. The beautifully bottled Cloud perfume isn't the only fragrance the singing sensation has created. If you're a die-hard Arianator, here is a guide to all the fragrances Ariana Grande has released.
Curious by Brittany Spears (14.5%) and Fenty by Rhianna (13.5%) are another two pop sensation-promoted fragrances that voters love. And 10.67% of voters think Billie Eilish's perfume is totally worth it – the alt singer's perfume aptly named "Eilish" has notes of warm vanilla and spice, and comes in an abstract bottle depicting a "feminine silhouette," via Page Six.
Make the most of your new scent with these perfume tips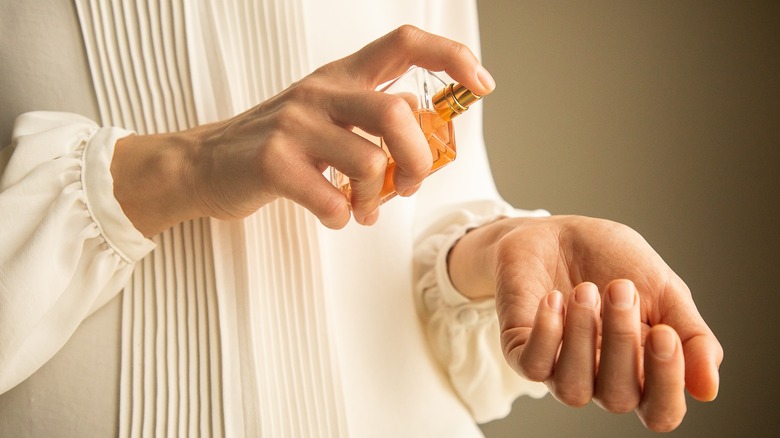 SVEPET/Shutterstock
If you want to smell just like your favorite celebrity, there are a few perfume rules you need to follow. According to perfume experts, you should never rub your perfume onto your skin. Rubbing your wrists together will actually heat up the scent and change the fragrance, which we definitely don't want. Perfumer Francis Kurkdjian shared with Vogue that simply spraying toward the desired area and letting the mist settle onto your skin is the perfect way to apply. You can also do the classic "walk through the perfume cloud" for an even distribution of scent.
Ipsy tells us that the best places to spray your perfume are at your pulse points. For the longest lasting scent, spritz areas like your wrists, behind your earlobes, even behind your knees and elbows! Applying your perfume to the areas helps diffuse the scent naturally because of the extra heat on your skin.
If you fall in love with more than one scent, get both! Experts tell us it's okay to layer scents. Ascension founder Greta Fitz told Brydie that applying more than one perfume is totally okay, just make sure the scents compliment each other and aren't too complex by themselves. Layering a vanilla scent with a honey scent will smell fantastic, but if one of your perfumes already has notes of "fresh water, lilacs, and berries," maybe wear that one on its own.