Why Queen Camilla Reportedly 'Scolded' Kate Middleton During The Queen's Funeral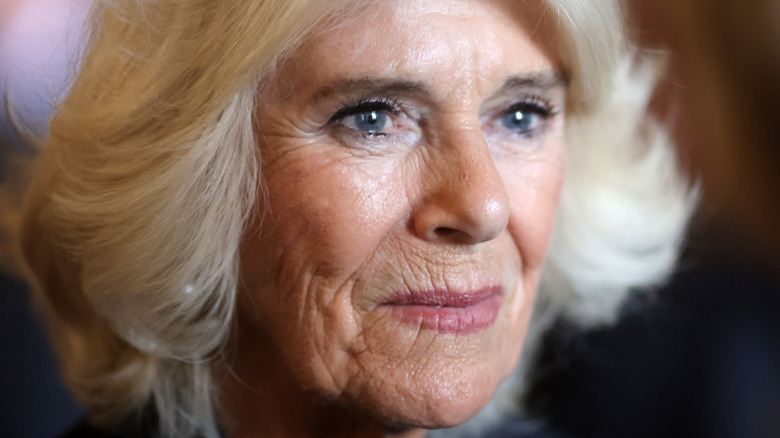 Chris Jackson/Getty Images
After the death of Queen Elizabeth II, the royal family came together to mourn the late monarch, including Prince George of Wales and Princess Charlotte of Wales. The children of Prince William and Catherine Middleton, Prince and Princess of Wales, accompanied their parents to the queen's funeral. 
Charlotte even paid a touching tribute to her great-grandmother by wearing a small horseshoe brooch on the left side of her coat almost above her heart, which People reported had been gifted to her by the late queen. Some speculated on Twitter that the jewelry piece was also a nod to the queen's love of horses.
While royal fans were left gutted when it appeared that Charlotte had burst into tears at the funeral, she also brought some levity to the solemn day. During the event, Charlotte could be seen smiling at the crowds gathered to say their final farewell to the queen (via Express). 
Former Canadian Olympic swimmer Mark Tewksbury attended the funeral and raved about George and Charlotte's behavior at the service. He told People, "They looked like really incredibly well-behaved kids but a little like kids, a little like, 'wow, this is a lot.'"
It's easy to forget that the prince and princess are, indeed, children. And that led to a moment where Charlotte's behavior led to her mother being scolded by Camilla, Queen Consort.
Princess Charlotte reacted after her brother reportedly pinched her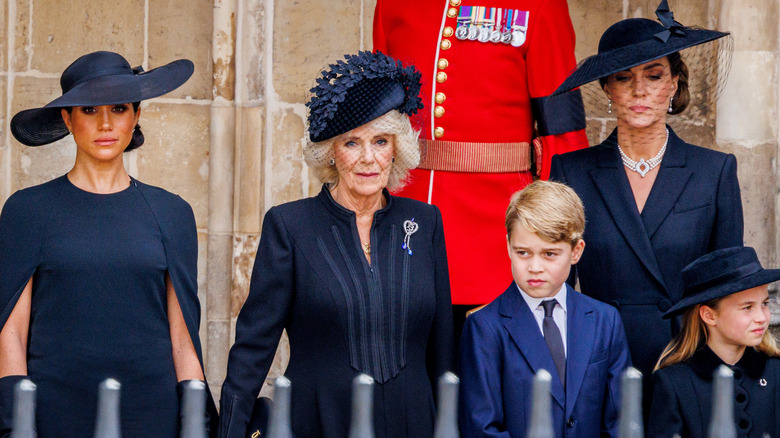 Patrick Van Katwijk/Getty Images
During Queen Elizabeth II's funeral, an incident with Princess Charlotte of Wales reportedly led Camilla, Queen Consort, to scold Catherine Middleton, Princess of Wales. According to Express, during the procession at Westminster's Welling Arch, Prince George of Wales pinched his little sister, which led to Charlotte "yelping out in pain."
While Meghan Markle, Duchess of Sussex, apparently thought the sibling exchange was cute, Camilla was not amused. In fact, she allegedly gave Kate a "harsh stare and instructed the 40-year-old to 'take her [daughter].'"
Despite the children's misstep at the funeral, George and Charlotte are expected to be in attendance at King Charles III's coronation, which is being seen as a good training opportunity for the young royals, who are second and third in the line of succession, per Royal.uk. Writing in Vanity Fair, royal author Katie Nicholl said, "The ceremony will likely highlight the line of succession, with [Prince] William, Kate, and their children featured more prominently than other members of the family."
Queen Camilla is not considered a step-grandmother to Prince William's kids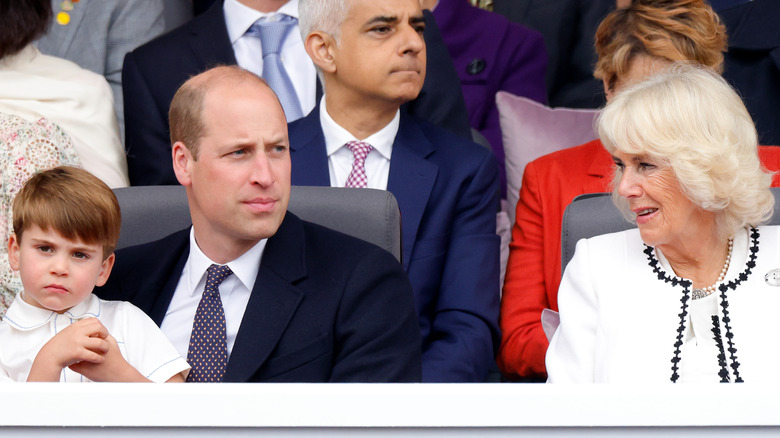 Max Mumby/indigo/Getty Images
While Camilla, queen consort, has been a part of the royal family for many years, she is not considered to be a step-grandmother to Prince William and Kate Middleton's three children. "William nonetheless has made it clear that Camilla is the wife of his father, but not a step-grandmother to his children, and that Prince George, his sister Princess Charlotte and Prince Louis have two grandfathers, but only one grandmother," author Angela Levin wrote in the book, "Camilla: From Outcast to Queen Consort" (per the New York Post).
Instead, the Prince of Wales works hard to keep the memory of his late mother, Princess Diana, alive for this children. He has revealed that George, Charlotte, and Louis make Mother's Day cards for Diana each year, and in the 2017 documentary "Diana, Our Mother: Her Life and Legacy," William said he "constantly" talks to the kids about his mother.
"We've got more photos up 'round the house now of her, and we talk about her a bit and stuff," he explained, per People. "It's hard because obviously Catherine didn't know her, so she cannot really provide that — that level of detail. So, I do [when] regularly putting George or Charlotte to bed, talk about her and just try and remind them that there are two grandmothers, there were two grandmothers in their lives, and so it's important that they know who she was and that she existed."