The Fashion Trend That Goes All The Way Back To The '80s Flick Flashdance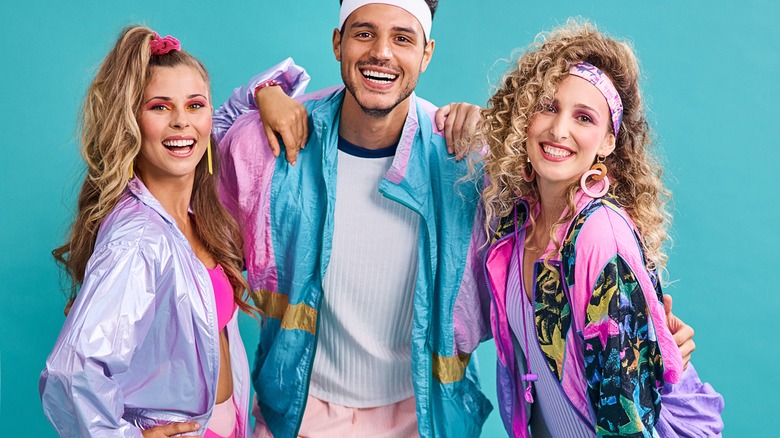 PeopleImages.com - Yuri A/Shutterstock
An iconic movie and staple of the '80s, "Flashdance" is glitzy, fiery, and full of style. However, main actress Jennifer Beals, who was only 18 when she landed the part, didn't think the film would be a fit. Speaking on "The Tonight Show Starring Jimmy Fallon," the actress revealed that she accepted the role with hesitation, believing she would film "Flashdance" and then return to school. Obviously, this didn't happen, with the film going on to become a hit despite terrible reviews — Variety called it "virtually plotless" with "exceedingly thin" characterization, and People described the plot as merely "dopey."
Beals described seeing people wearing outfits inspired by the film as a "meta experience," but, per ScreenRant, her fashion in the movie would go on to inspire some of the more popular style silhouettes of the 1980s. Still, there's one piece of clothing from "Flashdance" that has stood the test of time and can still be seen regularly today.
The trend was influenced by the style of main actress Jennifer Beals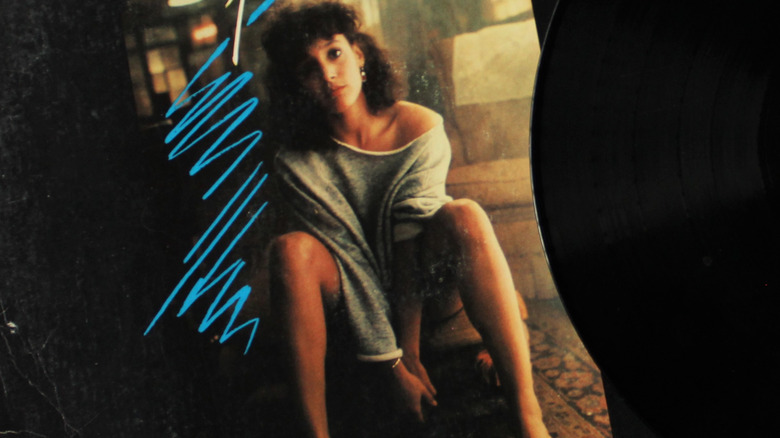 Blueee77/Shutterstock
The number one fashion trend to come out of "Flashdance" was the relaxed off-the-shoulder sweater worn by main character Alex Owens. What you may not know, though, is that this look was actually inspired by Jennifer Beals herself. In a 2011 interview, the actress playfully revealed, "When I was in high school, I had a favorite sweatshirt that had remained in the dryer for too long, so the hole for my head was too small, I couldn't get my head through." She went on to say that she "cut around the hole. I wore it to one of the auditions, and they liked it" (via TIME).
Per AnOther, the "Flashdance" style created a lot of trends that would become popular in the following years. The simple falling sweater look was so simple that anyone could recreate it, but it also encompassed what was so appealing about Beals' character — her laidback attitude and effortless sexiness. The combination of these two things would go on to appear in a lot of '80s styles, but the one-shoulder jumper definitely isn't the only trend to stick around.
With the hit Netflix show "Stranger Things" also sparkling an '80s fashion revival, some of the decade's most popular trends are making a definitive comeback.
Several iconic '80s trends are on the rise again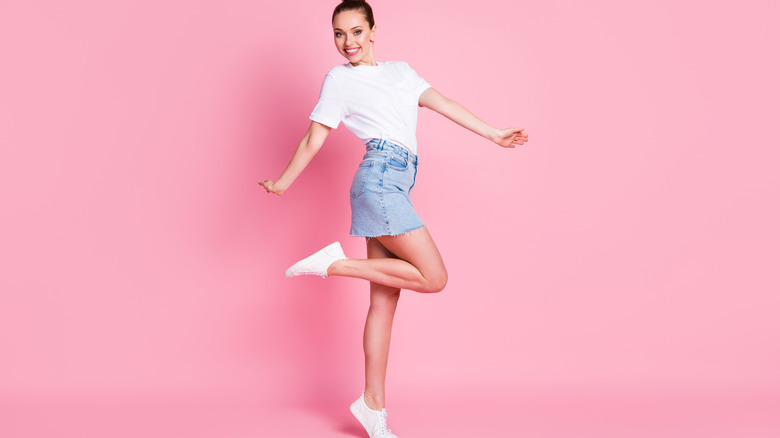 Roman Samborskyi/Shutterstock
One of the most popular '80s styles is undeniably the mini skirt. A modern spin on '80s fashion, mini skirts are having a major moment, with the micro mini taking over the trend. As outlined by The Vou, mini skirts of all styles, but especially skater skirts, rah-rah styles, and denim and spandex styles, were especially prominent during the '80s. 
Per Harper's Bazaar, another major trend that gained traction around the time "Flashdance" was released is high-waisted denim. It's hard to believe, but once upon a time, not all jeans were high-rise. Many of us are still shaking at the thought of the 2000s low rise coming back in style, but the '80s style has your back if you prefer to cover your belly button. The quintessential '80s jean was made from rigid denim and featured a high rise with a subtly tapered leg, perfect for pairing with an oversized sweater.
'80s fashion may come and go, but taking a leaf out of Alex Owens' book and letting your oversized sweater fall off your shoulder will never go out of style.