The List Survey: Which Bridesmaid Dress Trend Is Your Favorite?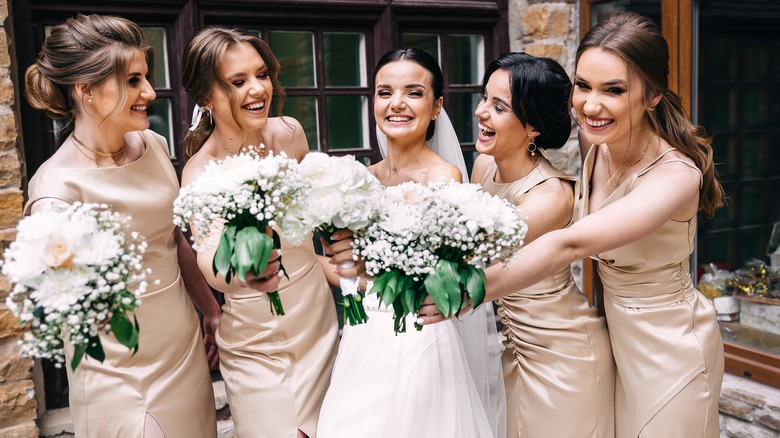 Kyryk Ivan/Shutterstock
Once you and your sweetie are happily engaged and you've set a wedding date, it's time for the next big step: bridesmaids proposals! One of the best parts about getting married is having your bridesmaids beside you (or bridespeople, mixed-gender wedding parties are more popular than ever). But being a bridesmaid isn't a one-day job — between the engagement party, the bachelorette celebration, the bridal shower, plus travel and accommodation for the wedding, being a bridesmaid will run you about $1,200 on average, per WeddingWire. On top of all the celebration costs, bridesmaids often have to purchase their dress for the wedding day.
Whether you have 2 bridesmaids or 20, there is a lot to consider when deciding on what they should wear. Floor length or knee length? Chiffon or tulle? Will their dresses reflect your color scheme? Will they all be the same color and style or will you let them choose their own? There are so many questions, it's hard to answer them all on your own. Luckily, you have a team of bridesmaids to help you decide!
These days, lots of brides are ditching those old-school trends and giving their besties more options to choose from, keeping in mind their comfort levels and what styles feel most flattering on their body types. To find out which style of dresses brides and their bridesmaids are loving, The List conducted a survey asking 587 people, "Which bridesmaid dress trend is your favorite?"
This top-rated dress style is all the rage this wedding season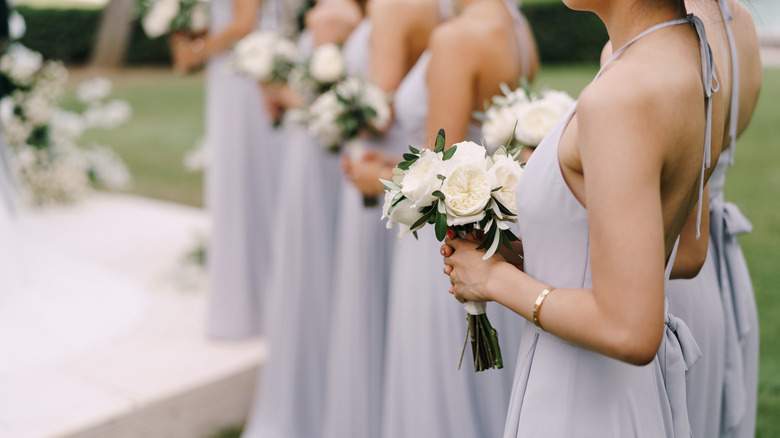 nadtochiy/Shutterstock
According to The List's survey, the most popular bridesmaid dress trend is wearing black dresses. With 27.26% of the vote, this timeless color looks great on everyone. Brides that opt for black bridesmaids dresses will love the way their white wedding dress perfectly pops next to their chic bridal party.
In second place with over 20% of the vote was the slip dress, a super trendy style that has a "liquid-like appearance" thanks to its silk fabric (via Brides). Whether you opt for a short hem or a floor length slip gown, this sexy style screams glamour and elegance – we're sure your bridesmaids will wear this dress over and over again.
17.38% of voters love the look of floral print bridesmaids dresses. This trend pops up every few decades — we all loved the green and yellow floral print Phoebe and Rachel wore to Monica's wedding in "Friends" back in 2001, and the floral inspiration seems to be making a comeback yet again (via ELLE).
14.48% of voters like the look of mismatched bridesmaids dresses in all different styles and colors, while other voters prefer dresses that aren't dresses at all! Jumpsuits (12.10%) and two piece sets (8.69%) have risen in popularity amongst bridal parties in recent years. These styles allow for maximum comfort and a full range of motion, allowing your bridesmaids to get down on the dance floor all night long.
The spooky history of being a bridesmaid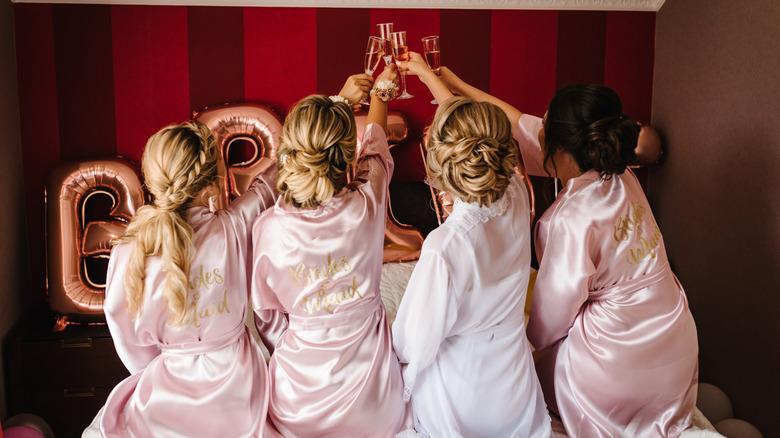 Sergii Sobolevskyi/Shutterstock
These days, being a bridesmaid is quite a commitment — it can be expensive and time consuming, maybe even a little stressful. But centuries ago, being a bridesmaid actually meant putting your life at risk. According to Mental Floss, the practice of having a wedding party dates back to the ancient Romans, who required at least 10 witnesses at a wedding. These wedding party members would dress like the bride and groom to "confuse vengeful spirit presences (or real-life jealous suitors) who might try to harm the newlyweds." If you think being a bridesmaid is stressful now, imagine being a decoy for evil spirits!
Another reason that bridesmaids dresses are usually the same is to not take attention away from the bride. WeddingWire reported that the big bridesmaids trend in the 20th century was putting bridesmaids in the same, slightly unflattering dress with large puffy sleeves or uncomfortable fabric so that they wouldn't upstage the bride. Luckily, trends have shifted in recent years and more brides are confident that they will be the star of the night, no matter what their loved ones are wearing.
There are plenty of wedding fashion trends that are no longer cool in 2022. But just like any wedding trend or tradition, if you like it, do it. But keep in mind that the special people around you should also dress in something that makes them feel cute and confident while they help to make the day possible.