Wedding Fashion Trends That Are No Longer Cool In 2022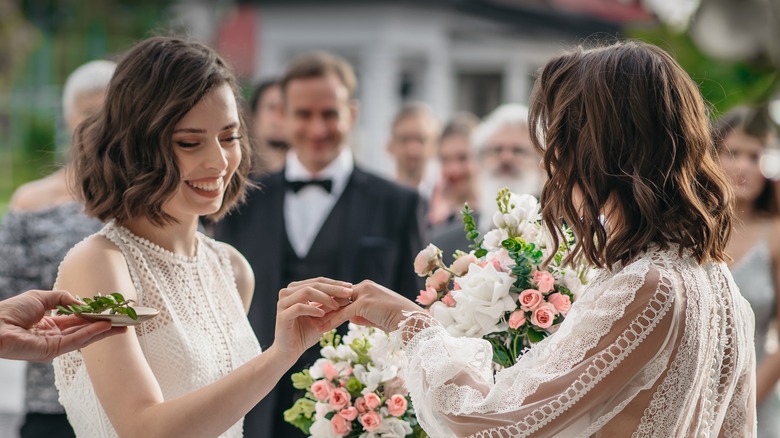 Supamotion/Shutterstock
Weddings trends aren't a new thing, but it can be difficult to keep up to date with what's in and what's out. Whether you're newly engaged and looking for wedding inspo, or simply planning for the future (we all do it), there's no denying that planning your dream wedding can be a fun, albeit busy pastime. From puffy dresses to streamlined silhouettes, cottagecore inspired weddings to intimate ceremonies, there are a lot of trends to keep on your radar. Of course, trends come and go, and the most important thing is that you feel beautiful on your wedding day and that everything goes to plan. Still, there's nothing wrong with finding out the latest trends for weddings so you can decide which theme to go for (or avoid, depending on how unique you want to be).
There's still a few months left of 2022, but you can always plan ahead for 2023. Wondering what's not so cool anymore and which trends are predicted to have you slaying ahead of the game? We've got you covered. 
Weddings are becoming a more individual and colorful event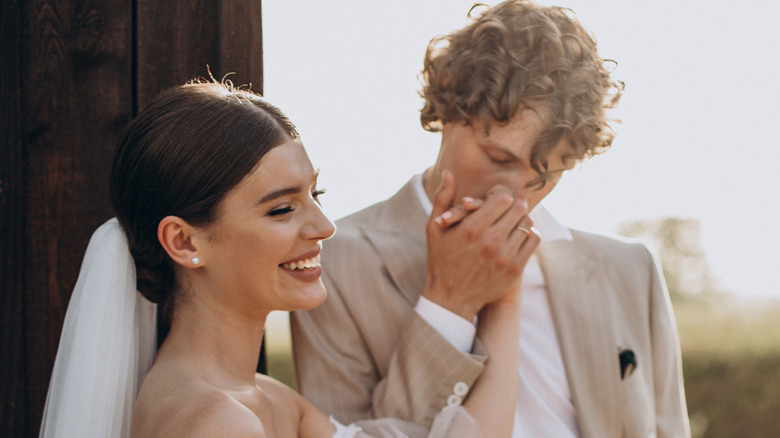 PH888/Shutterstock
So, what exactly isn't on-trend for weddings? According to wedding stylist Anny Choi, who spoke to Who What Wear about both outdated and upcoming trends, it seems a lot of things are less cool than you might think. Perhaps surprisingly, Choi shared that many brides are turning away from the tradition of matching bridesmaid dresses and opting for a similar color scheme instead. Due to everyone having a different body type, Choi shared that bridesmaids feel their best when they are able to pick out the silhouette and style of their dress. She also revealed that most brides now opt for more general themes when it comes to bridesmaids, such as "shades of blue" or "spring florals." That way, everyone's individuality can shine through.
Another trend that hasn't made it to 2023 involves wedding shoes — more specifically, brides wearing towering stilettos on their wedding day. As Choi states, this doesn't mean you have to give up heels entirely. It simply means that more brides are opting for platforms or other comfier variations of a heel so they can enjoy their wedding day to the fullest. Vogue adds that all-white is definitely on the way out, too, with muted shades becoming less popular in favor of bolder picks. Several wedding experts also chimed in to say that couples planning a wedding want a bright and colorful affair that reflects the celebratory aspect.
If you like to be on trend, opt for these alternatives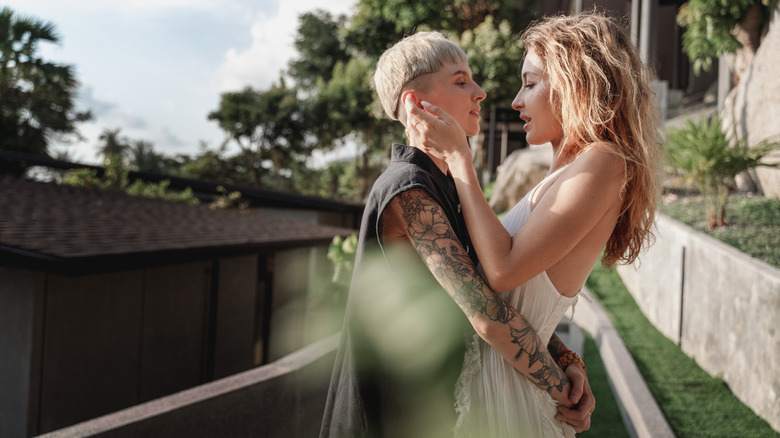 Olesya Kuznetsova/Shutterstock
You now know what's out, so what's in? Town & Country predicts that extra voluminous dresses will be everywhere in 2022 and 2023, with puff sleeves and large skirts on the rise. Expect to see more sheer dresses, too, as the ethereal gown trend stays put for another year. Sheer dresses don't have to be overly sensual, either — you could go for sheer sleeves, a sheer back, or a half-sheer skirt to give just a hint of skin. 
The above trends could very much be inspired by "Bridgerton," a major fashion moment that ELLE reports is responsible for increasing searches regarding bridal gloves, puff sleeves, and pearl veils. Maximalism is also definitely in for 2022, at least when it comes to wedding dresses, with brides opting for dresses that will make them stand out. Interestingly, minimalism still reigns supreme for some brides, with satin white slip dresses being an especially popular choice. 
Finally, vintage clothing is having a major moment, so it makes sense the movement is carrying through to weddings. Vintage dresses can be kept as they are, or altered to fit you and your style more. Just make sure to get your dress professionally tailored to prevent any dress stress on your special day.