How To Style Ballet Flats In 2022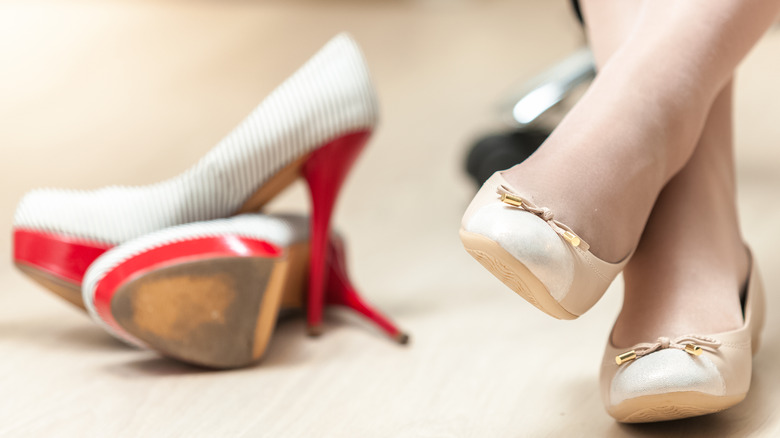 kryzhov/Shutterstock
Ballet flats may bring visions of fashion of the 2010s, but it's safe to say that these shoes are making a major comeback. Miu Miu and Chanel both featured the shoes on the 2022 runway, as Byrdie reported, and paired with the approval of some Gen-Z TikTok icons, it appears the trend may be back.
In their prime, ballet flats could be paired with pretty much everything. People rocked them with Bermuda shorts and worked them into twee outfits. The shoes are just as versatile today. Style Caster held a staff event themed as an "impromptu ballet class." Ladies showed up in ballet flats with anything from flowy skirts to mini shorts and blazers. A pair of shoes that can be worn with jeans or dresses just might be a great addition to your wardrobe.
Whether you're looking to splurge or to expand your fall wardrobe on a budget, you won't have any trouble piecing together outfits with these versatile shoes.
Ballet flats are a Parisian staple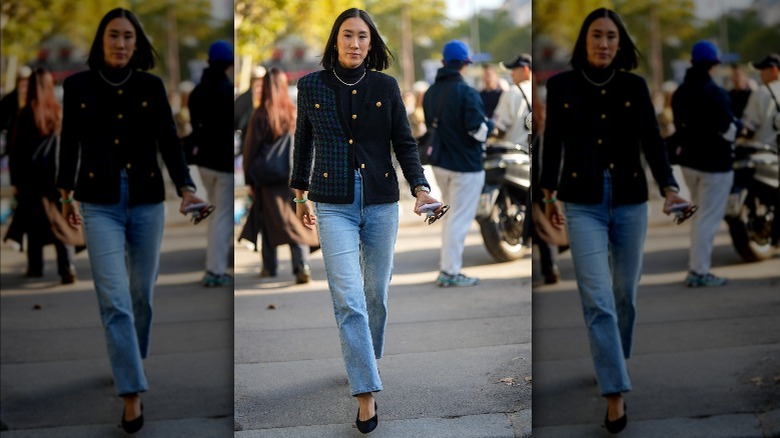 Edward Berthelot/Getty Images
Parisian ladies never stopped wearing flats. Instead of walking around the city in a tiny pair of kitten heels, they opt for what's chic and comfortable. Parisian beauty editor Bénédicte Burguet Journe told Parisian Vibe that flat shoes are a fashion staple. Not only are they versatile, but they're also comfortable.
"Every girl in Paris has [flat shoes]," said Journe. "To break up a rather feminine and very delicate look, I like to wear an all-jeans outfit . . . I chose a cut that's neither too feminine nor too masculine."
In addition to her denim moment, Journe paired her powder-pink ballet flats with a small crossbody that matched her shoes. Overall, she declares ballet flats are practical, feminine, and comfortable.
Like Journe, luxury footwear brand Oliver Cabell hails ballet flats as the "epitome of comfort and casual elegance." The brand encourages new wearers to invest in a pair of neutral, pastel, or solid primary colors to start.
Ballet flats provide comfortable elegance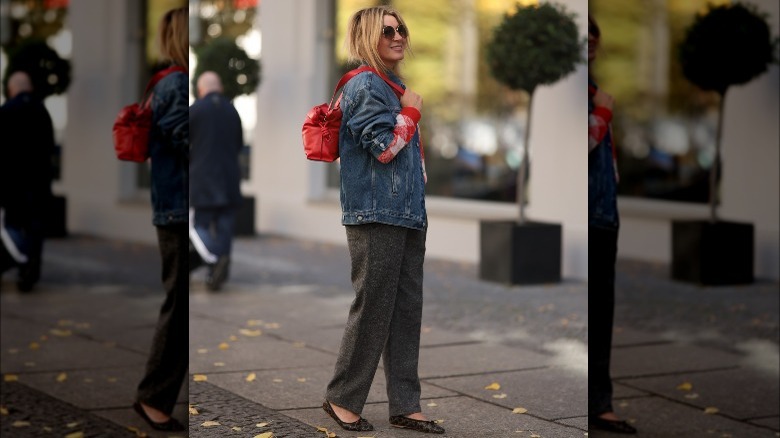 Jeremy Moeller/Getty Images
WhoWhatWear also praises the comfort of flats. One thing they prove is that these sweet little shoes can fit into basically any aesthetic. People add them to a coastal grandmother look with black denim shorts and a linen button-up. Light and airy fashion lovers will want to pair them with a babydoll dress. If your style is a little edgier, no worries. Slip into a leather jacket and a pencil skirt for the pop-punk look of your dreams.
While some may prefer to pick up a few pairs in neutral colors, Elle recommends mixing it up. Professional stylist Desiree Guery confirms that flats don't have to be boring. "There are so many ways to show off your personality with shoes, and ballet flats are a great way to do that," says Guery. "Satins, velvets, and metallics are also big . . . giving ballet flats a modern twist on a classic style."
Whether you're new to the trend or never stopped wearing flats, it sounds like it's the perfect time to add at least one pair to your wardrobe. For more fashion inspiration, check out the unexpected way to wear tights this season.