Someone In Meghan Markle's Circle Claims The Title Of Prince Harry's Memoir Has A Double Meaning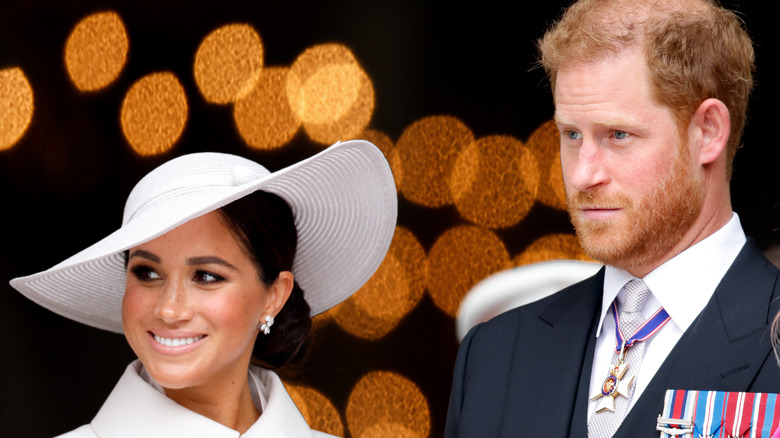 Max Mumby/indigo/Getty Images
We're just a couple months away from the Duke of Sussex's memoir hitting shelves, and suffice to say anticipation is high. Royal insiders are "flabbergasted" at the name of Prince Harry's book, believing it's just the latest in a string of alleged attacks against the royal family. Although it's unclear whether he chose it himself, "Spare" is understood to refer to the fact Harry is the "spare heir" in the family while his brother, Prince William, will take over from their father someday.
As royal editor Russell Myers asserted to The Mirror, "Although Harry is making generous donations of $1.5m to Sentebale and £300k to WellChild, the fact he is making a reported £35 million for a three book deal has demonstrated just how much he is profiteering from his royal connection." Royal insiders claim the book's eye-catching title represents "yet another confrontational attack on the family after claiming a desire for privacy" and palace lawyers will be poised to see what Harry says.
It's worth noting fans of the prince and his wife, and fellow royal defector, Meghan Markle are thrilled at the on-the-nose name. One Twitter user described the choice as "iconic," while another celebrated it as "a gorgeous shot" and confirmed "will absolutely be buying." Although "Spare" is undoubtedly a controversial choice, a source close to the Sussexes reasoned it's not as negative as royal watchers assume.
The word 'spare' may actually have positive connotations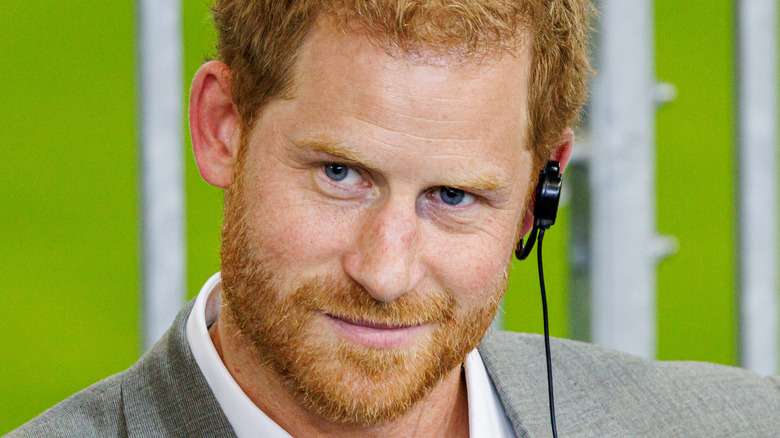 Patrick Van Katwijk/Getty Images
The title of the Spanish version of Prince Harry's book is even more biting than the original, adding fuel to the fire. The Mirror confirmed "Spare" has a subheading in Spain, "En La Sombra," which translates to "in the shadows." It therefore doubles down on the idea of Harry being in Prince William's shadow. It's expected Harry is going to open up about feeling less than him in the tome, which is due for release early next year.
However, everybody may be reading it a bit too literally. The Daily Mail notes that, according to Canadian TV personality Elaine Lui, who knows a couple of Meghan Markle's friends, the word "spare" should be interpreted differently. Lui explained, "It is actually a really kind verb. It involves effort. When you spare time or money or thought for someone, you're making an effort and more often than not it's a helpful effort." 
The columnist continued, "To spare is also to save. You can spare someone the trouble of having to do something that isn't pleasant, something potentially harmful. Spare and save are interchangeable in that context." Lui further pointed to the commonly used phrase about sparing someone's feelings as another example of it being used as a verb in a kinder way. She argued, "All of those ideas also apply to Prince Harry, given his personal evolution and the mission he and Meghan Markle have set for themselves and their work."
Harry's memoir is going to cause major issues regardless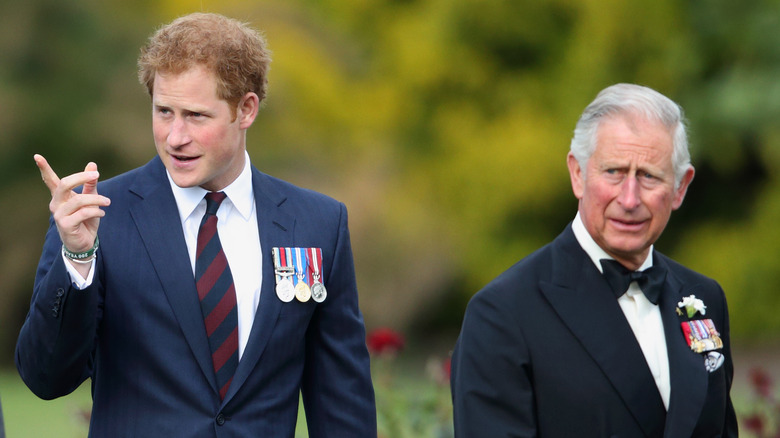 Max Mumby/indigo/Getty Images
Prince Harry's new memoir "Spare" has been a topic of discussion ever since it was first announced, with various royal "sources" lining up to comment on what may and may not be in it, as well as the book's anticipated impact. During the summer, a publishing insider told Page Six: "There's a lot of new stories in there about the past that Harry has not spoken about before, about his childhood ... there is some content in there that should make his family nervous."
It's already deepened the divide between the Duke of Sussex and his father, King Charles, with reports suggesting the sovereign walked out of a meeting with his son when Harry refused to spill the beans (via Express). Likewise, it's generally believed Harry and Meghan Markle won't be invited to the king's coronation if the memoir contains any slights against The Firm — especially Queen Consort Camilla Parker Bowles, with whom Harry has always had a strained relationship.
As a source told the Daily Beast, "It is one thing for Harry to attack Charles, he can take it on the chin, but if Harry forces him to choose, by laying into Camilla in his book, I have no doubt he will choose Camilla." However, everybody may be worrying for nothing, since an insider assured Us Weekly that the duke isn't trying to settle scores with his book, and is simply looking for the opportunity to tell his story.