The List Survey: The Best Shoe Store According To Shoppers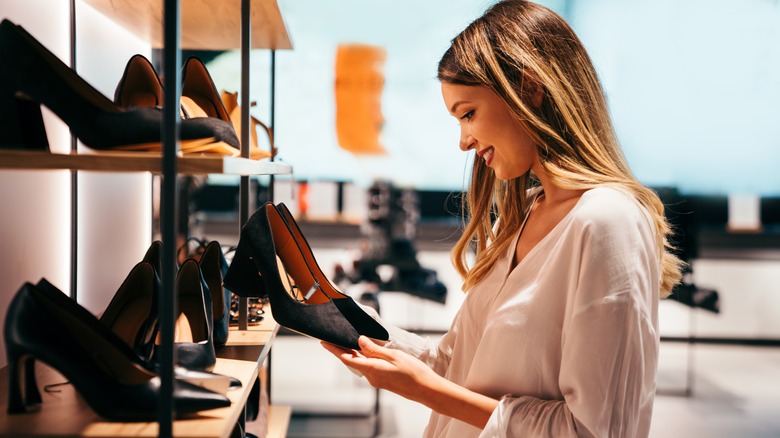 NDAB Creativity/Shutterstock
Have you ever put together an almost perfect outfit, only to discover that none of the shoes in your closet match? Some may see this as a problem, but we see it as an opportunity to go shoe shopping! We're always looking for an excuse to buy a new pair of shoes. A good variety of shoe styles are essential to a balanced wardrobe — not all pairs work for every occasion. Strappy heels and a little black dress go hand in hand for a night on the town, and no one should be leaving the house this winter without a trusty pair of cute boots to keep them warm. Shoes are the final touch to an outfit, and in our opinion, you can never have too many pairs.
When it comes time to buy a new pair of shoes, you have plenty of shoe stores to choose from. According to IBIS World, there are currently 10,238 brick and mortar shoe stores in America, and the shoe industry only continues to grow. To find out which stores people are shopping at most often, The List conducted a survey asking 600 people, "Which is your favorite shoe store?"
Make sure to visit this fan-favorite shoe store on your next shopping spree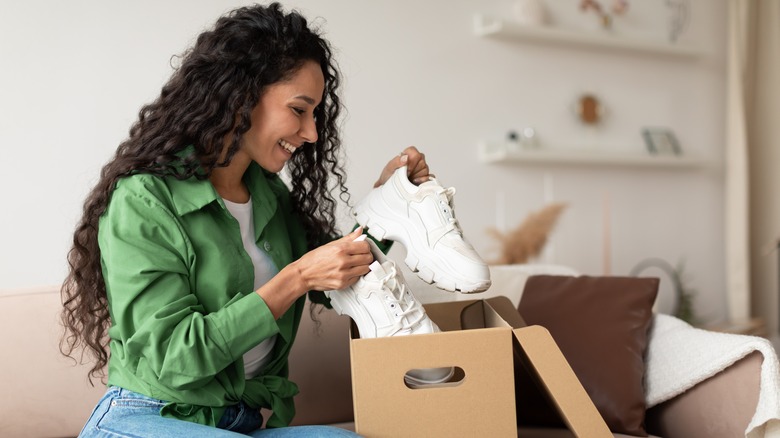 Prostock-studio/Shutterstock
According to The List's survey, the most popular place to go shoe shopping is at Designer Shoe Warehouse. The fan-favorite shoe store, also known as DSW, earned 28% of the vote. Per Zippia, many shoppers enjoy wandering the aisles of DSW because of their wide selection of designer styles and their low prices: If you didn't know, DSW shoes are so cheap thanks to its warehouse retail model and rotating seasonal inventory.
In second place with 25% of the vote was Foot Locker, another top-quality shoe store that specializes in athletic shoes and designer sneaker brands. Per their website, Foot Locker is known for carrying brands like Nike, Jordans, and Adidas, but they are also iconically recognized by their black and white striped referee uniforms that their workers wear.
Some voters prefer to do their shopping online — 17% said that online websites like Zappos are their go-to way to shop for shoes. If you're searching online for your next pair, make sure you check that the measurements match your foot size to avoid the hassle of online returns.
After online shopping, 16% of voters prefer to shop at Shoe Carnival, while another 10.5% do their shoe shopping at Payless. Both of these stores have gained popularity by selling discount shoes for the whole family. ALDO followed behind with 3.5% of the vote, a less popular shoe store that sells a variety of styles as well as accessories (Via ALDO).
These classic shoe styles should be in everyone's wardrobe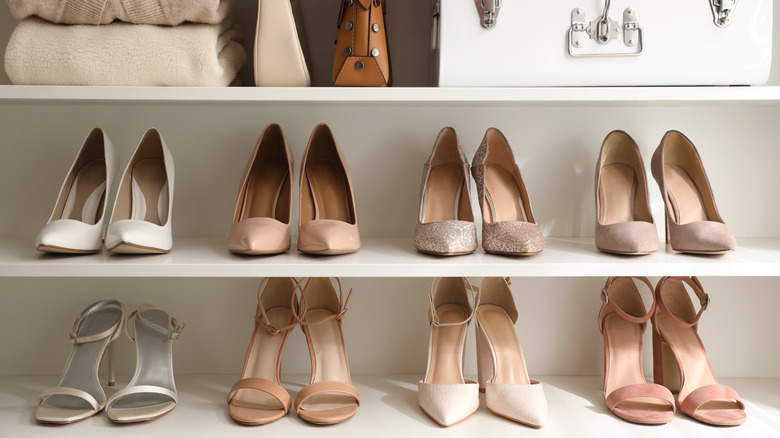 New Africa/Shutterstock
With trends constantly changing, it can be hard to keep your closet stocked with the latest styles. Whether you are balling on a budget or you simply don't have the space for all the shoes your heart desires, shifting your focus towards investing in timeless styles will help you keep your wardrobe small while keeping your options open. According to Glamour, every woman should own a pair of heels, a pair of flats, a sneaker style, and a pair of boots. With these styles, you'll have a shoe to wear no matter the occasion. Having a combination of black shoes and cognac or brown shoes also provide maximum versatility; a brown or black shoe will pair nicely with practically any outfit.
Knowing what styles you like will make your shoe shopping experience much easier, but finding your correct size is the most important factor. There's nothing worse than a sore foot after wearing a new pair of shoes, so make sure you're buying the right size shoe. When you wear shoes that are too small, you will probably have some painful blisters, ingrown toenails, and may even develop serious conditions over time, per Healthline. Wearing shoes that are too big for you may also cause these problems, so it's probably a good idea to get your foot sized correctly before investing in a new shoe wardrobe.