Will Harry And Meghan Join The Royals For Christmas This Year?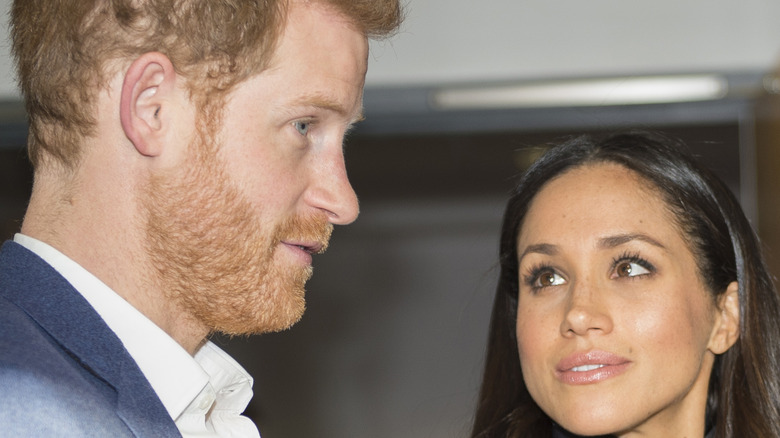 Wpa Pool/Getty Images
The death of Queen Elizabeth II led to a reunion between Prince Harry and Meghan Markle, Duke and Duchess of Sussex, and the royal family. The couple put on a united front with Prince William and Catherine Middleton, Prince and Princess of Wales, with the foursome coming together to greet mourners outside of Windsor Castle, per Insider. While some were hopeful that it was a turning point for the estranged brothers (via Us Weekly), Harry and Meghan reportedly later complained to friends about the queen's funeral.
Writing in the New York Daily News, Richard Johnson cited reports from Harry and Meghan's friends that the Sussexes were "complaining they were snubbed and mistreated at Queen Elizabeth's funeral." Johnson added, "They both whined that the family wasn't as welcoming as they should have been."
Another bone of contention could be King Charles III taking his sweet time on deciding whether or not Harry and Meghan's two children will receive prince and princess titles. As of now, Archie and Lilibet are still listed as "Master" and "Miss" on the royal website — a move that is said to be a clear message from His Majesty.  "I'm told that that is a very clear signal from the king. He's willing to give those titles, but it comes with a caveat, and that caveat is trust," Katie Nicholl said in True Royalty TV's "Royal Beat" podcast (via the Daily Mail). 
So will Harry and Meghan try to win the king over with a holiday visit?
Harry and Meghan will reportedly reject an invite to spend the holidays with the royals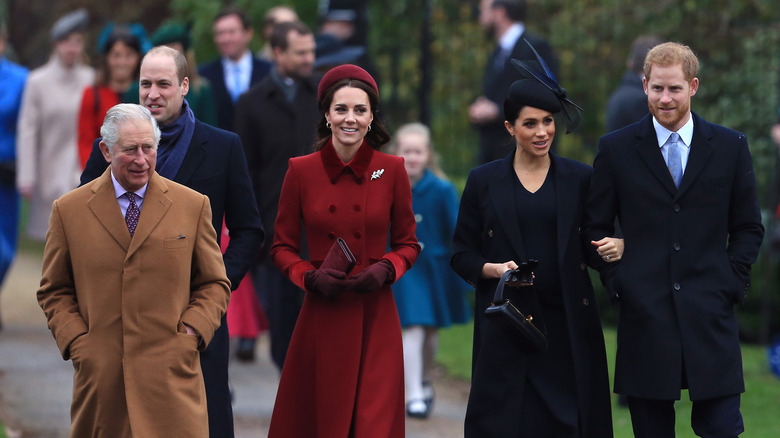 Stephen Pond/Getty Images
Sources have revealed that Prince Harry and Meghan Markle, Duke and Duchess of Sussex, will not be spending the holidays with the royal family, even after reportedly receiving an invite from King Charles III. In fact, insiders told the Mirror that the relationship between Harry and his family is "near rock bottom" due to the impending release of the duke's memoir, "Spare."
"This book could spell the end for any relationship Harry wants to have with his family, it's desperately sad," a source explained. "Everyone is bracing themselves for yet another fraught and frantic period at the mercy of the Sussexes."
It is also unknown if Harry and Meghan will be attending Charles' coronation. Although sources familiar with Harry's book claim that it isn't a "takedown" of the royal family (via The Telegraph), the contents could lead to Charles banning his younger son from the coronation, which is set to be held in June 2023. "There is no doubt that Charles would like Harry and Meghan to be at his coronation," royal author Katie Nicholl told the Daily Beast. "But he does expect respect in return, and a problem is going to arise if, between now and then, Harry repays him by attacking him, [Queen] Camilla or the institution. He is not going to put up with inaccurate and unfair attacks."