Meghan And Harry Are Reportedly Making Complaints To Friends About The Queen's Funeral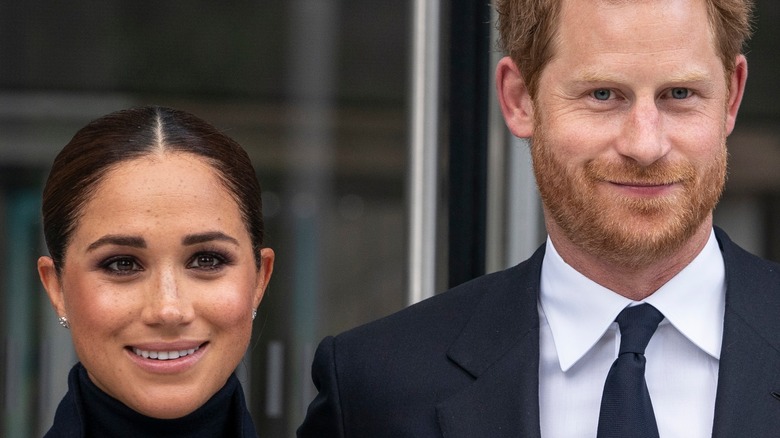 lev radin/Shutterstock
Queen Elizabeth II's funeral was filled with heart-wrenching moments as the royal family grieved the loss of its matriarch. Since the funeral was broadcast live, millions of people all over the world tuned in to watch the proceedings, with 28 million watching in the U.K. and 11.4 million watching in the U.S. (via Newsweek). This bird's-eye view led to a discussion of some of the choices that were made, particularly involving Prince Harry and Meghan Markle, Duke and Duchess of Sussex.
On the Daily Mail's "Palace Confidential," Richard Eden, the outlet's diary editor, talked about Meghan and Harry's eyebrow-raising seating. "There I was, watching the coverage on television and you couldn't see Meghan," Eden said. "There was this really tall candle right in front of the view of the camera. By coincidence Harry and Meghan seemed to be seated behind the tallest member of the Royal Family – Tim Laurence, Princess Anne's husband, now that could be coincidence, but as we know everything was planned meticulously."
In addition, the evening before the funeral, the Sussexes were disinvited from a large state reception for world leaders. According to The Telegraph, the invitation was a mistake as the event was intended only for working royals. "They have done everything as best they could," a source told the outlet. "They have turned up, they have smiled, shaken hands, whatever was asked." 
However, it seems that recently Meghan and Harry have been airing their grievances about these snubs.
Harry and Meghan's grievances may end up in print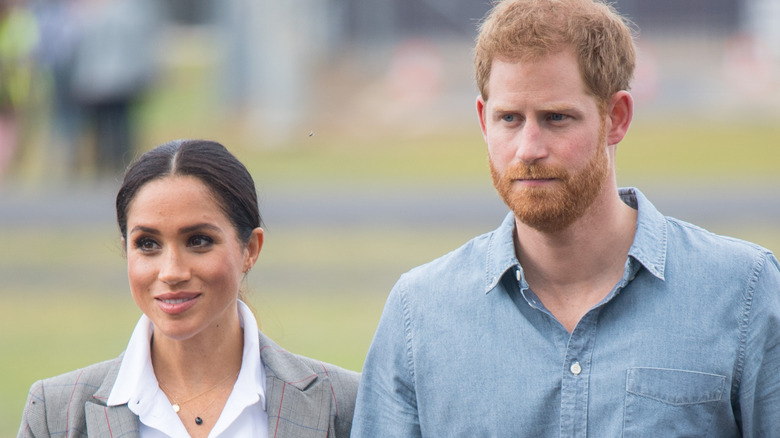 Pool/Getty Images
Writing in the New York Daily News, Richard Johnson cited reports from friends of Prince Harry and Meghan Markle, Duke and Duchess of Sussex that the couple is "complaining they were snubbed and mistreated at Queen Elizabeth's funeral." Johnson added, "They both whined that the family wasn't as welcoming as they should have been."
Responding to this report, royal biographer Angela Levin again showed how much she dislikes Meghan. "Are H and M marking the royals out of ten for how warmly they should have welcomed them?" Levin commented, per The News International. "The funeral was about the Queen not them. Endless moaning."
According to the Daily Mail, another author, Lord Jeffrey Archer, says Harry will air his grievances by adding an extra chapter to his upcoming memoir. "'I fear for the book," Archer said. "I know they're writing the chapter on the funeral, so I suppose that's what the book will end on."
Previously, royal expert Kinsey Schofield noted that Harry's memoir publisher had the most to fear from its big investment. Express reports that Penguin Random House has paid the duke £17.5 million in a deal totaling £35 million.
"It will give him a chance to address those stories about him being offended by not being able to wear his uniform and then not having the ER letters on his epaulettes," Richard Eden told "Palace Confidential" (via Express). Eden noted this could delay publication until spring 2023.
Was the funeral seating really a snub?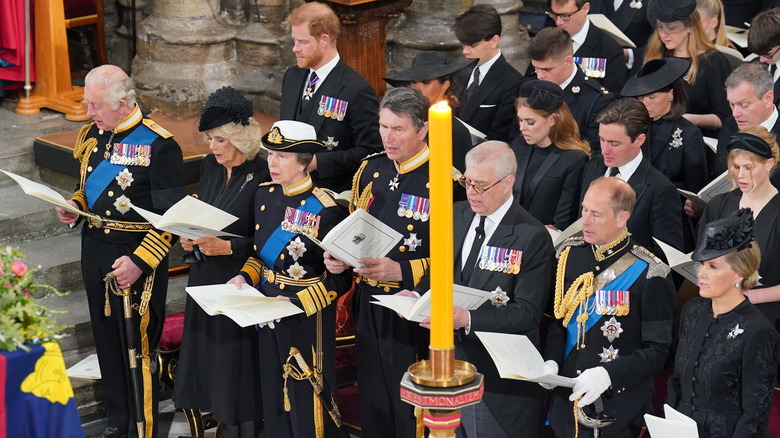 Wpa Pool/Getty Images
Royal experts have put forth various possibilities regarding the royal family's seating chart at Queen Elizabeth II's funeral. "They couldn't have expected to be in the front row surely," Andrew Pierce, the Daily Mail's consultant editor, said on the Daily Mail's "Palace Confidential," "They've walked away from the royal family. So they can't possibly expect to do a bit of pick and mix here and put one foot in and one foot out when it suits them."
Also on "Palace Confidential," journalist Richard Eden hypothesized that Princess Anne's children, Peter Phillips and Zara Tindall, were seated in the front because they are older than Prince Harry.
While Eden said "I'm not sure," that the seating was by age, a source at Buckingham Palace confirmed this theory. "The order was approximately age order but trying not to split families up," the source told The Daily Beast. Although Peter and Zara were never working royals, they were seated ahead of Harry due to age.
Royal historian Gareth Russell offered a more positive take on Harry and Meghan's positioning at the funeral. "If you know what the etiquette is, it actually is a place of honor," Russell told Us Weekly. "To be the one behind the king is actually a sign of favor. What they seem to have done with this etiquette though is not prioritize [Prince William] or Harry."