New Book Details Queen Camilla's Trip To A Nude Beach With Judi Dench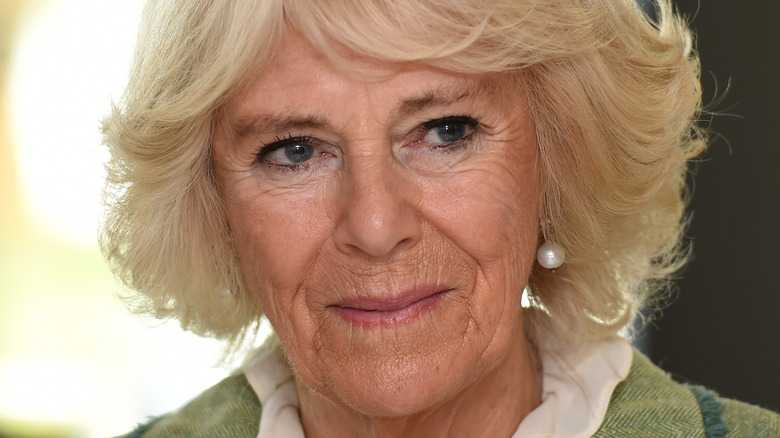 Finnbarr Webster/Getty Images
Reports recently emerged about the secret deal that gave Camilla Parker Bowles her queen consort title. Although the late Queen Elizabeth II seemed thrilled to bestow the honor upon her daughter-in-law, there was actually some negotiation behind the scenes. Royal expert Christopher Andersen shared with Us Weekly how King Charles agreed to allow for his disgraced brother, Prince Andrew's, legal fees to be paid out of the royal pot only if Camilla could be queen consort.
"And so in a kind of an unspoken implicit deal, this was the tradeoff," Andersen confirmed. Her first few weeks in the role have been besieged by drama, though, with Camilla said to be living in fear of what Prince Harry might say about her in his upcoming tell-all memoir. Royal author Tina Brown told the Daily Beast that, after spending decades rehabilitating her image with the British public, it's worrying to know that it could all come crashing down once the book is released.
In fact, Charles might not allow Meghan and Harry at his coronation if his son's memoir contains anything insulting about her. Luckily for Camilla, another author has a delightful story about her and national treasure Judi Dench that should soften the blow somewhat.
The long-time friends were very eager to visit the beach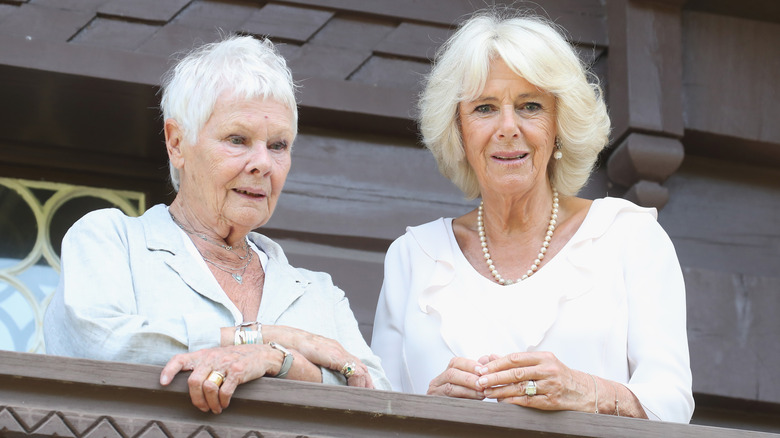 Chris Jackson/Getty Images
After decades of idyllic vacations, Holkham beach's popularity with the nudist community began to rub the royal family the wrong way. According to author Gareth Russell's latest tome, "Do Let's Have Another Drink: The Singular Wit and Double Measures of Queen Elizabeth the Queen Mother," certain members were more enticed by the development than others.
Express reports that, during a recent appearance on the "To Di For Daily" podcast, Russell regaled host Kinsey Schofield with a hilarious anecdote about how the Queen Mother originally discovered the designated nudist area, which was close to where she regularly took walks. Russell shared, "Her security used to tell her: 'Don't go too far up the beach — it's a nudist beach'" only for the queen to respond, "Well, that's not embarrassing. Maybe the corgis will nip their bottoms." 
Upon discovering the beach themselves, Queen Camilla and long-time friend Dame Judi Dench rushed to visit the spot. Russell revealed, "Judi Dench and Camilla found out about this [the nudist area] years later when they were at the same spot, and they soon disappeared and were later found talking to this completely nude gentleman who was a headmaster, a principal at a school. They were having a wonderful chat!" 
Camilla is well-known for her lively sense of humor, with Cosmopolitan reporting she joked about Emerald Fennell, who played her in "The Crown," taking over official duties if the queen consort was ever indisposed.
Dame Judi Dench petitioned Netflix on the royal family's behalf
Jeff Spicer/Getty Images
Dame Judi Dench made her respect of the royal family known when she publicly criticized Netflix for neglecting to include a disclaimer during their promotion for Season 5 of "The Crown." Omid Scobie, co-author of "Finding Freedom" and close friend of the Duke and Duchess of Sussex, shared a letter Dench wrote to The Times on Twitter, in which the esteemed actor called out the streaming giant for potentially misleading viewers about all-too-recent historical events.
"The closer the drama comes to our present times, the more freely it seems willing to blur the lines between historical accuracy and crude sensationalism," she contended. Ultimately, Dench requested that Netflix make it abundantly clear that "The Crown" is meant as entertainment, rather than historical fact. Her efforts worked, with Netflix finally adding an important disclaimer to "The Crown" in subsequent marketing materials, as confirmed by Variety.
A new trailer for Season 5 noted: "Inspired by real events, this fictional dramatization tells the story of Queen Elizabeth II and the political and personal events that shaped her reign." Evidently, Dench takes her relationship with the royal family, and particularly Queen Camilla, very seriously. As the Daily Mail noted in 2018, the two ladies have been close for years while Dench has also notably played Queen Victoria onscreen.