How To Get A Voluminous Ponytail, According To Kim Kardashian's Hairstylist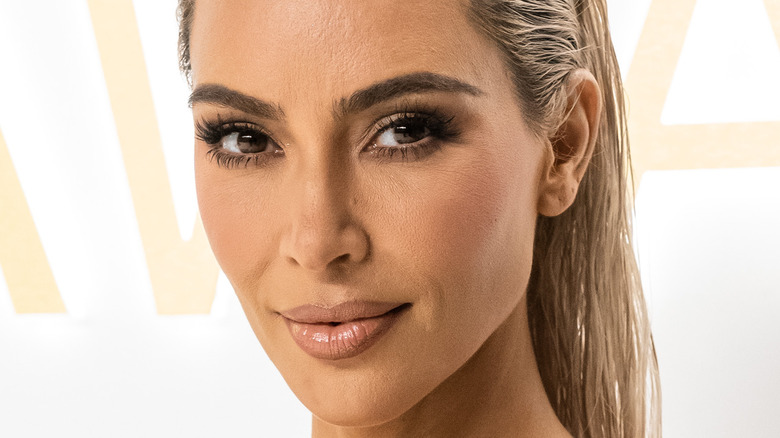 Gotham/Getty Images
Why is it that you could have the thickest, most voluminous head of gorgeous hair, but once you throw it up into a ponytail, the results are borderline horrifying? The curse of the thin and wimpy ponytail is pretty common, especially for those of us with fine hair. Whether you have structural damage from a lifetime of using hot tools and hair dye or thinning due to hormonal changes, medical conditions, or even just age (via Healthline), everybody deserves to feel confident with a voluminous-looking ponytail. The good news is, there are plenty of hairstyles to make thinning hair look full of volume.
According to Kim Kardashian's hairstylist, Chris Appleton, there's even a clever way you can trick everybody into thinking you have a ponytail fit for the head of a superstar. Appleton, who's also worked with J-Lo, Dua Lipa, and Ariana Grande, often shares tips and tricks on his social media accounts, per Glamour. While you may not be an award-winning pop star, that doesn't mean you aren't equally as deserving of a glamorous up-do. Thankfully, Appleton agrees, since he shared a ponytail hack with his 2.1 million (and counting) TikTok followers that'll give you the ponytail of your dreams.
Create two ponytails for a voluminous illusion
Upping your hair game with a hot new ponytail style is easier than you think. According to celebrity hairstylist Chris Appleton, all you need to create a bouncy, full-looking ponytail are two elastic hair ties. Appleton shared the tutorial in a TikTok video, using a blonde model. He starts off by splitting her hair into two parts. Then, Appleton takes the top half and secures it into a high ponytail with one of the elastics. 
Next, he splits the underneath section into two parts and pulls it on top of the previous ponytail, resulting in a stunning and voluminous high ponytail. "What this is going to do is basically make you look like you've got double the amount of hair that you've got, so this is great for anyone with fine hair, and it just makes your ponytail look extra full and glam," Appleton shared. 
His tutorial racked up over 11,000 comments, with users gushing "So good!" and "Obsessed." The in-demand hairstylist is known for sharing life-changing hacks, including the ultimate messy bun tutorial, which he posted on Instagram. At the time, Appleton asked followers whether they wanted more tutorials and, naturally, the comments were filled with encouragement. 
Tips for making your ponytail appear even fuller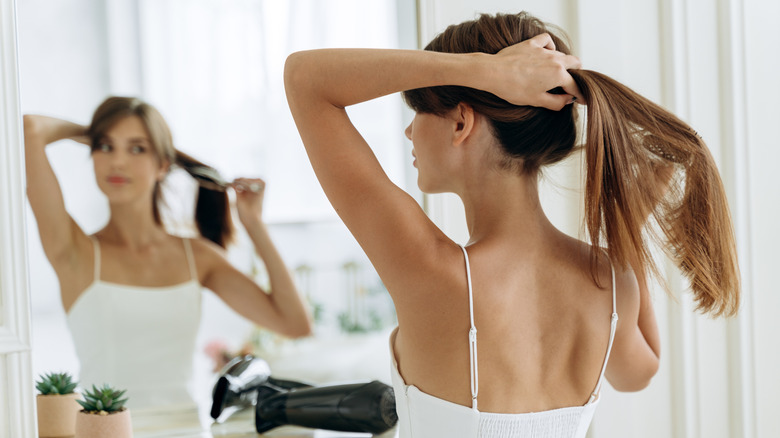 Sklo Studio/Shutterstock
Once your ponytail is secure, you can do a few things to make it appear even more glamorous. According to InStyle, teasing the hair with a fine-tooth comb to create volume is a surefire way of adding texture and fullness. You can use hairspray, dry shampoo, or texturizing spray to keep the tease intact all day. Celebrity hairstylist Josh Liu explained how you should always tease the base of the ponytail and then smooth the outer layer gently to conceal it.
To take your ponytail to the next level, add some curls. You could curl the entire thing or focus only on the ends for a sophisticated and sleek look, as Glamour suggested. A great trick for keeping the curls intact all day long (and then some) is securing them with a bobby pin as they cool for about 20 minutes. Add a spritz of hairspray, and va-va-voom! You'll be left with curls that not only last all day, but add Kardashian-esque fullness and glam.