How Kim Kardashian's Stylist Creates Her Signature Wet Hair Look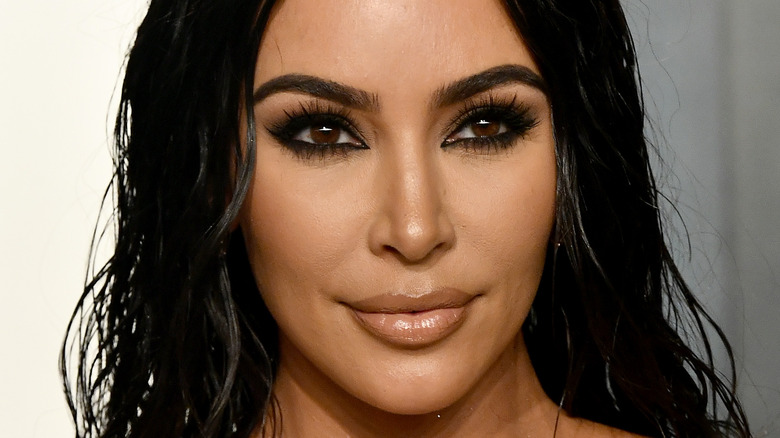 Frazer Harrison/Getty Images
Over the years, Kim Kardashian has had countless iconic red carpet moments. Case in point? The 2016 MTV Video Music Awards and the 2019 Met Gala (anyone remember those crystal water drops?). Aside from the fact that Kim can seemingly make any outfit red-carpet ready, she's also a celeb who can pull off a slew of trendy hair and makeup looks. In fact, she's one of those lucky people that can effortlessly rock a wet hair look.
Thanks to those aforementioned red carpet serves, the wet hair look has certainly become one of the reality star's signature hairstyles. And while we may not be able to add those crystal water drops to our wardrobe, if there's one thing we can all do like Kim K., it's her hair.
Hairstylist Chris Appleton is the person behind the gorgeous hairstyle, and he's never been shy about sharing his techniques with the world. Appleton described the style perfectly when he spoke with W magazine in 2016, saying the wet waves have "that endless summer vibe," and we honestly couldn't agree more. The best part about it? It's super easy to do at home!
Kim Kardashian's stylist uses one key product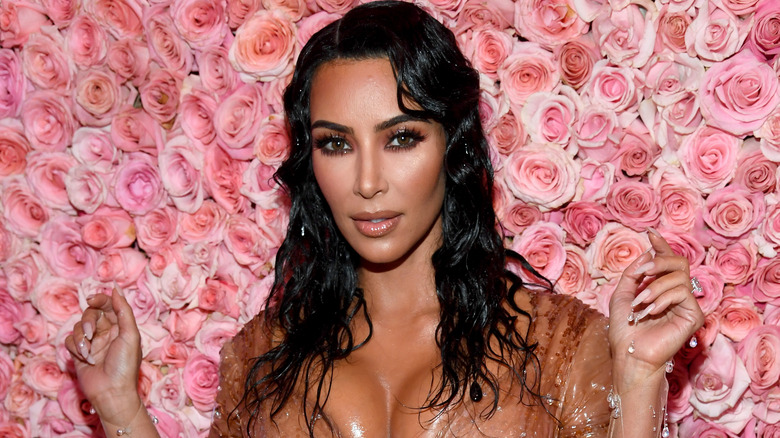 Kevin Mazur/mg19/Getty Images
Thanks to TikTok (where we're learning everything these days), beauty journalist Laura Capon reminded the internet how easy it is to achieve the wet hair look just in time for summer. Before you get started, there are four items you'll need: a curling wand, a hairdryer, hair clips, and the holy grail: Color Wow's Pop & Lock Crystallite Shellac.
According to Allure, "A spray oil is key for any good wet look, as is Color Wow Pop & Lock Crystallite Shellac." To achieve Kim's iconic look, hairstylist Chris Appleton — who also happens to be Color Wow's Global Creative Director — "pulls [the product] through the ends to make them look piece-y," per the outlet. In a 2018 sit-down with the outlet, Appleton explained, "The key to the wave is actually the natural wave of the hair, so we just enhanced that." 
He continued, "I just literally grabbed a few sections throughout the ends and wrapped it around a two-inch curling iron, and — I call it kissing the hair — so I just kiss the hair with the curling iron. Then it's all just about using the right product."
According to Capon's TikTok, Appleton now uses a two-prong curling iron, as well. Simply section off your hair, apply the Pop & Lock to each section, and curl your hair with the curling iron. Pro tip: run your fingers through it to make it a little messier, giving it a beach wave look.
Here's how to prevent your wet waves from looking greasy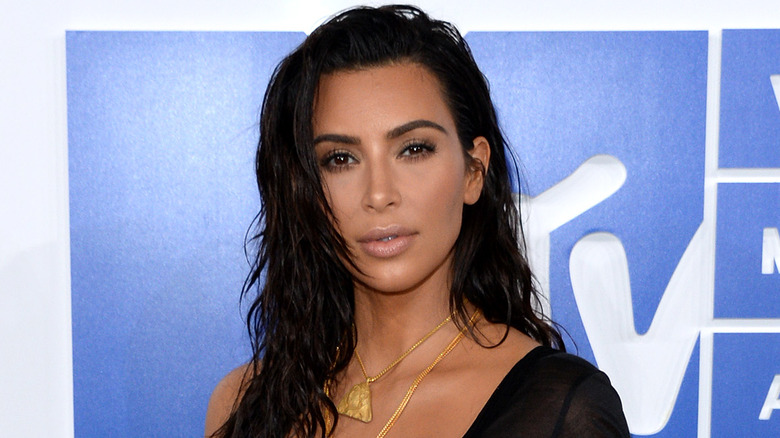 Anthony Harvey/Getty Images
While the wet waves usually look absolutely effortless, the tough thing about the wet hairstyle is that it can easily look dirty or greasy if not executed properly. To prevent this, hairstylist Chris Appleton gives the hair body by spraying the roots, adding in a few clips to the front of the hair during the process, and blow drying the hair to finish. Make sure not to give too much body to the ends of your hair, as it will change the style quite a bit.
"The key part of this are the ends are really light and fine and textured," Appleton told Allure in the 2018 interview. Adding body to ends will look much less wet-like. When you're done blow drying the roots, simply fix any curls that may have come undone and you're all set! This will definitely be your go-to vacation look this summer.