Fans Told The List Their Go-To Style Of Boots For Fall - Exclusive Survey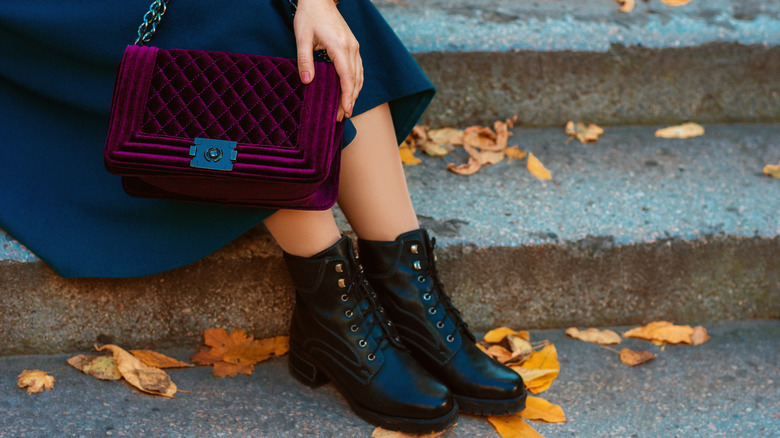 Viktoria Minkova/Shutterstock
We think that fall might be the ultimate season — maybe it's the beautiful, fiery foliage or the promise of sipping hot apple cider after frolicking through a pumpkin patch. No matter what fall activities you enjoy, there's plenty to love about this cozy season. One of the reasons that fall is near and dear to our hearts is the outfit inspiration it brings.
As the nights get colder and darker, it's time to break out your fall wardrobe staple pieces: style a cute cocktail dress with a pair of tights and a sweater and suddenly an outfit becomes the picture of autumn. Fall fashion also allows for fun and creative accessories that elevate any cold weather fit, from the top of our head to the tip of our toes. One of our favorite fall staples is a trusty pair of boots.
With so many different kinds of styles to choose from these days, deciding on the perfect pair of boots can be a difficult decision. To find out what kinds of boots are totally trending this season, The List conducted a survey asking 587 people, "Which is your go-to style of boots for fall?"
Over 35% of voters are loving this classic style of boot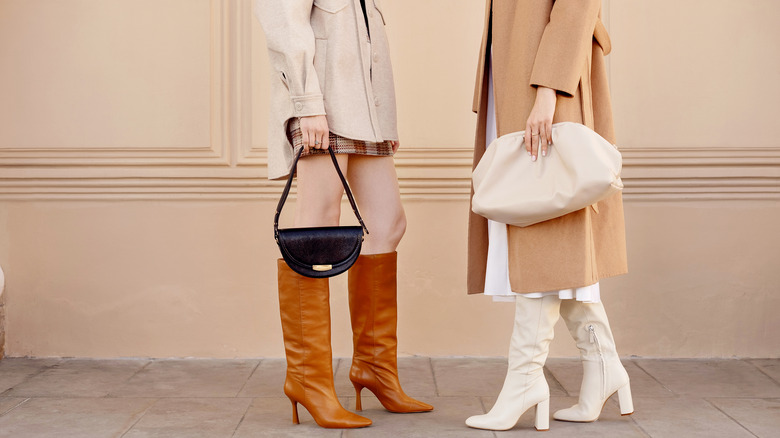 Victoria Chudinova/Shutterstock
According to The List's survey, the most popular style of boot is ankle boots. With 35.78% of the vote, you will be seeing ankle boots all season long. This versatile style compliments any outfit; when you start your day at the office and end it with a night on the town, ankle boots are appropriate footwear no matter the occasion.
In second place with 17.04% of the vote was combat boots, an edgy style of boot that laces up around your ankle for tight support. Most combat boots only have a slight heel, making them great casual boots that can handle almost any weather and wear. Styled after the military-grade shoes worn by soldiers in battle, combat boots have remained in style for years (via Filson).
15.33% of voters expressed their love for chic and sultry knee high boots, while 11.41% prefer the study design and style of a cowboy boot. With the wide range of style choices, we'd say both types of boots are definite conversation starters. More fan favorite styles include Chelsea boots (10.22%) and riding boots (10.22%), two up and coming styles that have recently caught our eye this season.
These boots are just a few of the most popular styles you'll see people strutting down the street in this season. For a full guide to fall footwear, here's a list of the 16 best fall boots you can buy in 2022.
Avoid new-shoe soreness with these tips to break in your boots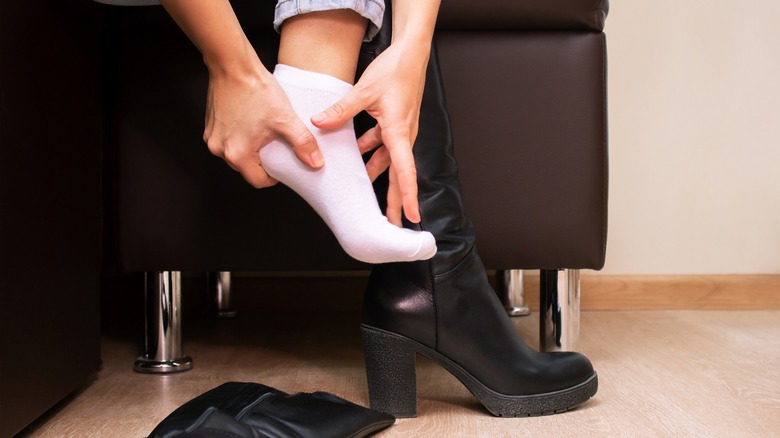 Marina Demeshko/Shutterstock
There's nothing like unboxing a new pair of boots and imagining all the different outfit possibilities. But that excitement may soon waver once you wear your brand new shoes for the first time and suddenly remember how painful they can be before you break them in. Luckily, there are a few ways to stretch out those tight boots without suffering through weeks of sore, blistered feet.
Fashion experts have shared that the key to breaking in new boots is wearing them around the house before wearing them out (via The New York Times). This will help you get used to the fit and work in the material without fear of prolonged discomfort during your day. Wearing multiple pairs of thick socks while you work them in will comfortably form the boots to your foot. Try to avoid shoe stretchers and shoe sprays, as they are often a waste of money and may lead to shoe damage, per The Manual.
If you are still experiencing serious pain after multiple wears, it might be that your boot is the wrong size. Per Who What Wear, wearing the wrong shoe size can cause serious discomfort and pain that will continue even after the material of the shoes have been broken in. Especially for boots that wrap around your ankle and sometimes calves depending on the length, wearing the correct fit will increase your comfort level and shorten the process of breaking them in.