Why Tiffany Trump's Wedding Color Scheme Has Twitter In A Tizzy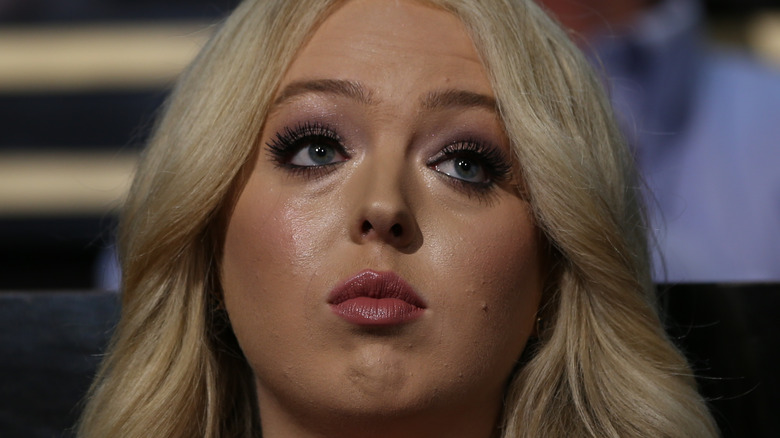 mark reinstein/Shutterstock
Tiffany Trump's wedding photos show the newlywed's lavish marriage celebration that took place on November 12, 2022. The daughter of the famous businessman turned former president Donald Trump married fellow businessman Michael Boulos in Palm Beach, Florida, at Trump's infamous Mar-a-Lago Club, according to People. Tiffany's wedding plans had caught the public's eye long before she walked down the aisle, and it seemed that many parts of her happy day didn't go exactly as she and her family had hoped. With the late-season storm Hurricane Nicole threatening Tiffany's big weekend and the midterm election results surprising the Republican political powerhouse, the Trumps seemingly could not catch a break during Tiffany's romantic milestone.
But even more than the unforeseen events leading to the big day or Donald's money-focused toast, it was the color scheme of Tiffany's wedding that now has Twitter talking. While her wedding was able to go off without too many kinks in the details, fans and critics alike have noticed this interesting and ironic detail of the Trump family's latest celebration.
Twitter jokes that Tiffany Trump's something blue was the 2022 midterm results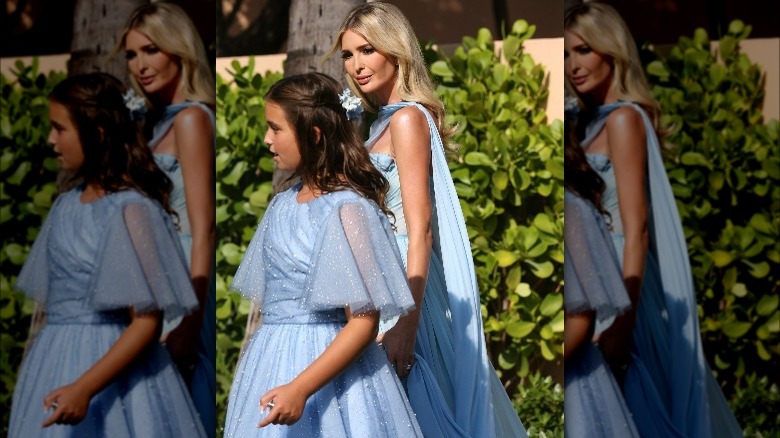 MiamiPIXX/Vaem/BACKGRID
While her father, former President Donald Trump, is a leader in the Republican party, Tiffany Trump chose a baby blue color scheme for her 2022 wedding to Lebanese American businessman Michael Boulos. Her wedding featured a blue, lavender, white, and pink accent arch, with many guests donning blue accessories or outfits. Ivanka Trump posted photos with her husband Jared Kushner and their children in coordinating blue ensembles.
The blue color scheme became ironic as the results for the 2022 midterms came in simultaneously with Tiffany's wedding. Donald Trump was reportedly fuming during his daughter's wedding after his predicted red wave failed to gain control of the Senate, according to the New York Post. Meanwhile, Twitter took the opportunity to put a joking spin on an old wedding saying about the perfect gifts for newlyweds: "Something old, something new, something borrowed, something blue."
"Can't believe Nevada is Tiffany Trump's 'something blue,'" Morningstar journalist John Buyusse tweeted, citing the midterm results for the state. While the Georgia run-off between Republican candidate Herschel Walker and Democratic incumbent Raphael Warnock is scheduled for December, Democrats kept control in the Senate for the 2022 midterms (via CNN).
"Wasn't expecting Tiffany Trump's 'something blue' to be the Senate," writer Zach Bornstein tweeted. And the Trumps probably weren't expecting that, either. 
Twitter had plenty more to say about the occasion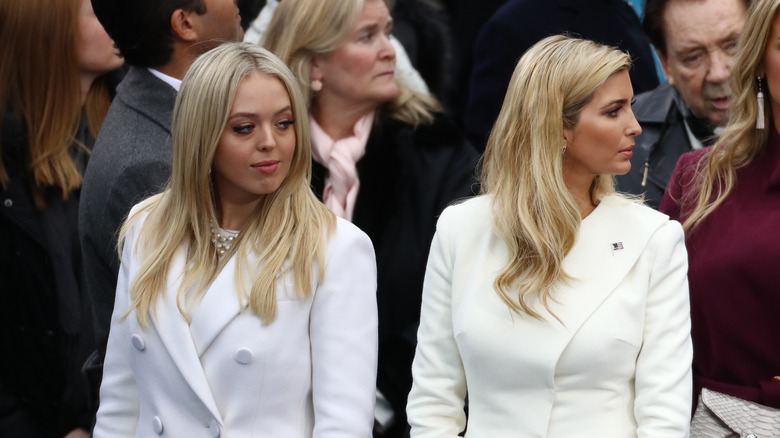 Bloomberg/Getty Images
One Twitter user took the joke even further, writing, "How to shop for Tiffany Trump's wedding gift: Something old (her Dad's tired-a** talk points); Something new (an arrest warrant for the whole family, hopefully); Something borrowed (Melania's speeches); Something blue (an electoral map)." 
However, there were plenty of other comments made — many of them jokes at the Trump family's expense. One tweet showed a photo of a man holding documents marked "top secret," with a caption that read, "The gift bags at Tiffany Trump's wedding were crazy." 
Ivanka Trump's own post about the wedding had the platform in stitches, as she reportedly cropped out her soon-to-be sister — Donald Trump Jr.'s fiancée, Kimberly Guilfoyle — from a wedding photo. The Instagram post had a very sweet message attached, though, with the famous businesswoman writing, "When I was 12 years old my dream of having a baby sister came true! From the first moment I held @tiffanytrump in my arms and looked into those big, kind, curious blue eyes I was smitten. Tiffany radiates love, compassion and grace ~ attributes that she will bring into her marriage with Michael." She ended the post by saying, "I wish Tiffany and Michael an abundance of happiness and joy as they begin their lives together as husband and wife! May their love be a source of light in this world!" Plenty of other users shared a similar sentiment.