Donald Trump Talked About Money During Toast At Tiffany's Mar-A-Lago Wedding
Evan El-Amin/Shutterstock
While Donald Trump was reportedly unhappy with the results of the 2022 midterm elections, it wasn't all bad news for the former president. His younger daughter Tiffany Trump — whom he shares with ex-wife Marla Maples — married Michael Boulos at the Mar-a-Lago Club in Florida on November 12 (via People).
Hurricane Nicole almost got in the way of the pre-wedding festivities, with staff being forced to evacuate the club before all of the guests arrived. "Friday is supposed to be a welcome dinner and they aren't sure it's going to happen ... Tiffany is flipping out," a source told Page Six. 
Luckily, the storm passed in time and the wedding went on as planned. According to People, Tiffany walked down the aisle in a gown by Elie Saab — a nod to her new husband's Lebanese heritage — and the reception featured a replica of the seven-foot-tall cake designed by Sylvia Weinstock for Donald and Marla's wedding. 
The former model told People that her ex-husband was tasked with typical father-of-the-bride duties, including walking Tiffany down the aisle and sharing a father-daughter dance at the reception. He also gave a speech during the event, where he explained why he refused to put up a tent before Tiffany's big day. 
Donald Trump didn't want to spend money on a tent for Tiffany's wedding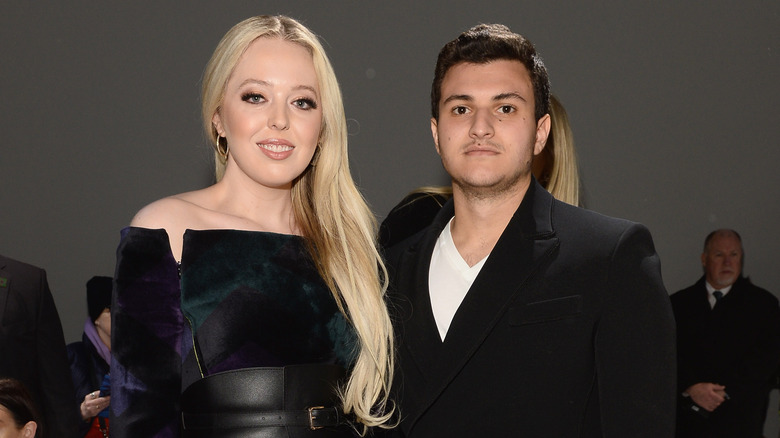 Noam Galai/Getty Images
During his toast at his daughter Tiffany Trump's wedding, Donald Trump admitted that he nixed a plan to build a tent over the pool at Mar-a-Lago, where the nuptials were held. "They were worried about rain," Donald explained, per Page Six. "They said, 'Sir, we are going to build a big tent over the pool.' I don't want a tent because if you build a tent two things: Number one, it costs a lot of money. Who wants to spend the money? And two, it's just not the same. And I said, 'Let's take our chances, right Tiff?'"
Luckily everything worked out with the weather, and Donald did have some well-wishes for Tiffany and her new husband, Michael Boulos. He called the newlyweds "two spectacular people" and added that the family was "very proud of both of you."
Now that the wedding — and the midterm elections — are over, sources have revealed that Donald is ready to announce his 2024 presidential campaign. At a rally in Ohio, Trump told his supporters that he was preparing to make a big announcement (via CNBC). 
Tiffany's big day brought the divided Trump family together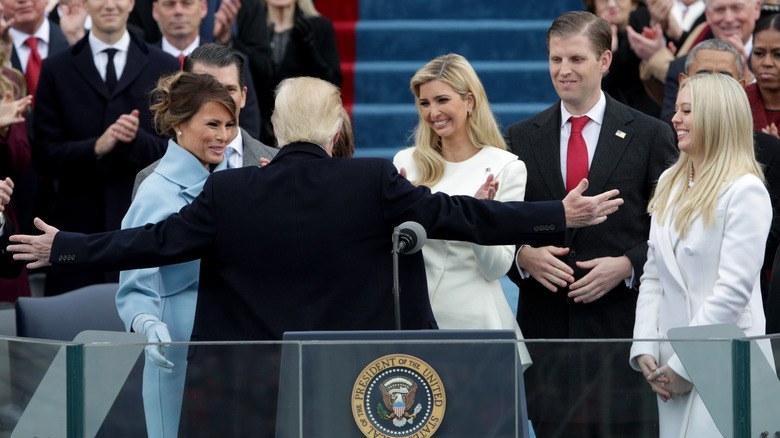 Alex Wong/Getty Images
Donald Trump is indeed running for president again in 2024 as expected. Per CNN, the controversial politician made the announcement at Mar-a-Lago, stating: "In order to make America great and glorious again, I am tonight announcing my candidacy for president of the United States." Moreover, according to the former president, if the GOP is serious about putting one of their own in the White House again, they cannot risk backing "a politician or conventional candidate." 
Trump's reelection bid is already losing some major supporters and it seems his own family is similarly split on whether it's a good idea, though CNN reports Tiffany Trump's wedding forced them all together. We'll have to wait and see whether Donald's so-called "forgotten daughter" campaigns for her father this time around — Tiffany mostly laid low during his previous campaign, per Vanity Fair — but it's worth noting that one of his biggest familial allies won't. 
Ivanka Trump, who was front and center while Donald ran for president and held a high-ranking position in the Trump White House, has no interest in doing so again. "[Ivanka] would never go back to that life," an insider confirmed. "She knows it's not something that would serve her or her family at this point." Melania Trump, meanwhile, isn't pushed on the idea either (via The Guardian). Everybody put on a brave face for Tiffany's wedding, despite the fact that her father reportedly hasn't been in the best mood lately.