Mike Pence Isn't Holding Back About Donald Trump's Influence On The Events Of January 6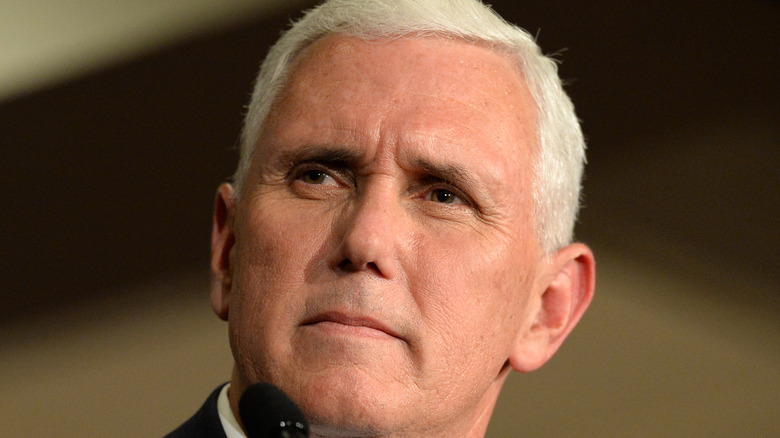 Gino Santa Maria/Shutterstock
Former Vice President Mike Pence finally shared his true feelings about former President Donald Trump's actions during the Capitol riot on Jan. 6, 2021, per NPR. What began as a political rally full of angry Trump supporters became a full-blown attack on the Capitol in Washington, D.C., motivated by words from Trump.
He told his supporters, "We will never give up. We will never concede," per NPR. As Congress gathered to certify the election results and confirm President Joe Biden's win, Trump supporters attacked the building, resulting in multiple injuries and five deaths (via The Guardian).
Links have been found between Trump's remarks during the insurrection and rioter behavior that endangered the lives of all sitting members of Congress, who gathered to certify the election results. According to The Hill, Pence was one of the main targets during the attack after Trump tweeted that Pence "didn't have the courage to do what should have been done to protect our Country and our Constitution." 
Almost two years later, Pence has finally revealed how he feels about Trump's behavior during the Capitol riot.
Mike Pence was angry about Donald Trump's tweets during the insurrection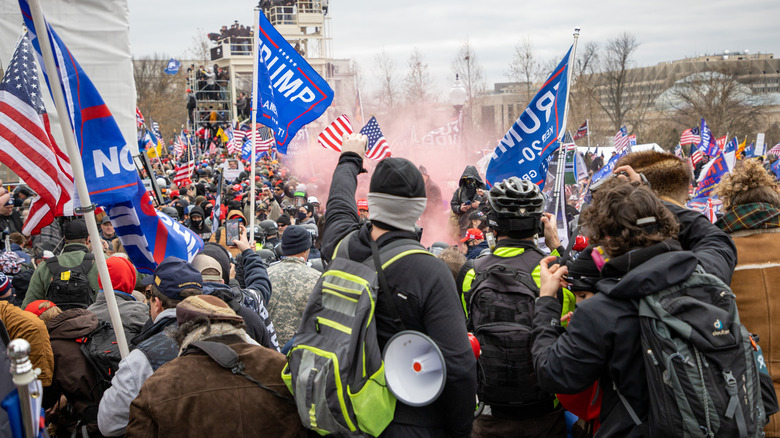 Valerio Pucci/Shutterstock
It's clear that Mike Pence is still upset with Donald Trump over the Capitol riot. In an interview with ABC News reporter David Muir, Pence called Trump "reckless" for his words and actions on Jan. 6. In reference to Trump's tweets during the attack, Pence told Muir, "It was clear he decided to be part of the problem." 
Pence had confirmed prior to the final election verification on Jan. 6 that he would respect the results of the election, whether or not Trump was announced the winner. This most likely motivated the former president's angry tweets, further influencing his supporters to search for Pence and shout threats (via CNBC). In the interview (via People), Pence recalled turning to his daughter and saying, "It doesn't take courage to break the law, it takes courage to uphold the law."
Nearly two years after the Jan. 6 attack, a bipartisan committee of House representatives led by Liz Chaney has focused on investigating Trump's involvement in the Capitol riot and deciding if he's responsible for inciting the attack (via NBC News). While we're still far away from a conclusion, Trump could be facing a criminal indictment at the hands of the Jan. 6 committee.