Queen Camilla's Body Language At Remembrance Sunday Service Proved How Nervous She Really Was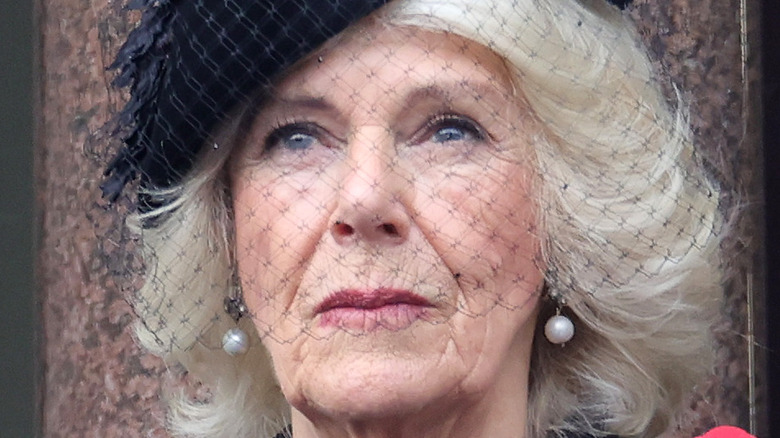 Chris Jackson/Getty Images
The heartbreaking death of Queen Elizabeth II led to many changes in the royal family, with her eldest son ascending to the throne and becoming King Charles III. As a result, Charles' wife, Camilla, also became queen consort — an honor that Queen Elizabeth requested for her daughter-in-law, pointing to Camilla's many years of "loyal service" to the monarchy.
Since her marriage to Charles, Camilla has become one of the hardest-working royals. She attended 169 engagements in 2022 (per Daily Mail) and is the patron or president of more than 90 charities, including organizations focused on health, literacy, victims of sexual abuse and domestic violence, animals, the arts, and more, according to the royal website. And the new king has been vocal about how much he will rely on his wife as he steps into this new role. "I count on the loving help of my darling wife, Camilla," Charles said during his first speech as king.
While she's been a working royal for years, Camilla was noticeably nervous during Queen Elizabeth's funeral, a stark difference from the behavior of Catherine Middleton, Princess of Wales. "Based on her body language at this moment, it's likely that Camilla will need a lot of time to adjust to the role of queen," Nicole Moore, body language expert and host of "Reality of Love" on BSpokeTV, told The List. 
And during the U.K.'s Remembrance Sunday service, Camilla once again looked anxious while standing next to Kate.
Camilla was unable to stand still at times during the service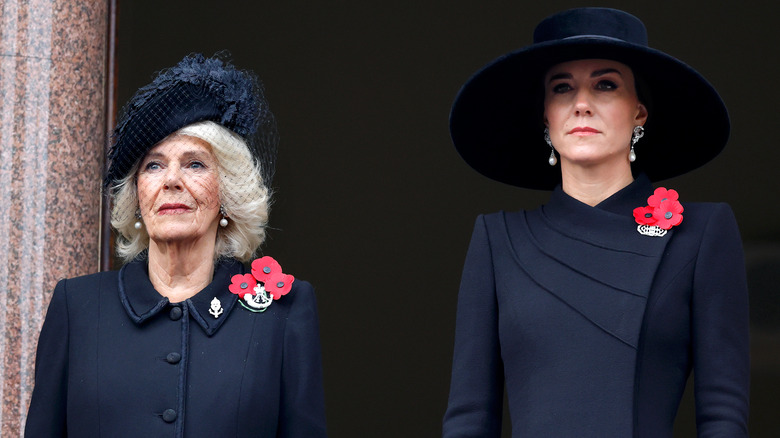 Max Mumby/indigo/Getty Images
Camilla, Queen Consort, seemed anxious during Great Britain's Remembrance Sunday service, leading Catherine Middleton, Princess of Wales, to show some "polite concern" for her.  "Watching from the balcony Camilla combined signals of regal duty with some rituals of anxiety," body language expert Judi James told the Mirror, adding that at times, Camilla "looked unable to keep totally still and spoke to Kate at one point but while looking straight ahead rather than turning to her."
Camilla's anxious behavior was once again the opposite of Kate's "calm and very still body language," which "was in contrast to Camilla's nervous movements . . ." noted James.
Luckily, Camilla will have more time to get comfortable with her new role as queen before the coronation of her husband, King Charles III. The event, which will be held on June 3, 2022, is expected to be smaller in scale compared to Queen Elizabeth II's coronation in 1953, per Express. "The King is by nature quite a frugal person whenever he is able to be and I would expect he will want the coronation to focus more on the spiritual elements than the more showy parts," a source explained.
Still, it is expected that there will be 2,000 guests at the coronation (via Fortune), where Camilla will also be crowned queen consort.