How To Turn Your House Into A Winter Wonderland For The Holidays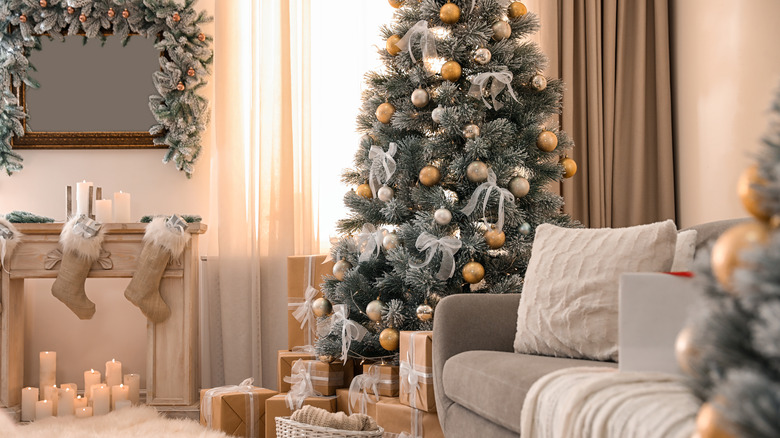 New Africa/Shutterstock
The holiday rush is no joke. You've got shopping to do, parties to attend, and hot chocolate to drink. You can't even escape the rush on social media. It's easy to feel overwhelmed when you've got a constant stream of perfectly decorated homes on your feed. Around 84% of people who celebrate Christmas decorate for the occasion (per WBIW). If you're worried about decorating for the holidays, don't stress! There are plenty of ways to design the winter wonderland home of your dreams. Thankfully, you can get in on the decorating action without having to spend hundreds of dollars. 
One of the biggest decorating tips might surprise you. Before you begin the process of transforming your home into a winter wonderland, you might want to minimize your space a little. Go through each room you're decorating and remove anything you don't need. Whether it's broken or you just don't like it, give it away or try to sell it (via Home Made Lovely). You don't want anything cluttering your winter wonderland. Not only does this free up space for more decorations, but it also gives you a place to put any gifts you'll get this year. After all, it is the season of giving.
Once you've decluttered, consider these tips for decking the halls. 
An easy DIY can transform your space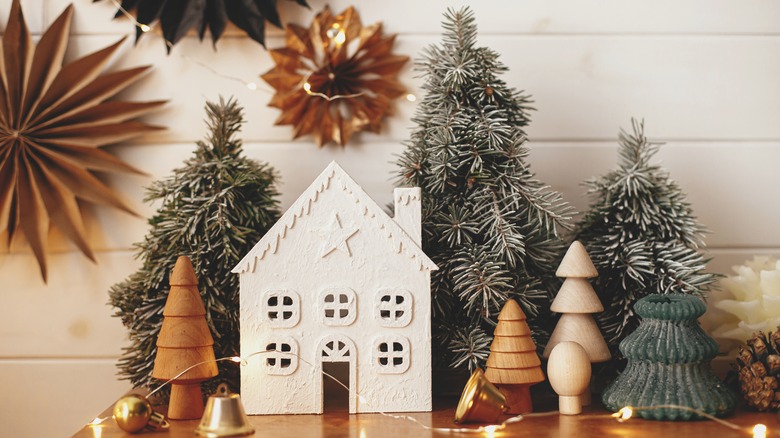 Bogdan Sonjachnyj/Shutterstock
You can make your own tiny winter wonderland with objects you probably have lying around the house. Kathryn Snearly of Do it on a Dime shared some of her favorite winter decor tips with Good Morning America.
"Maybe you have an old fishbowl or a canister or maybe a mini one," said Snearly. "You can create a mini winter wonderland inside. Just grab some Epsom salts and some glitter. You're going to want to put it into the bowl . . . Then, you just want to decorate it!" Snearly uses bottle brush trees and other miniature decor pieces to craft the scene.
If you like the effect but want something smaller, grab some wine glasses and make these tiny winter wonderlands. Run to the Dollar Tree or the Target dollar spot to find some cute mini trees. You can also add fake snow, little animals, or any other miniature figure that will fit inside the glass. These would make an adorable addition to your mantel or centerpiece (via Popsugar).
Rustic touches make for perfect holiday looks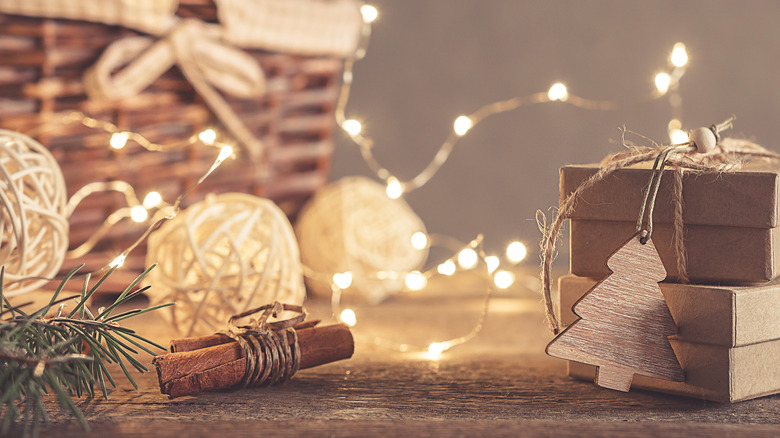 Shyntartanya/Shutterstock
If you want something a little more rustic, Country Living shared these adorable Mason jars wrapped in yarn. They slipped knitting needles into the yarn, but you could do holly or even a cute wintery pick like they use in wreaths. For the inside of the jar, you could put holly berries or any other winter plant. The best part about this craft is that it can be customized based on the season. We love a good evergreen DIY.
If you're a Christmas card lover, this display is perfect for you. Take some branches — just go grab them from outside — and you can even wrap them in garland and lights. Then, add pieces of twine and use clips to attach your cards (via Bob Villa). After that, you can decorate it however you want. Use pinecones, bells, dried orange slices, or anything else you've got lying around. Now you've got a memory-filled decor piece out of the cards sent from your friends and family.
Decorating doesn't have to be a chore. Whether you need some cozy holiday decor ideas or want to amp up your Christmas tree decorating, we've got the tips for you.