How To Achieve A Cozy Look For Holiday Decor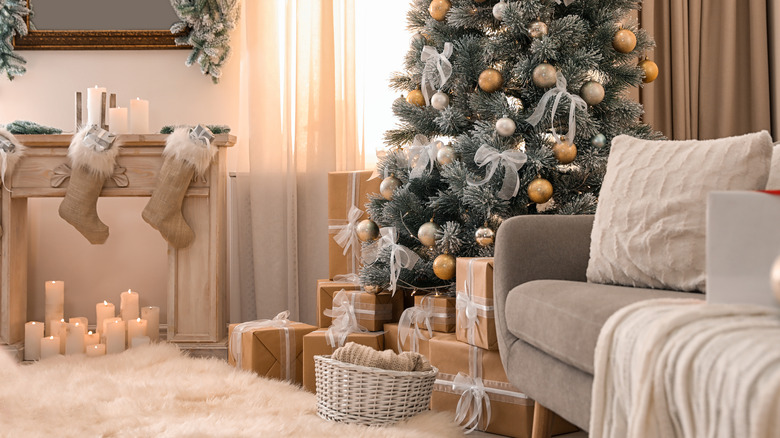 New Africa/Shutterstock
Decorating for the holidays is always fun but incredibly frustrating. You have to get the tree up with all of its garland, lights, and ornaments, and you have to decorate the inside of your home as well as the outside (if you're one who likes to go all out, that is). Still, it can be challenging to get it done in a timely manner and in a way that satisfies everyone.
Each year, there are decoration tips for Christmas trees and stores selling Christmas decorations earlier and earlier, but there's never enough tips on creating cozy holiday décor inside that embodies the fuzzy warmth of this loving season. (Let's not get started on trying to organize and store holiday decorations once the season has passed — that's potentially the most frustrating aspect of all.
There are some easy things you can do to make your home cozy this year. One such thing is adding candles of various heights throughout your living space, especially white, red, and green ones that emblemize the season (via Country Living). Differing heights add dimension, and the fire and light of the candles can be warm and cozy like a fireplace if you don't have one. Country Living also recommends setting up a drink cart in your living room or dining room. It can be a hot cocoa cart, a bar cart, or both, but having a cozy drink stand at which you can quickly make drinks in your favorite fuzzy pajamas is incredibly comforting.
These tips will have you cozy all season long
New Africa/Shutterstock
How can you make your home more cozy? According to Good Housekeeping, lining your windows with garland is a fun way to add dimension to your home. They also recommend embracing neutral colors for your living space during the holidays. Red and green decorations are excellent as pops of colors, but going all in on them can make your room chaotic and noisy. Neutral colors will feel cozier overall.
Then, make sure you're stocked up on soft blankets and pillows, per Sanctuary Home Decor. Blankets can be strewn over chairs or the backs of couches, as well as folded and sat in chairs or on top of side tables. In any case, having fluffy, comfortable pillows and blankets in abundance is key to achieving maximum coziness.
Being cozy requires all of your senses to be aligned. Therefore, you should make your house smell like cozy Christmastime. Invoke scents of pine, cinnamon and other warm spices, cranberries, oranges, and more for a relaxing feeling (via Country Living). This can be done with candles, wax melts, or by simmering ingredients on your stove.
Finally, if you want a DIY project for yourself or to share with the family, you can gift wrap some books that you have laying around your house. According to Good Housekeeping, the gift wrapped book look is chic, cute, and cozy if they're scattered throughout the living room. It's a nice touch full of holiday cheer.
Happy decorating!